Discover the Microsoft Surface Hub 2S
Teamwork without boundaries.

Enable teamwork anywhere with the new Surface Hub 2S, an all-in-one digital whiteboard, meetings platform, and collaborative computing device that brings the power of Windows 10 to teamwork.

With Microsoft and CDW, teamwork can happen anywhere. Call us to get started.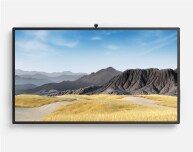 Introducing the New Surface Hub 2S 85"
Enable teamwork anywhere with the new Surface Hub 2S 85" device, a Microsoft Teams-certified meeting platform and interactive whiteboard for business that brings teams together. For a large-room meeting experience with big teams, pair Surface Hub 2S 85" with high-resolution enhanced camera and mics.

Microsoft Surface Hub 2S 50"
The Surface Hub 2S 50" natively runs your must-have Microsoft apps, including Microsoft Edge and Office, and your essential business apps. For smaller spaces and quick huddles, Surface Hub 2S 50" is a perfect fit with Surface Hub 2 Camera and its integrated far-field mics and crystal-clear speakers. 

Built for team collaboration in the modern workplace
Increase innovation, employees' skills, and remote teams' efficiency with a culture of collaboration. Create it with flexible workspaces and the right technology.
Make any place a
teamwork space
Thin and sleek, Surface Hub 2S integrates into any workspace. From conference rooms to open spaces, go wherever ideas strike with the mobile stand.
 
Everyone is seen, heard, and can actively participate with 4K Surface Hub 2S Camera, far-field mics, crystal-clear speakers, and a brilliant, 4K+ resolution screen.




Built for team collaboration anywhere they work
Brainstorm together in Microsoft Whiteboard, and collaborate across devices. Project wirelessly to share content with Miracast, and sign in to access Office 365 files.

Surface Hub 2S: Built for team collaboration anywhere they work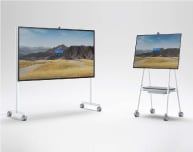 Introducing the New Surface Hub 2S 85"
M365 + Surface Hub 2S: Better Together
Designed for the modern workplace, M365 and Hub 2S bring collaboration to the next level. Empower your workforce and enable new ideas, collaboration and creativity in any situation. Provide your business with premium devices and software that help attract and retain talent, embrace new workplace expectataions and inspire innovation.

CDW has the expertise to help you design a collaborate culture in your office.

 
Making Sure You're Good to Go
Our experts will walk you through the setup and demonstrate the full potential of your new
Surface Hub 2S.
Our dedicated Microsoft Surface team has the knowledge and experience to help.
With You Every Step of the Way
CDW is your single point of contact that can help you assess, design and deploy your Surface products.
Frequently Asked Questions
Surface Hub 2S 50"
1 Surface Hub 2 Pen
1 Surface Hub 2 Camera
Surface Hub 2S 85"
2 Surface Hub 2 Pens
1 Surface Hub 2 Camera
Mice
Keyboards
Headsets
Microphones
Speakers
Surface Hub 2S allows IT admins to manage settings and policies using a mobile device management (MDM) provider, such as Microsoft Intune, System Center Configuration Manager, and other third-party providers. Additionally, admins can monitor Surface Hub 2S using the Azure cloud-based Microsoft Operations Management Suite. For more information, see Manage settings with an MDM provider or search for Surface Hub 2S Admin Guide.
The Microsoft Whiteboard app does not impose a limit.
No, the APC Mobile Battery for Surface Hub 2S 50" is sold separately and consists of a lithium-ion battery system. The APC Mobile Battery is not compatible with the Surface Hub 2S 85".
Surface Hub 2S ships with occupancy sensor via a custom Doppler radio running at 9.45 GHz, 10.525 GHz, or 10.585 GHz (variable depending on region). It's primarily designed to wake up the system when entering a conference room.