Stop dropped calls. Improve call quality. Stream video content faster. Enjoy a stronger cell signal in your home, office, or vehicle.

About weBoost & Wilson Electronics
Wilson Electronics started making cell phone signal boosters in 1999. They were the first to design, build and supply cell signal boosters to the U.S. and Canadian markets. Over the years they grew, adding new customer-requested signal boosters to our product lines, developing the first ever in-vehicle cell phone boosters and securing more than 50 patents as they developed and refined their technology.
They recently launched their main consumer line of cell phone signal boosters – weBoost. weBoost cell phone boosters offer greater power and more options for enhancing signal at home, in the workplace, in a vehicle or even at unmanned remote sites. 
---
Wilson Electronics Solutions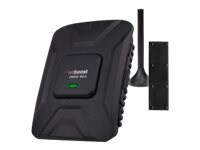 weBoost
Drive 4G-X
The most powerful vehicle booster sold.  It boosts voice and 4G LTE data signals on all Canadian carriers. View Spec Sheet.
weBoost
Connect 4G-X
The Connect 4G-X is the most powerful consumer signal booster, boosting 4G/LTE and 3G for all Canadian carriers. View Spec Sheet.

Pro 70 Plus
50 Ohm Kit
Boosts 4G/LTE and 3G cellular signal inside a building or large area up to 25,000 square feet. View Spec Sheet.
 
Drive Sleek - Cell Phone Signal Booster For Any Car, Truck Or SUV
Connect 4G-X - Cell Phone Signal Booster for your Home or Office
Why Does Cell Phone Signal Booster Coverage Area Vary?