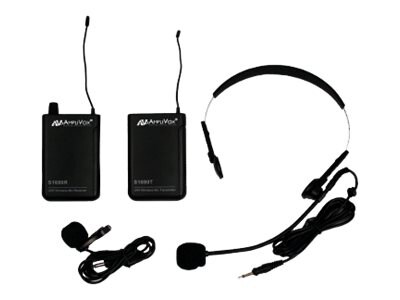 Quick tech specs
View All
Know your gear
Take advantage of going wireless and keep your hands free during your presentation with a lapel or headset microphone. The AmpliVox S1601 Lapel Microphone Pack is a wireless 16-cannel UHF kit.

An alternative to the handheld microphone, lavalier and headset microphones allow you to place the microphone as close to the talent as possible to get the best audio sound.

The wireless microphone is connected by a cable to the body pack transmitter that broadcasts a signal to the receiver. The awaiting receiver is attached to a PA system or audio recording device.

Lapel microphones are popularly used for television, theater, and public speaking where a small microphone is required or the microphone needs to be hidden. Lavalier microphones come with small clips that attaches to collars, ties, jackets, or hidden under clothing, with a cord from the lavalier microphone that runs down and connects to a bodypack transmitter placed in a pocket or clipped to a belt around your waist.

Headset microphones attach to the bodypack transmitter in the same fashion as a lavalier microphone, and may be more practical to use in a performance where the subject is moving around quickly such as an aerobics instructor, singer or dancer. The headset is worn as a headband behind the head and around the ear as the microphone hovers near your mouth. The sound level of a headset microphone is more consistent than a lavalier since the microphone is often positioned just an inch or so from the sound source while a lavalier might be positioned four or five inches away.