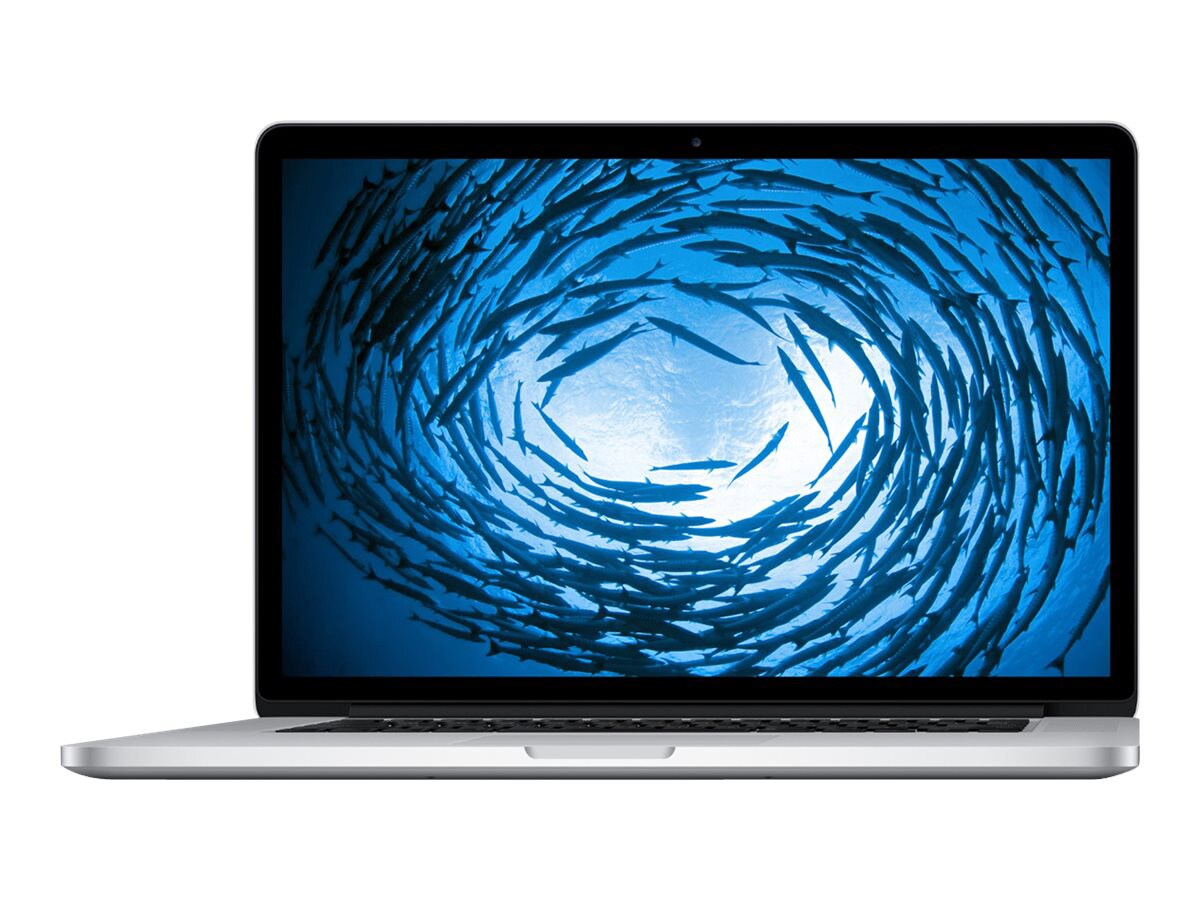 Quick tech specs
Intel Core i7 2.3 GHz
16 GB RAM
15.4" IPS 2880 x 1800
kbd: US
GF GT 750M
512 GB SSD
Wi-Fi 5
View All
Know your gear
A groundbreaking Retina display. All-flash architecture. The latest Intel processors. Remarkably thin and light design. Together, these features take the notebook to a place it's never been. And they'll do the same for everything you create with it.

When you pack so many pixels into a display the results are positively stunning. The pixel density is so high, your eyes can't discern individual pixels. Images take on a high level of realism. And text is so sharp, you'll feel like you're reading email, web pages, and documents on a printed page. The Retina display reduces glare while maintaining incredible color and quality. Its high contrast ratio results in blacker blacks and whiter whites. And everything in between is rich and vibrant. IPS technology gives you a wide, 178-degree view of everything on the screen, so you'll see the difference at practically any angle. And you're going to love what you see.

You'll notice a difference in whatever you do - starting up takes seconds, apps launch quickly, even navigating the desktop feels incredibly fluid and responsive. It's all thanks to the PCIe-based flash storage with even faster read and write performance - faster than the previous-generation MacBookPro. Flash doesn't have any moving parts, which makes it superdurable and quiet. And flash storage is extremely energy efficient, which means your MacBookPro also has the ability to stay in standby mode for up to a month, without plugging in. So whether it's been 1 day or 30, your all-flash MacBookPro will spring to life, right where you left off.

You haven't heard it all until you've heard the speakers inside MacBookPro. For something so thin and light, the sound is huge. And with a wide dynamic range, optimal balance, and a crisp, expressive quality, these speakers might sound too good to be true. That's because Apple labored painstakingly over the design to maximize the quality of every decibel you hear. Dual built-in microphones are great for when you want to be heard. If you're making a FaceTime call, for example, the mics reduce background noise from behind the notebook. And when you use Dictation, they create an adaptive audio beam that intelligently adjusts to detect your voice - instead of the noise around you.

Multi-touch is an essential part of how you interact with your Mac. Using realistic, intuitive gestures, you can switch between apps, navigate your content, and get the most out of your desktop space. MacBook Pro features a multi-touch trackpad with a large, all-glass button surface. So you can tap, pinch, swipe, and click away comfortably. Thin and light, MacBook Pro is designed to go anywhere - including places with less-than-stellar lighting. A built-in sensor detects changes in ambient light and adjusts the keyboard and display brightness automatically. So you're never left in the dark.
Contact Sales Assistance
(800) 972-3922
,
Monday-Friday 8am-6pm ET