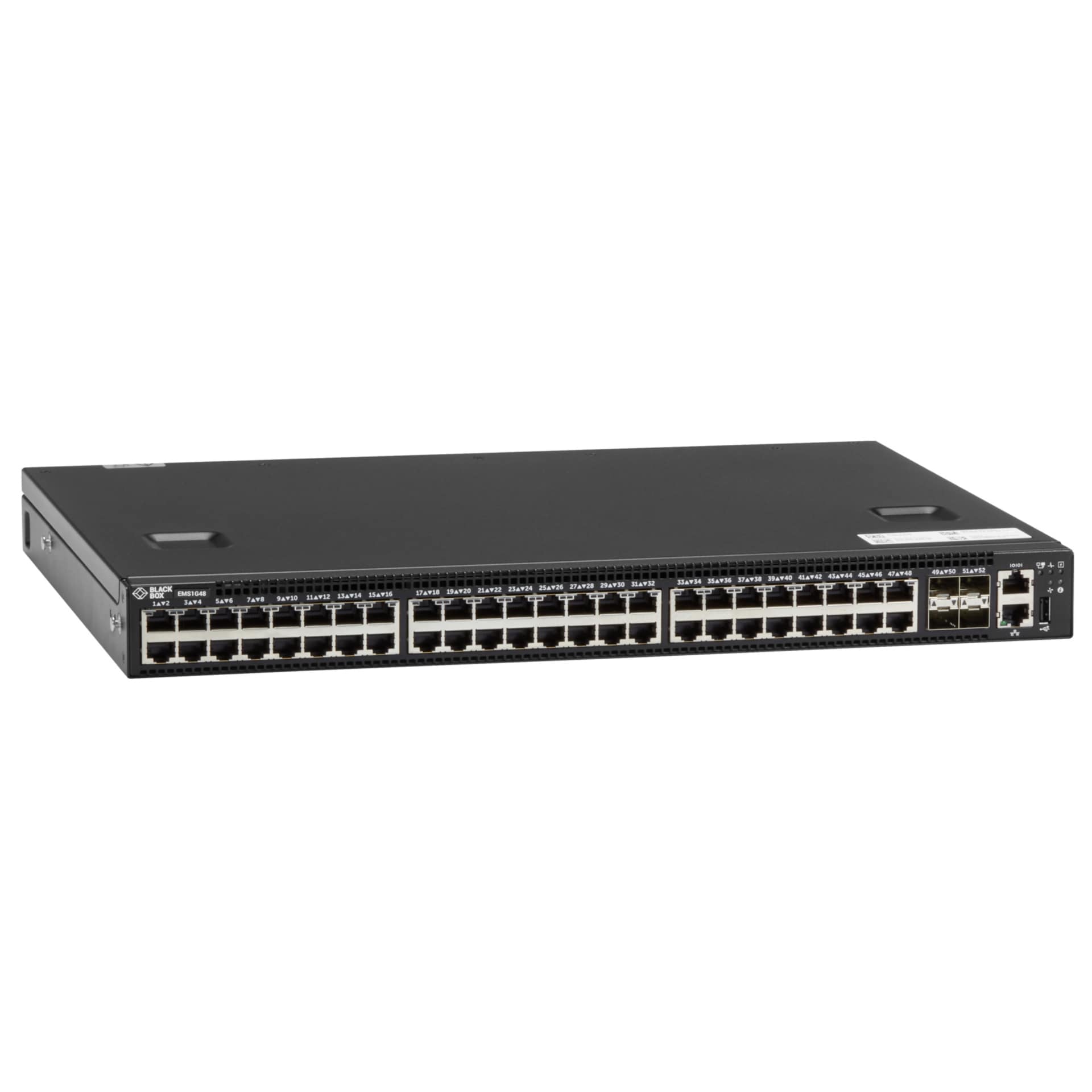 Quick tech specs
Switch
rack-mountable
264 V
48 x 10/100/1000 + 4 x 10 Gigabit SFP+ (uplink)
AC 90
View All
Know your gear
An Emerald KVM network may start small, but it's infinitely scalable to meet your expansion needs and future technology path just by adding endpoints, with no additional chassis or cards required.

Emerald comprises of a choice of transmitters connecting computers or virtual machines to the system and receivers connecting the user consoles. High-performance Emerald network switches with 12, 28,- 32-, or 48 ports ensure trouble-free KVM over IP extension and matrix switching connections. A range of SFP/SFP+ transceivers proofs best performing video quality and KVM extensions over the required distances.

Use the Emerald transmitter to connect DisplayPort servers with resolutions up to 4K60, transparent USB, serial, and audio to your Emerald System.

Emerald makes your migration painless, enabling you to scale access infinitely and gradually across buildings, campuses, and the wide-area network, using your existing network infrastructure - with switching between sources at speeds of less than half a second.

Emerald is the first KVM platform that supports pixel-perfect 4K DisplayPort video at 60 Hz over standard IP network switches. Image transmission with mathematical lossless compression visualizes every single pixel at 60 fps with 10-bit color depth.

If you're not ready for 4K, start with the Emerald 2K options, supporting one or two full HD DVI channels, and migrate to 4K at your own pace by transitioning individual user groups when the need arises.

More and more physical servers are being replaced by virtualization, allowing better performance, availability, scalability, and return on investment. Emerald simplifies access to both physical and virtual servers with virtual machine support for VMware, Microsoft, and Citrix, using RDP 8.1, RemoteFX, and PCoIP, among others.

All Emerald transmitters and receivers feature copper or fiber connectivity through one (HD) or two (4K) flexible SFP+ slots.

Your 24/7 operation requires network resilience. Use the redundant network ports on the Emerald units to provide continuous, uninterrupted operation even if one network link experiences loss-of-service. Connect the endpoints either through two alternative direct links, a direct link, and a network connection or two independent networks.

For HD video, Emerald requires a standard Gigabit Ethernet network and possibly a 10 Gigabit aggregate switch, depending on how many endpoints you have. For 4K video, you'll need a standard 10 Gigabit Ethernet network with a 100 Gigabit aggregate switch for 20+ endpoints. For both, the network infrastructure required by Emerald can be built with IEEE 802.3 standards-based components from Black Box or other manufacturers.

Emerald supports two ways to manage the system: locally via the receiver's OSD or the Boxilla central KVM manager. Emerald in combination with Boxilla enables timesaving, controllable presets, and multi-user settings. Monitor network usage, define user access rights, and set up automated intrusion alerts. You can also pool designated CPU resources, allowing for user selection by type of server/PC/desktop rather than by individual dedicated resource. Even more important, you can prepare for instantaneous recovery from disasters with one-click access to an entire backup control room in a different location. The KVM main control room configuration can be replicated anywhere you have a network connection.