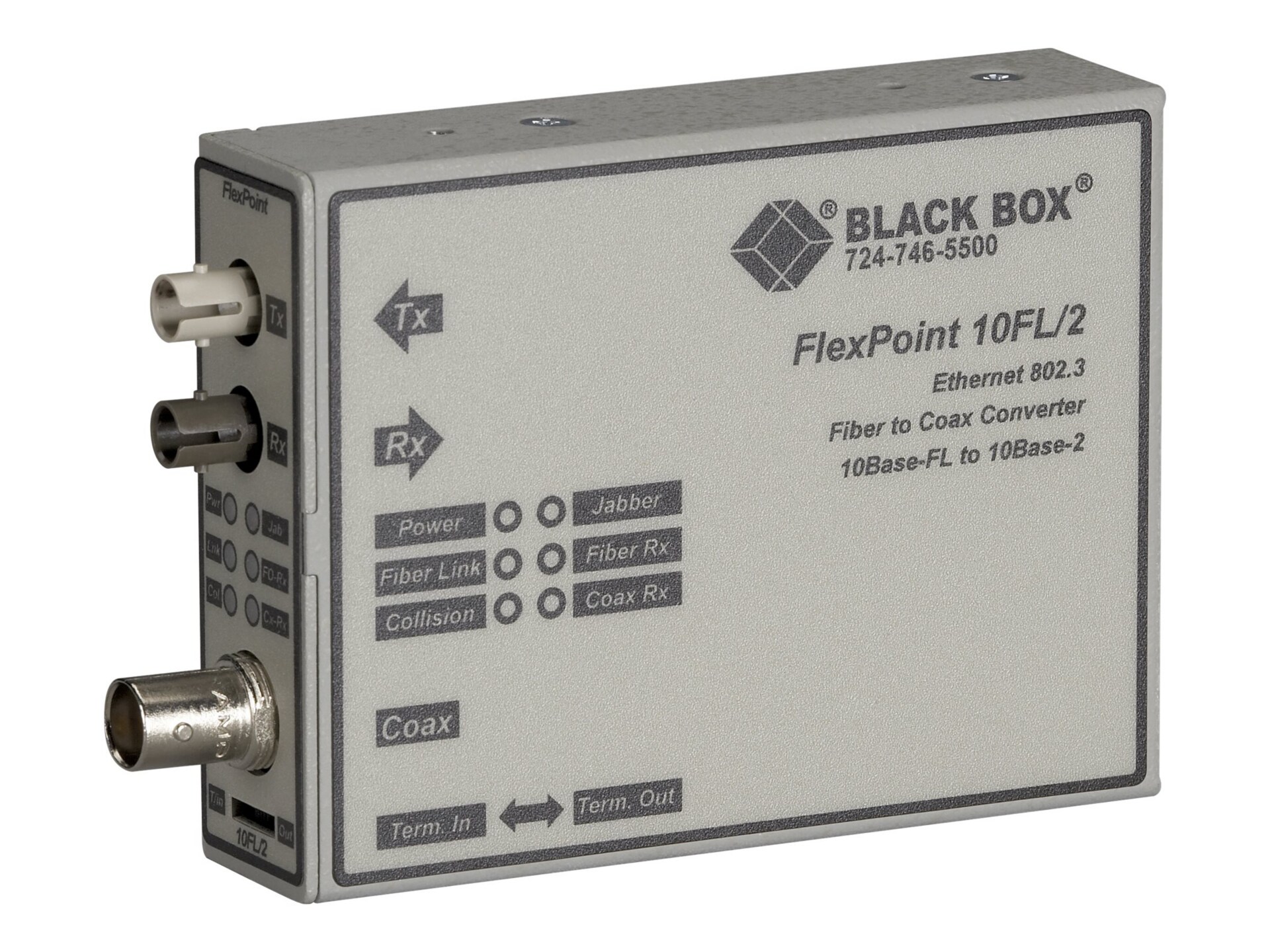 Quick tech specs
Media converter
10Base-2 (coax)
ST multi-mode / BNC
850 nm
10Mb LAN
10Base-FL
up to 2 km
View All
Know your gear
Supports multimode fiber optic cable connections to 2 kilometers (1.2 mi.).
Supports ThinNet cable to 185 m (606.9 ft.) and 30 stations.
Switch-selectable ThinNet line termination.
FlexPoint™ Modular Media Converters from Black Box are versatile and cost-effective standalone media converters that you can upgrade to a chassis-based system. They provide the ultimate in flexibility and reliability for your expanding multimedia LAN. FlexPoint offers a very wide range of converter options, including media converters for legacy systems such as ThinNet and Token Ring. Your choices include:
Ethernet
Fast Ethernet
Gigabit Ethernet
Token Ring
UTP
Single-mode fiber
Multimode fiber
ThinNet
Single-mode to multimode fiber converters
Long-distance fiber converters
ATM OC-3
ATM OC-12
10/100 rate converters
TI/EI Line Drivers
The incredible variety and versatility of this system make it ideal for networks that are subject to constant upgrades and changes. Tailor the system to your requirements. Get the media converters you need now and use them individually. Then, when your LAN grows, mount your media converters on the wall, in the 5-Position Rackmounting Kit, or as modules in the Power Chassis. The Power Chassis holds 14 media converters and a Single or Dual AC or DC Power Supply. Also be sure to see the rest of the FlexPoint family:
FlexPoint 10BASE-T to 10BASE-FL Media Converters (LMC212A-MM-R3, etc.)
FlexPoint 100BASE-TX to 100BASE-FX Media Converters (LMC213A-MMST-R2, etc.)
FlexPoint Token Ring UTP to Fiber Media Converters (LTM215A)
FlexPoint 10/100 Rate Converters (LMC100A-R2, etc.)
FlexPoint Gigabit UTP to Fiber Media Converters (LMC1003A-R3, etc.)
FlexPoint 100-Mbps Fiber to Fiber Converters (LMC252A-ST, etc.)
FlexPoint 1000-Mbps Fiber to Fiber Mode Converters (LMC1001A, etc.)
FlexPoint Fiber-to-Fiber Mode Converters for ATM OC-3 and OC-12 (LMC156A-ST, etc.)
FlexPoint T1/E1 Copper to Fiber Line Drivers (MT660A-MM, etc.)
FlexPoint RS-232 to FIber Converters (ME660A-MST, etc.) Questions? Contact our FREE Tech Support.
Contact Sales Assistance
(800) 972-3922
,
Monday-Friday 8am-6pm ET