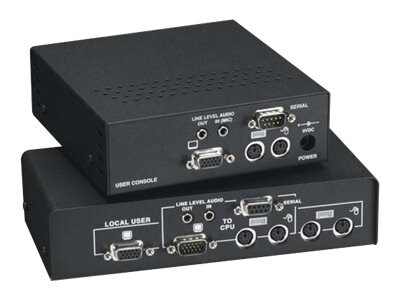 Quick tech specs
KVM / audio / serial extender
View All
Know your gear
ServSwitch Brand CATx KVM Extenders enable you to place your VGA monitor, keyboard, and mouse more than 900 feet (274.3 m) from a CPU. And, as the "x" in their name signifies, you can use the extenders with any grade of UTP cable that's Category 5 or higher.

The extenders come in kits that include local and remote units, which are connected with a single CAT5 or higher cable. All keyboard, mouse, and video signals (as well as serial and audio signals on models that support them) are fully buffered to ensure consistent remote operation of your PC.

No matter what CAT5 or higher cable you use, you can expect clear, high resolution at the remote end with these KVM extenders. That's because the CATx kits' remote units and individual standalone remote units feature a built-in skew compensator. Color drift - caused by the different twist ratios of the twisted pair cable - is eliminated. The skew compensator removes the unsightly color shadows by delaying some color signals so that all color signals arrive at the same time at the remote end. This skew compensation works with all colors transmitted.

You can fine-tune the monitor image via simple keyboard hotkey commands to fix skew attenuation and losses. Use keyboard controls to equalize red, green, and blue to compensate for the differing pair lengths found in CAT5e and higher cables. Independent low-frequency (LF) and high-frequency (HF) equalization adjustment ensures optimum video tuning. There are even preset modes to help you find the right image balance quickly, and the Quick Skew features help make video tuning nearly automatic. ServSwitch Brand CATx KVM Extenders save all video settings in nonvolatile memory.

ServSwitch Brand CATx KVM Extender with Serial and Audio Dual-Access Kit goes beyond just enabling you to have a local control station near your CPU or ServSwitch. It also lets you attach a remote station with a serial device and place audio devices such as speakers, microphones, and headphones up to 984.2 feet (300 m) from the CPU. It includes (1) local unit, (1) remote unit, (1) cable from CPU to local unit, (1) serial cable, (1) audio cable, (1) 9-volt power supply, and (1) power cord.