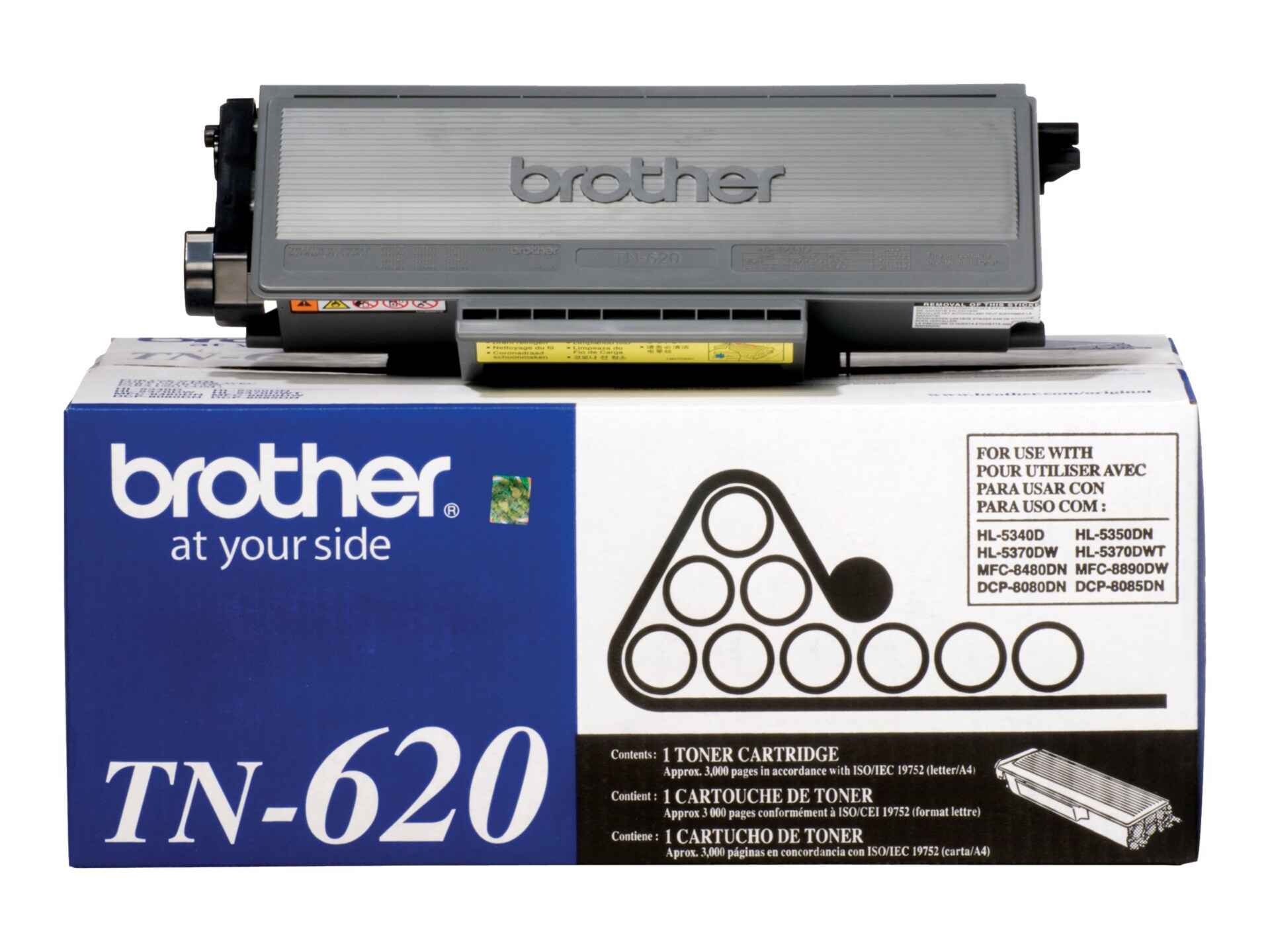 Brother TN-620 - black - original - toner cartridge
Mfg.Part: TN620 | CDW Part: 1796619 | UNSPSC: 44103103

Brother TN-620 - black - original - toner cartridge
Product Details
Main Features
620
Black
original
toner cartridge
for Brother DCP-8080
DCP-8085
HL-5340
HL-5350
HL-5370
MFC-8480
MFC-8680
MFC-8890
Brother TN620 - black - original - toner cartridge is rated5.00 out of5 by2.
Rated 5 out of 5
by
Frank
from
WOW!
My wife and I are both in school and print all the time. We were going through ink every month with an inkjet. With the pricing for this toner online I estimate we will pay about one penny per print with this new machine. Plus I now have an app on my android that lets me print from my phone! I can also scan directly to my phone from the scanner. How awsome !
Date published: 2011-10-22T00:00:00-04:00
Rated 5 out of 5
by
Hvytoys
from
another one of the good ones
easy to understand, a snap to operate, durable, lots of resets and options on supplies, repairable and reliable. Can't come up with enough long words to describe this printers positive points
Date published: 2018-11-24T00:00:00-05:00
Rated 5 out of 5
by
Laura970
from
Great MF despite install issues
I had a Brother 8860 for years which continued to work great until I got Windows 7. There was no driver for Windows 7 scanning, so I had to replace it.This printer set up very easily, with the exception of the scanning software. First, the old Paperport software (version 10SE) would not uninstall. I had to go to the Nuance site for a "remover tool". Then I installed from the Windows 7 CD, but kept getting fatal errors when starting the Paperport (now 11SE) application. I finally purchased a full version of PaperPort this weekend that worked.Today I called Brother, uninstalled the purchased version and installed directly from the CD, but from the Paperport/Programs directory. This fixed the issue and I will return the full Paperport version.
Date published: 2012-02-06T00:00:00-05:00
Rated 5 out of 5
by
sirhc
from
MFC-8690DW (scanner portion
I purchased mainly for the scanner. The scanner portion IS HORRIBLE! I love Brother products and the rest of the machine is OK. the manual does not cover scanning. Stupid. I spend HOURS figuring it out. Still, even with the help of customer service, the scanned image wouldn't print out dark enough. It copys the original perfectly, however, it only prints the scan of the image 50% lighter. No matter what resolution you scan it or print it – each looked the same. I had to take the scans into Photoshop to darken.The scan menu is very confusing. Defaulted to bitmap. You had to go into another screen, then another screen, then another screen – just to scan a pdf.The multi page option is very nice, but some of the pages were slightly off.Very labor intensive.
Date published: 2012-11-01T00:00:00-04:00
Rated 5 out of 5
by
Geeee
from
Does all I would want
I have been using the MFC 8690 for about a year, purchased at Costco. This printer has done all I asked for and more. I networked the printer, but mainly print wirelessly. I love that I can print front to back and make any mail that I send cheaper. Scanning is easy, and it prints and sorts very fast.
Date published: 2012-06-19T00:00:00-04:00
Rated 5 out of 5
by
LisaT
from
Gawd......what an awful printer
Ugh...do I have to give it one star? Doesn't play nice in the sandbox with Windows 8. Can't set it up on Windows 7 either. Would love to throw it off the roof and buy an HP. This will be the LAST Brother purchase.
Date published: 2013-02-03T00:00:00-05:00