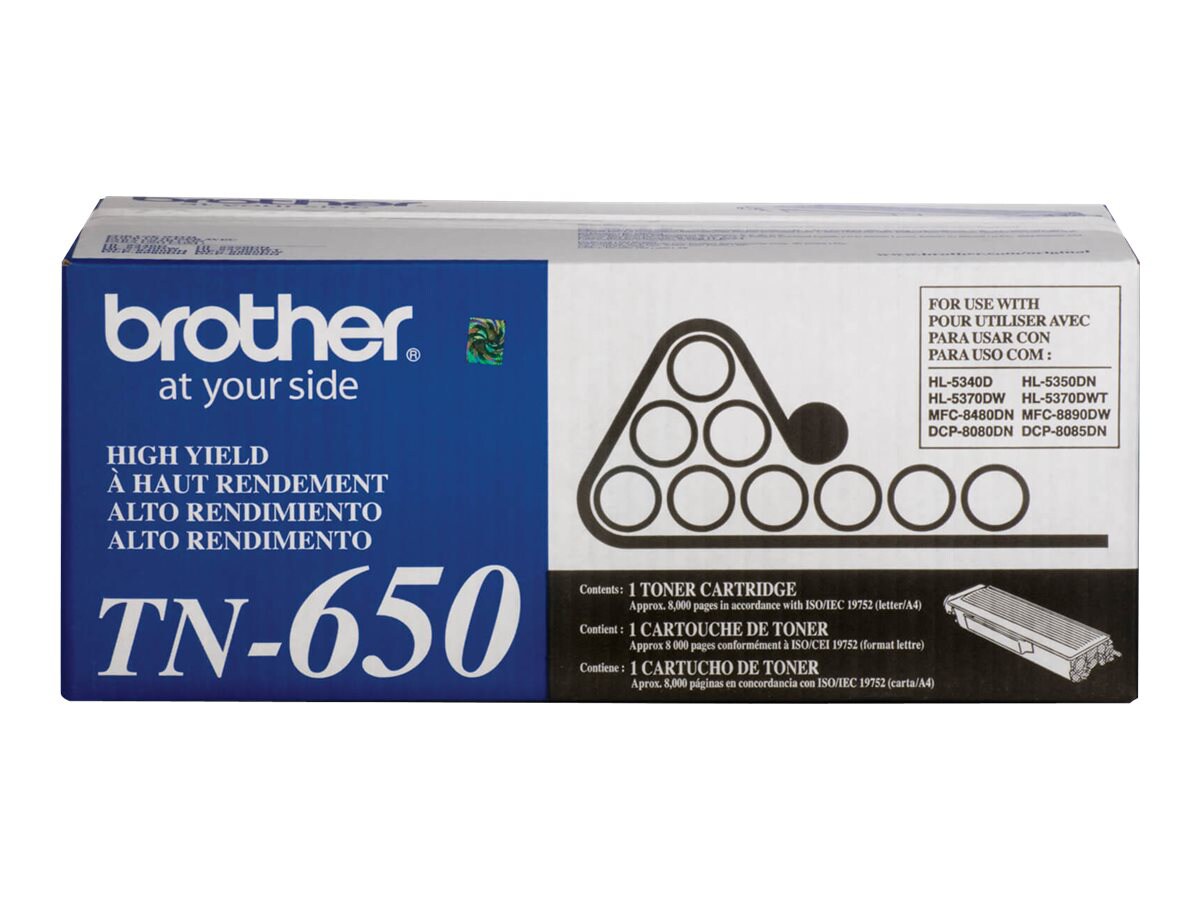 Quick tech specs
650
black
toner cartridge
DCP-8085
HL-5350
MFC-8480
MFC-8890
High Yield
original
for Brother DCP-8080
HL-5340
HL-5370
MFC-8680
View All
Brother TN-650 - High Yield - black - original - toner cartridge
is rated
4.36
out of
5
by
11
.
Rated

5

out of

5
by
marliz
from
Excellent Choice
The Brother printer that I purchased with dual trays has been a benefit to me. the use of the printer is simple and the printed pages are great.
Date published: 2012-12-03T00:00:00-05:00
Rated

5

out of

5
by
SigningHawaii
from
Excellent, as always!
I have used Brother printers for many years and had a dual-tray printer for 8 years from another manufacturer. When that company stopped providing drivers for the new versions of windows I moved to this Brother printer and am very satisfied with it. It does an excellent job. As a Notary Signing Agent I have the need to print loan documentation on letter and legal size paper from one pdf file. This works perfectly, as promised. I read a review that criticized this printer for "crinkling" envelopes. The problem is with the envelop, not the printer. It makes a difference how the envelope is put together. Some will crinkle...no way around it if you are using a laser printer, so it is not a problem with this or any other Brother printer. I have already recommended this printer to another Signing Agent friend.
Date published: 2012-11-25T00:00:00-05:00
Rated

5

out of

5
by
Rosenotary
from
Perfect for small business needs!
I have been using this printer for over a year now and have had no mechanical issues. Having the dual tray option gives me great capacity. I use both letter and legal size paper. So when I'm printing a pdf that consists of both sizes it selects the appropriate paper efficiently.
Date published: 2012-12-04T00:00:00-05:00
Rated

5

out of

5
by
ddietrich71
from
Easy set up
I just got my HL-5370DWT yesterday about 10 AM. Not being overly computer literate I thought it was going to take a while to set it up on the wifi connection to start printing. Had to be to work at noon time so I gave it a shot. I had the whole thing set up and connect wirelessly in under an hour and the print clarity is great. If it performs as great as it was easy to set up I will be very happy with this printer.
Date published: 2011-06-09T00:00:00-04:00
Rated

5

out of

5
by
ProcessEngineer
from
HL-5370DWT
I needed a Laser Printer due to it's speed. Since I already have a small Brother color ink-jet printer a b&w laser printer was my choice. The HL-5370DWT is fast with crisp and clean printing. This is a excellent solution for any printing needs. I have the optional second tray. Now I am not required to add paper daily. Good stuff at a good price.
Date published: 2011-08-19T00:00:00-04:00
Rated

5

out of

5
by
RichF
from
Toner costs are eatong us alive
I like the speed. I like the cost of the base unit and I like the performance. I hate that every day or two, this printer is nagging us for more consumables. The toner needs frequent replacement and it is expensive. We selected this printer becasue we thought an inkjet would be expensive for supplies. But this could actually be worse.
Date published: 2012-12-24T00:00:00-05:00
Rated

5

out of

5
by
DouglasJ
from
Excellent printer
The HL-5370DWT is a practical upgrade to the model without the dual trays. Considering the price of purchasing the tray separately, this combo is the way to go. The printer is fast, quick to initiate print jobs, and has high quality output. I print a medium-high volume of plain-text pages, and a laser printer saves me money over buying inkjet cartridges. Initial costs are higher, but well worth it in the long run. The printer has a reasonably small footprint, and seems sturdily built. So far the only con is that when printing in duplex mode the pages sometimes emerge somewhat curled; however, after the pages are removed from the print tray and allowed to lay flat, they return to normal after only a short time. Do not let this discourage you from your purchase. Overall, I would highly recommend this model with extra capacity paper tray, wireless networking capabilities, auto-duplexing, and fast print speed.
Date published: 2010-10-17T00:00:00-04:00
Rated

5

out of

5
by
PrintHappy
from
Besy Value on the Market
I had a Brother 5250DNT that, after 5 years, finally needed new rollers. The cost to repair was slightly less than replacing the printer. So I bought the 5370DWT. The 5370DWT is what I have come to expect from Brother - another better, cheaper alternative to HP. Supplies are cheaper than HP and Samsung. Service, when I called with questions was great too. HP blew me off when I had questions - but Brother doesn't do that. Best combination of performance, cost and service on the market. Brother printers are awesome. I love mine (also have a Brother 4070 CDW.
Date published: 2011-07-26T00:00:00-04:00
Rated

5

out of

5
by
HL5370
from
Like not Love
Hi, I enjoy using this printer. It was little more complex to set up that another laser printer I had without the unique wireless feature. What do not like is that it appears the drum has to be replaced after only two months. There is a line down the page after moving the slider back and forth 10-12 twelve times as reccomended to avoid lines. '
Date published: 2012-11-25T00:00:00-05:00
Rated

5

out of

5
by
pavalo
from
great asset to my office
meets all my needs and expectations, fast easy to use wirelessly
Date published: 2012-11-25T00:00:00-05:00
Rated

5

out of

5
by
trigger
from
Good Purchase
Printer works great for the most part. Purchased the additional tray, but have been unable to get it to work. Envelopes are also a problem. Tried three times and it pringted all three times on regular paper and did not pick up envelope from the auxiliary tray
Date published: 2011-10-09T00:00:00-04:00