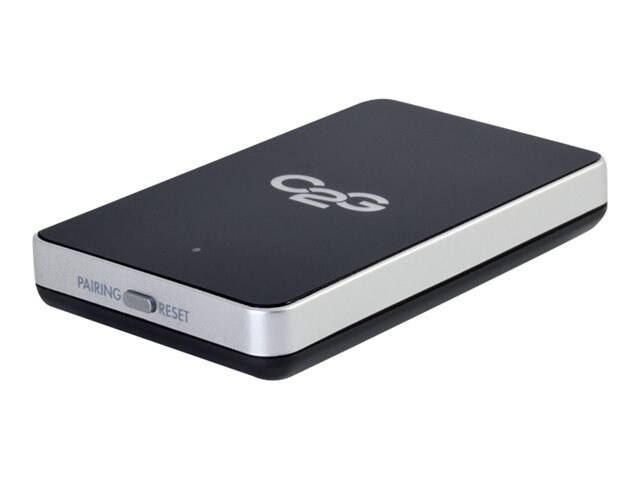 Quick tech specs
Wireless video/audio extender
802.11b/g/n
View All
Know your gear
Enjoy expanded use of a notebook PC, tablet, smartphone or other mobile device by wirelessly mirroring the screen image of the device on a flat panel display or projector. This Wireless Audio/Video Receiver allows simple streaming of videos, movies, images, files and other content in crisp 1080p resolution. The Wireless Audio/Video Receiver eliminates the need for signal adapters or long length cables by creating a new sharing experience, which is easy to set up and use. Designed for use with a variety of Miracast-enabled devices, this adapter will mirror and transmit content in real-time with near zero latency for uninterrupted viewing. With quick, easy setup you can begin enjoying content on your TV in just minutes. Connect the Wireless HDMI Adapter to your HDTV, projector or display with an HDMI cable for audio/video and USB for power, and then wirelessly connect to the adapter from the menu of the mobile device. Content from your mobile device is instantly available on your TV with no restricting wires or
C2G Wireless Audio/Video Receiver - wireless video/audio extender - 802.11b
is rated
3.50
out of
5
by
2
.
Rated

5

out of

5
by
Andy
from
very hard to connect
this thing is very hard to setup.first my phone never find it (I have ndroid upgraded)it was hard to setup has wifi to performance an update.even after that can not make it work. i bough 6 of this thinking will be good device. but is not
Date published: 2015-07-11T00:00:00-04:00
Rated

5

out of

5
by
matasw
from
Outstanding on Surface Pro!
Piloting these to use in a school setting. The video quality from a surface pro is amazing. Noticeably better then Chromecast, Epson Wireless, Apple TV Etc. Testing using a Surface Pro. I was unable to get it to work with a Asus Vivotab but did not spend too much time troubleshooting (we're ditching all of our Vivotabs).
Date published: 2014-03-06T00:00:00-05:00
Rated

5

out of

5
by
KB4ZAX
from
Sometimes works.
My laptop "sees" it but cant connect to it.?? Android phone connects but sometimes audio/video is choppy sometimes OK. devices are 20 feet or less apart.Wish I would have just got a 20 ft HDMI cable.
Date published: 2018-12-23T00:00:00-05:00
Rated

5

out of

5
by
Pascal
from
Bad connectivity
The concept of this Bluetooth device is exactly what I needed, however it does not function with the consistency I need for it to be adequately functional. The problem is in the connection which continuously drops out forcing a complete reconnection process each time I try to use it. If I try to stream any presentation or video from any computer to the display TV, the C2G drops the connection every 10 minutes, making it difficult to follow a complete video. Very disappointing.
Date published: 2019-01-08T00:00:00-05:00
Rated

5

out of

5
by
user
from
Review of Miracast
Very difficult to use. Spent a great deal of time setting it up and still did not work.
Date published: 2014-10-17T00:00:00-04:00
Rated

5

out of

5
by
AC
from
WiDi/Miracast
This unit and it's two sister units will replace our overhead projectors in conference rooms. The ability for any user to cast to the 70" screens sans wires makes the company better and presentations better. The ROI for this is amazing.
Date published: 2014-09-17T00:00:00-04:00
Rated

5

out of

5
by
Shane
from
Works great!
Connected to projector with HDMI, installed wifi display helper on a Nexus 7 from the play store, had it connected in seconds. Full screen mirroring from the device to the projector with sound. With the external keyboard makes using the Nexus really nice on a big screen.Also connected a Dell XPS 14. Had to purchase a Dell Intel wireless nic and ditch the Killer brand nic. Removed the intel nic video driver in the device management, left the nvidia alone, had windows update install the intel video, downloaded widi updater from Intel support site, ran it, it updated a couple programs and installed a widi program that opens and you see the adapter you purchases and have connected to your projector, type in a password it gives you and your connected.I was not able to use an HDMI to VGA adapter inline with this adapter so I could make this work on an older projector that didnt' have HDMI but I am still trying other things.
Date published: 2014-05-12T00:00:00-04:00