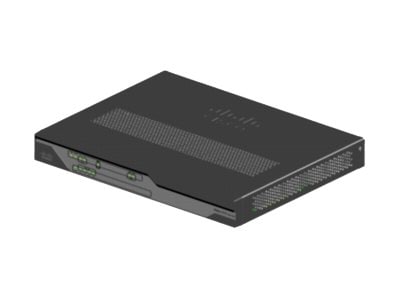 Quick tech specs
8-port switch
WAN ports: 2
View All
Know your gear
The Cisco 890 series integrated services router combines internet access, comprehensive security, and wireless services in a single, secure device that is easy to deploy and manage. The best-in-class Cisco 890 series architecture has been specifically designed to deliver high performance with concurrent services, business continuity, and investment protection for enterprise small branch offices and service provider managed services applications.

The Cisco 890 series integrated services router is a fixed-configuration router that provides collaborative business solutions for secure voice and data communications to enterprise small branch offices. It is designed to deliver secure broadband, Metro Ethernet, Wireless LAN (WLAN) connectivity, and business continuity. The router also comes with powerful management tools, such as the web-based Cisco configuration professional configuration management tool, which simplifies setup and deployment. Centralized management capabilities give network managers visibility and control of the network configurations at the remote site.
Cisco 892FSP - router - desktop
is rated
4.38
out of
5
by
8
.
Rated

5

out of

5
by
Joao3569
from
null
The Cisco 830 Series routers, including the Cisco 831 and Cisco 837 models, extend the benefits of embedded network security to small offices and teleworkers with advanced security features and performance, high quality secure voice and video support, as well as manageability, scalability, and reliability features to reduce operational costs. The Cisco 831 Ethernet Broadband Router has an Ethernet WAN port for use with an external DSL or cable modem ideal for providing secure Internet and corporate network connectivity
Date published: 2011-04-11T00:00:00-04:00
Rated

5

out of

5
by
DavidStahlman
from
null
We have one of these in place for our VOIP solution provided 3rd party. We have had consistent service out of it for about a year now.
Date published: 2014-10-31T00:00:00-04:00
Rated

5

out of

5
by
JKZfixme
from
Ran forever in production, still kicking around in the testlab
I can not say enough good things about the 890's. I have had nothing but good luck and excessive up times. I had 32 in production and rebooted them when I updated IOS.
Date published: 2018-09-27T00:00:00-04:00
Rated

5

out of

5
by
tirabytes
from
null
Deployed a lot of Cisco 857/51, 877/71 and 887/81 to remote SO branches, from MPLS CPE, DSL, Fibre and more. Performs really well in any situations.
Date published: 2011-09-01T00:00:00-04:00
Rated

5

out of

5
by
PaulLJ
from
null
The 800 series routers are a pretty robust line. Great for teleworkers. The 851 and 871 routers allow for seperate vpn tunnels so you can seperate voice and data. The only draw back for the 831 is that the power connector is simular to that of the power connector for the Cisco series phones. So if you accidentally plug the phone power into the router, poof, toast. If you need to deploy multiples of these, just create a profile and save to a txt file. Then you can copy and paste the config through telnet.
Date published: 2011-05-10T00:00:00-04:00
Rated

5

out of

5
by
Panda (w bold)
from
null
Best series that Cisco made for the Soho and SMB markets.
Date published: 2011-07-15T00:00:00-04:00
Rated

5

out of

5
by
Nitroz
from
null
Powerful little routers with the same configuration commands of the big brothers. They have models with wide range of interfaces, you just have to make sure you choose carefully. Have deployed many of the (old) 83x, 86x 87x, 88x and even a few 89x's - they're rock solid. You get what you pay for.
Date published: 2013-01-27T00:00:00-05:00
Rated

5

out of

5
by
Dan8422
from
null
I have five Cisco 892 routers now. Four are at different ends of our Comcast metro Ethernet setup and one is VPN'd into our main office.They work great.Yes, Cisco command line setup sux but it is almost unbeatable. I also have maintenance on all of them and it is reasonable -- especially considering what you're paying for it. All in all, the hardware, reliability, service & support - it's unbeatable. As much as I hate the Cisco interface I'm not changing anytime soon. And even though I do hate the interface I ALWAYS get help from Cisco, fast and when I need it.
Date published: 2013-02-15T00:00:00-05:00