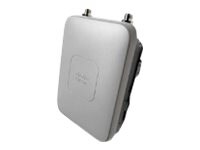 Quick tech specs
Wireless access point
2.4 GHz
View All
Know your gear
As carrier-grade Wi-Fi becomes a critical small-cell element in nextgeneration mobile networks, operators are requesting new access point designs that can pack a punch in a small form factor. The Cisco Aironet 1530 Series Outdoor Access Points incorporate a low-profile design that is esthetically pleasing, yet they can withstand the most rugged outdoor conditions. Cisco brings engineering innovation to the platform with unique Cisco Flexible Antenna Port technology that allows the same antenna ports to be used either for dual-band antennas to reduce the antenna footprint or for single-band antennas to optimize radio coverage. This flexibility allows antenna changes to be made on the fly, and saves on sparing costs. And the Cisco Aironet 1530 Series brings all the same robust Wi-Fi features that operators have come to expect from Cisco, including radio resource management, BandSelect to automatically take advantage of the 5-GHz band, and VideoStream for high-quality video performance over Wi-Fi. Only Cisco delivers all of these features in a hardened outdoor access point that is ideal for any urban setting.

The Cisco Aironet 1530 Series Outdoor Access Points are small enough and light enough to be unobtrusively mounted on street light poles or building facades.

The innovatively designed Cisco Aironet 1530E Outdoor Access Point is designed with antenna Cisco Flexible Antenna Port technology, which can support either dual-band or single-band antennas on the same platform and is configurable via software. When configured for dual-band ports, the Aironet 1530E uses the bottom two antenna ports to connect to dual-band omnidirectional or directional antennas. Alternatively, and for additional radio coverage flexibility, the Aironet 1530E can be software-configured, enabling two separate 2.4-GHz and two 5-GHz antenna ports. This flexibility allows customers to use high-gain directional antennas for backhaul on 5 GHz while deploying omnidirectional antennas for access on 2.4 GHz.