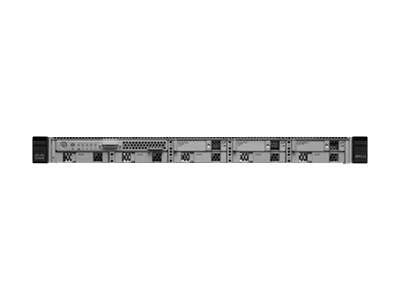 Quick tech specs
3 nodes
rack-mountable
2-way
RAM 64 GB
GigE
monitor: none
cluster
1U
2 x Xeon E5-2609V3 / 1.9 GHz
no HDD
10 GigE
View All
Know your gear
The Cisco Application Policy Infrastructure Controller (APIC) is a distributed system implemented as a cluster of controllers. The Cisco APIC provides a single point of control, a central API, a central repository of global data, and a repository of policy data for the Cisco Application Centric Infrastructure (ACI). Cisco ACI is conceptualized as a distributed overlay system with external endpoint connections controlled and grouped through policies. Physically, Cisco ACI is a high-speed, multipath leaf and spine (bipartite graph) fabric.

The Cisco APIC is a unified point of policy-driven configuration. The primary function of the Cisco APIC is to provide policy authority and policy resolution mechanisms for the Cisco ACI and devices attached to Cisco ACI. Automation is provided as a direct result of policy resolution and of rendering its effects onto the Cisco ACI fabric.

The Cisco APIC communicates in the infrastructure VLAN (in-band) with the Cisco ACI spine and leaf nodes to distribute policies to the points of attachment (Cisco leaf) and provide a number of key administrative functions to the Cisco ACI. The Cisco APIC is not directly involved in data plane forwarding, so a complete failure or disconnection of all Cisco APIC elements in a cluster will not result in any loss of existing datacenter functionality.

In general, policies are distributed to nodes as needed upon endpoint attachment or by an administrative static binding. You can, however, specify "resolutional immediacy", which regulates when policies are delivered into Cisco nodes. "Prefetch" or early resolution is one of the modes. The most scalable mode is the "just-in-time mode", in which policies are delivered to nodes just in time upon detection of the attachment. Attachment detection is based on analysis of various triggers available to the Cisco APIC.

A central Cisco APIC concept is to express application networking needs as an extension of application-level metadata through a set of policies and requirements that are automatically applied to the network infrastructure. The Cisco APIC policy model allows specification of network policy in an application- and workload-centric way. It describes sets of endpoints with identical network and semantic behaviors as endpoint groups. Policies are specified per interaction among such endpoint groups.