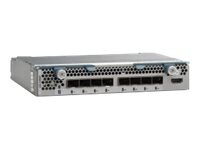 Quick tech specs
Expansion module
FCoE
for UCS 5108 Blade Server Chassis SmartPlay 8 Expansion Pack
View All
Know your gear
Cisco UCS 2200 series Fabric Extender brings the unified fabric into the blade server enclosure, providing 80 Gigabit Ethernet connections between blade servers and the fabric interconnect, simplifying diagnostics, cabling, and management.

The Cisco UCS 2200 series extends the I/O fabric, enabling a lossless and deterministic Fiber Channel over Ethernet (FCoE) fabric to connect all blades and chassis together. Since the fabric extender is similar to a distributed line card, it does not perform any switching and is managed as an extension of the fabric interconnects. This approach removes switching from the chassis, reducing overall infrastructure complexity and enabling the Cisco unified computing system to scale many chassis without multiplying the number of switches needed, reducing TCO and allowing all chassis to be managed as a single, highly available management domain. The Cisco UCS 2200 series also manages the chassis environment (the power supply and fans as well as the blades) in conjunction with the fabric interconnect.

The Cisco UCS 2208XP Fabric Extender has eight 10 Gigabit Ethernet, FCoE-capable, and enhances Small Form-Factor Pluggable (SFP+) ports that connect the blade chassis to the fabric interconnect. Cisco UCS 2208XP has thirty-two 10 Gigabit Ethernet ports connected through the midplane to each half-width slot in the chassis. Typically configured in pairs for redundancy, two fabric extenders provide up to 160 Gbps of I/O to the chassis.