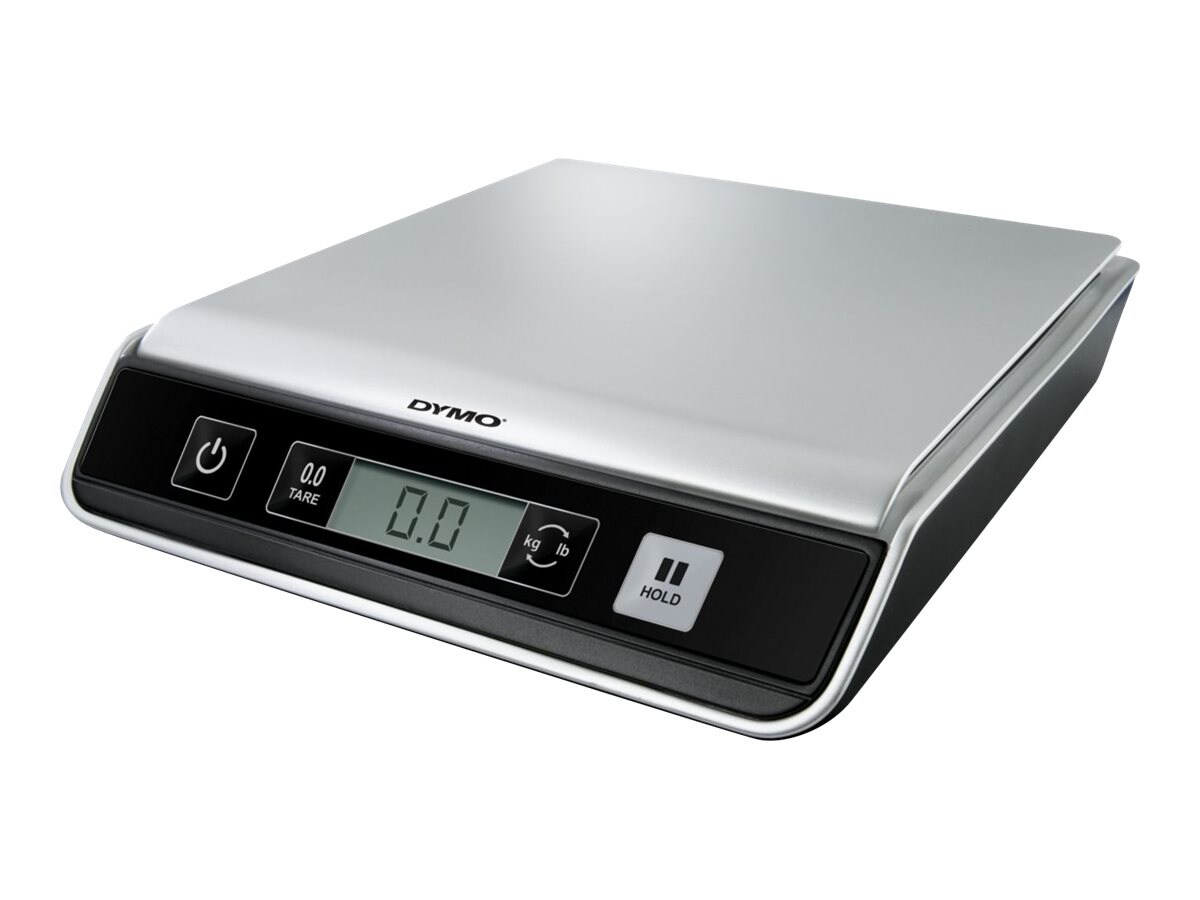 Quick tech specs
Postal scales
graduation: 2.8 g / 0.1 oz
capacity: 11 kg / 25 lbs
20 cm x 20 cm
View All
Know your gear
The DYMO M10 mailing scale makes it possible to easily weigh envelopes to large packages and offers the solution for correct postage. No more endless waiting at the post office lines. The hold and tare functions, and additional features, makes accurateness and professionalism go hand in hand.
Dymo M25 - postal scales
is rated
2.17
out of
5
by
12
.
Rated

5

out of

5
by
RocketMeesch
from
Works great - for a year and a half
This scale works great, but it just died on us after a year and a half of use (so it is outside of warranty. We've had other scales last us many years, so this is disappointing, especially at the cost. We love the auto detect weight feature, and it works with a Mac, which is great.
Date published: 2019-12-17T00:00:00-05:00
Rated

5

out of

5
by
reeree
from
Not what we needed
Thought the scale also gave postage cost but has weighing capabilities
Date published: 2014-02-20T00:00:00-05:00
Rated

5

out of

5
by
Johnsonkrny
from
Postal Scale for weighing only
Scale is good for just weighing pieces; however we really wanted the scale to also compute what the cost would be, as our previous scale which no longer is being updated by Pelouze. Disappointed in that aspect, but the scale is good otherwise.
Date published: 2014-02-12T00:00:00-05:00
Rated

5

out of

5
by
ADMIN10
from
BUYER BEWARE! NO ONLINE SOFTWARE SUPPORT!
The Dymo M25 model does NOT come with online support. If you cannot find a free app to work with the scale you will have to manually compute it yourself. DYMO does NOT have a support program for this scale.
Date published: 2017-01-25T00:00:00-05:00
Rated

5

out of

5
by
MikeDontLikeCrapProducts
from
sleep mode in 3 minutes
This garbage goes to sleep every three minutes. I then have to wake the garbage up and restart all of the software that is dependent on a scale. If you are in the middle of processing a shipment it will go to sleep and you can then start the process over from the beginning. Someone needs to fix this device it's unusable now. Save your money and buy a product that will stay powered by design.
Date published: 2017-03-21T00:00:00-04:00
Rated

5

out of

5
by
mjtx
from
Continually goes to sleep and won't turn back on
I am using this with my new windows 8.1 so it may be 8.1 issues, but this scale continually goes to sleep and won't wake up. I have to unplug the usb and replug it in to wake it up. If I push the HOLD button to hold a weight for a larger package it goes to sleep and won't wake up.
Date published: 2014-10-20T00:00:00-04:00
Rated

5

out of

5
by
No More Pillows
from
I can not get it to work with Ship Station
The scale is nice looking and gets power from USB. But my computer doesn't seem to know it's there and Ship Station also does not see it. It's very expensive for just a scale. I paid for the connected capability.
Date published: 2016-08-25T00:00:00-04:00
Rated

5

out of

5
by
Mandy794
from
New M25 postage scale
I am disappointed that this unit did not come with a plug so that it could be plugged into an electrical outlet instead of through a USB port. Who wants to keep replacing batteries in appliances all the time? Can the model be adjusted to accommodate an electrical cord?
Date published: 2014-03-07T00:00:00-05:00
Rated

5

out of

5
by
techgeek
from
Didn't work for me
I bought two of these, the first an open-box item at Amazon, then a brand-new one at Amazon. Both of them started refusing to turn on. The first one failed within 2 weeks. The second one failed within 10 days. It's not my computer because neither would work on a fresh set of batteries either. Great build quality but poor quality control. I would not buy again.
Date published: 2014-08-18T00:00:00-04:00
Rated

5

out of

5
by
Rely
from
Digital Postal Scale
I bought the scale a few weeks ago and I am very happy with it.
Date published: 2017-08-15T00:00:00-04:00
Rated

5

out of

5
by
MAPNFL
from
Dissapointed
I purchased this product because of the InstaRate postage calculating software, only to come find out that the service ended in August of 2016 and I purchased it in February 2018. They still had it at regular price of $99.99 but I was able to get it on sale for half that price. It looks nice and works great with the exception of the software so that is disappointing. When I called customer service they stated that there was no other calculating software, I would have to manually enter it into the postage software I was using to ship the item. He also stated that this must be an outdated product yet it still is being sold at regular price everywhere and on the DYMO website. I am a fan of DYMO products but this has left a bad taste.
Date published: 2018-02-11T00:00:00-05:00
Rated

5

out of

5
by
Hauling
from
False advertising on the feature InstaRate
I bought this product specifically for the Insta Rate software and come to find out that they discontinued that feature. It would of been nice if they remove this off the shelf and replace it with a scale that don't show that feature. I'm going to return this back to the store............!!!!!!
Date published: 2018-12-04T00:00:00-05:00