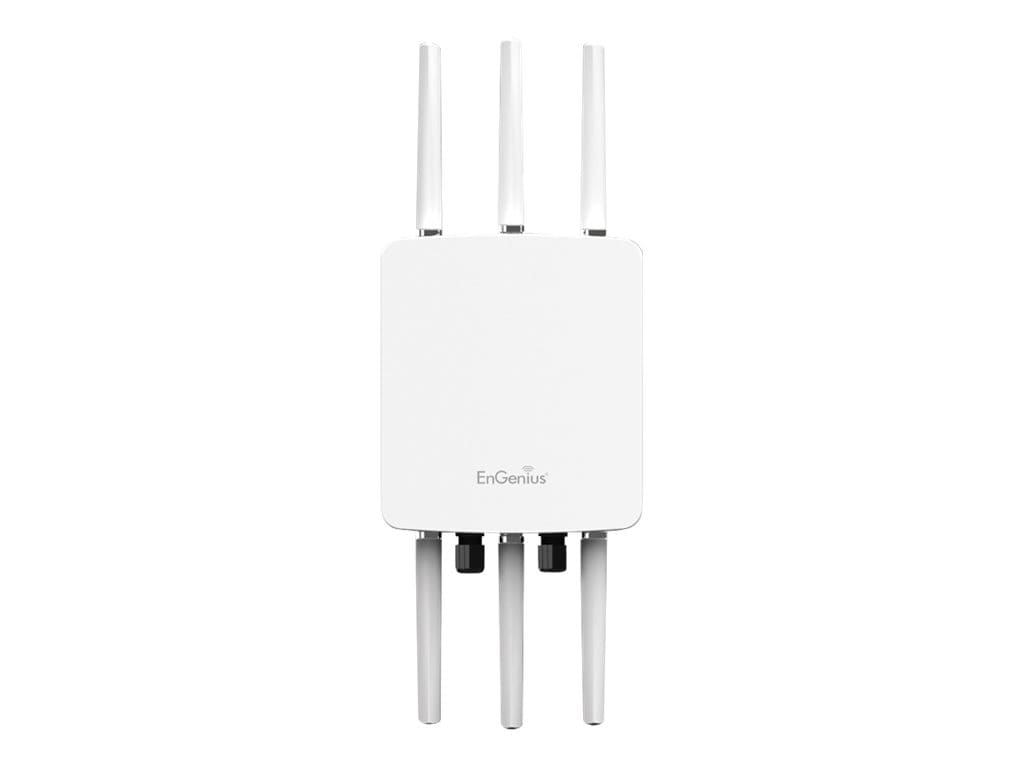 Quick tech specs
Wireless access point
2.4 GHz
View All
Know your gear
Under the AP Mesh mode (in 2.4 GHz), the ENH1750EXT Wireless Outdoor Access Point can be used as a central connection hub for stations or clients that support IEEE 802.11 b/g/n networks. Under this mode, the ENH1750EXT can be configured with the same Mesh SSID and security password in order to associate with other ENH1750EXTs as well as connect with clients under the same SSID and security encryption signatures.

The ENH1750EXT supports fast roaming for clients authenticated to a RADIUS server. This means that employees can be constantly connected to the network - whether they are warehouse workers scanning and capturing barcode information, employees on Wi-Fi phone calls while walking to meetings on another part of a corporate campus, healthcare professionals capturing patient information on mobile devices, or security personnel who need uninterrupted video surveillance on a mobile device when they are alerted to and making their way to the location of an incident.

The ENH1750 includes a band steering feature which shifts dual band-capable clients to 5 GHz from the 2.4 GHz band, helping to relieve network congestion and maintain optimal data traffic speeds. This means that sensitive applications such as IP camera streams, VoIP (Voice over IP), HD video streaming and large file transfers perform with improved quality and reliability.

The ENH1750EXT is easy to install in virtually any location as well with its included PoE (Power over Ethernet) injector for quick outdoor installation. The access point's internal electronics have been mounted in an IP68-rated enclosure, one of the highest waterproof and dustproof ratings available, designed to withstand extreme environmental conditions including severe and prolonged exposure to sunlight, extreme cold, frost, snow, rainfall, hail and humidity. The housing of the access point also has been manufactured to repel ultraviolet (UV) radiation from the sun. These protective measures make the ENH1750EXT an ideal outdoor wireless solution for virtually any locale or any venue including ski and beach resorts, sports arenas, college and corporate campuses, indoor industrial environments, and businesses located in snowy, rainy, and arid climates.

The ENH1750EXT's external MIMO antenna array is comprised of three (3) detachable 5 dBi high gain antennas for the 2.4 GHz radio and three (3) detachable 7 dBi high-gain antennas for the 5 GHz radio. This combination of high transmit power, enhanced receive sensitivity, and six (6) high gain antennas results in long range connectivity to client devices and in some venues can minimize the number of access points necessary for a deployment.

For secure network configurations, the ENH1750EXT includes wireless encryption standards such as Wi-Fi protected access (WPA-PSK/WPA2-PSK) encryption and IEEE 802.1x with RADIUS. MAC address filtering is also included allowing network administrators to allow or deny network access to clients devices (computers, tablet PCs, NAS, smartphones, etc.) according to their MAC addresses.