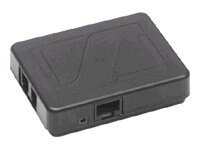 Quick tech specs
Controlling interface for phone
5065
for IMPACT DW Office; IMPACT SDW 5035
View All
Know your gear
The TCI 01 is an optional accessory to the DW800, which makes it possible for you to answer or hang up the phone while up to 150m away from your desk, since you no longer need to lift off the telephone's handset. A gentle signal from the DW 800 mobile unit indicates an incoming call. Accept or end the call simply by pressing the unit's hook button (center key).

The standard version of the TCI 01 supports selected traditional handset lifters, where the handset is lifted or lowered from its cradle mechanically by the lever of a hook switch. The TCI 01 also supports telephones with a built-in electronic hook switch, supporting either the DHSG standard or the AEI standard. An increasing number of telephone manufacturers are introducing telephones with built-in electronics, which eliminate the need for the handset to be physically lifted or lowered.

Compact and lightweight it easily finds room on even the most crowded desktop.