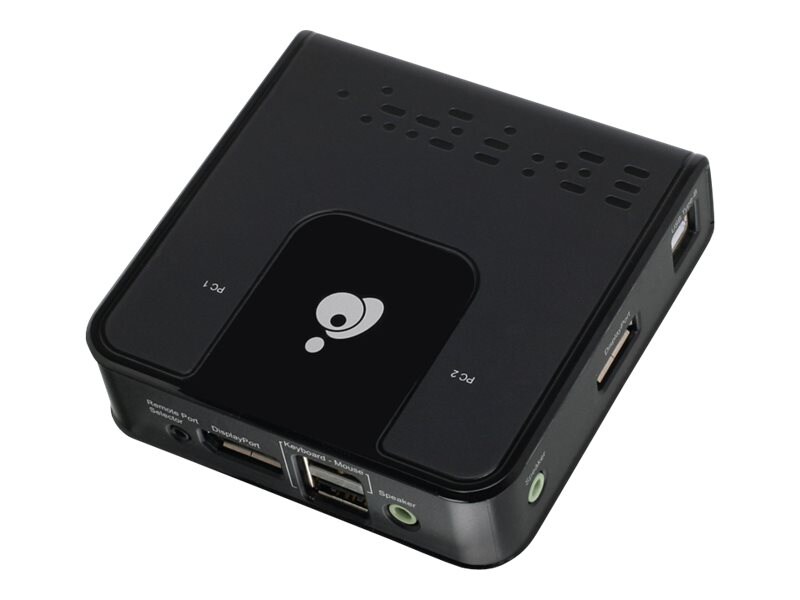 Quick tech specs
Port 4K DisplayPort KVM Switch with Audio
KVM / audio switch
1 local user
Cables Included
2 x KVM / audio
desktop
View All
Know your gear
IOGEAR's 2-Port DisplayPort KVM switch with audio and DisplayPort 1.2 connections break revolutionary new ground in KVM functionality by combining advanced 4K Cinema Video and USB 2.0 technology. It enables effortless control over two 4K-enabled computers with DisplayPort video connections using a single USB keyboard, USB mouse and DisplayPort video console.

This KVM is DisplayPort 1.2 compliant and boasts many advanced features associated with the latest developments in high resolution video specifications such as 4K CInema (4096x2160@60Hz), HD audio through DisplayPort playback, HDCP compliance, and widescreen support. The 2-Port DisplayPort KVM also comes equipped with many advanced USB related features such as support for multimedia and wireless keyboards and mice, Mac keyboards and emulation, and console mouse emulation with a bypass feature that supports most mouse drivers and multifunction mice. Other advanced KVM features include full operating system support for Windows, Mac, and Linux, full bass response audio, power-on detection, hot key and USB mouse switching, and firmware upgradability.

The IOGEAR 2-Port DisplayPort KVM is designed to save equipment costs and boost efficiency for users. It is ideal for Desktop Publishing, Graphic Design, Video Editing, Digital Home Entertainment, High-End Gaming, and other applications that demand high video resolution. Security is also increased by allowing users to switch between the Internet-connected PC and an Intranet-connected PC. For added convenience, the GCS62DP features USB 2.0 peripheral sharing via the mouse port. A powered USB Hub can be connected to expand USB connectivity. It is bus powered so no external power supply is required. All KVM cables are included!