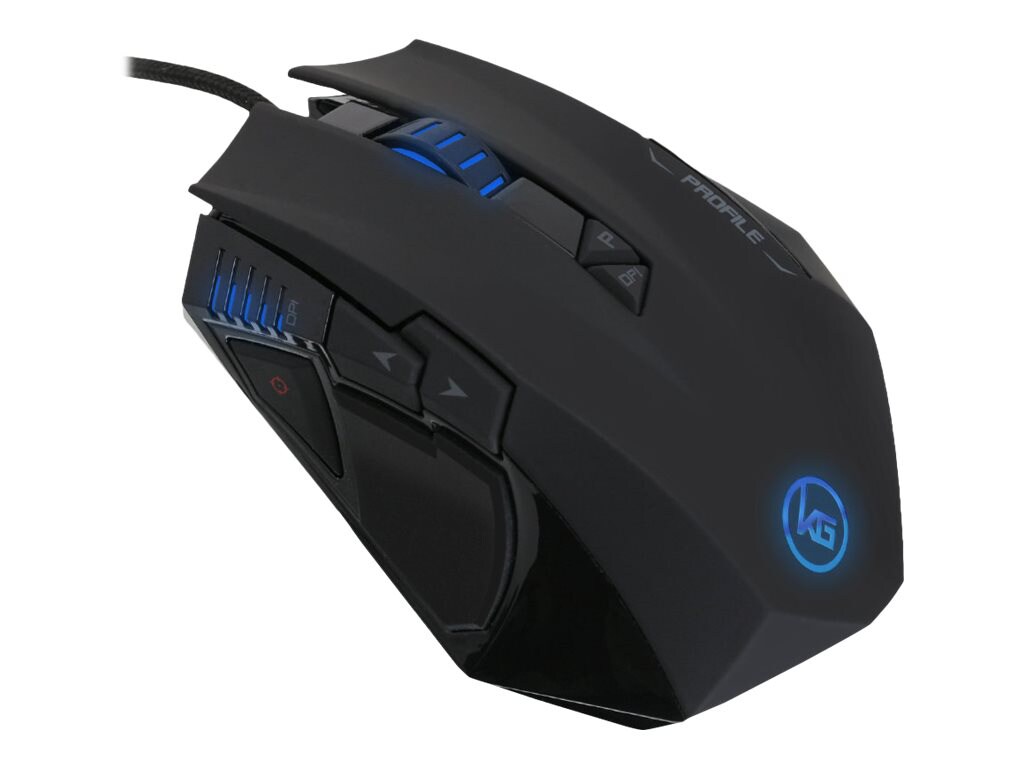 Quick tech specs
View All
Know your gear
Kaliber Gaming by IOGEAR's RETIKAL Pro FPS Gaming Mouse is a pure-bred gaming beast, specifically built to dominate first-person-shooter games. The RETIKAL's tournament-grade optical gaming sensor provides a huge step up in accuracy, allowing much more precise shots, especially when aiming-down-sight. In addition to its tournament-grade sensor, the RETIKAL also features a dedicated sniper button that changes mouse dpi while pressed, making head shots much quicker and easier. RETIKAL's built-in memory stores up to five different mouse profiles, and allows you to change every single programmable option from dpi steps to macro functions with a single click. With five programmable steps up to 5000 dpi, RETIKAL is great for low sensitivity FPS gamers and has more than enough resolution for even high sensitivity 4K Ultra HD gaming.

The RETIKAL features a thumb-activated sniper button that boosts accuracy when aiming-down-sights in FPS games. The sniper button allows FPS gamers to run-and-gun using a much higher dpi setting for faster side-to-side movement and turning, then hold the sniper button to lower dpi for precision shots. The sniper button is especially deadly while aiming-down-sights as it instantly changes the dpi to an ultra-precise setting for faster and more accurate long range or head shots. The RETIKAL can turn a good FPS player into a great FPS player practically overnight!

The RETIKAL Pro FPS Gaming Mouse buttons are programmable using the Kaliber Gaming software to access numerous user programmable functions. With the Kaliber Gaming user interface you can set mouse buttons for keyboard commands, create macros, and execute functions that would normally be much more difficult. In addition to gaming functions, RETIKAL's buttons can be programmed to make desktop functions much easier. Turn buttons into hotkeys to control media playback, insert text strings or act as direct links to open files or programs. With the Kaliber Gaming user interface, RETIKAL can be a powerful Photoshop, AutoCAD or Solidworks tool by day, and the ultimate gaming accessory by night!

At the center of RETIKAL's top panel is a profile select button to quickly switch between up to five different mouse profiles. Each profile can be independently configured for different dpi steps, button functions and even background illumination, making it easy to change features as you switch games.

The 4-piece adjustable weight system built into the RETIKAL allows tuning the feel of the mouse to your style of play. Simply remove weights to increase movement speed, or add them to increase movement precision. The tuning weights also adjust the RETIKAL's balance point and ease of lift-off, so tournament gamers can really dial it in to fit their needs.

RETIKAL features an ergonomically angled design that keeps your wrist in a natural position when using either a palm style or claw style mouse grip, making it perfect for most gamers. The ergonomic shape provides maximum comfort and relieves the strains and stresses to your wrist created by traditional mice.
Contact Sales Assistance
(800) 972-3922
,
Monday-Friday 8am-6pm ET