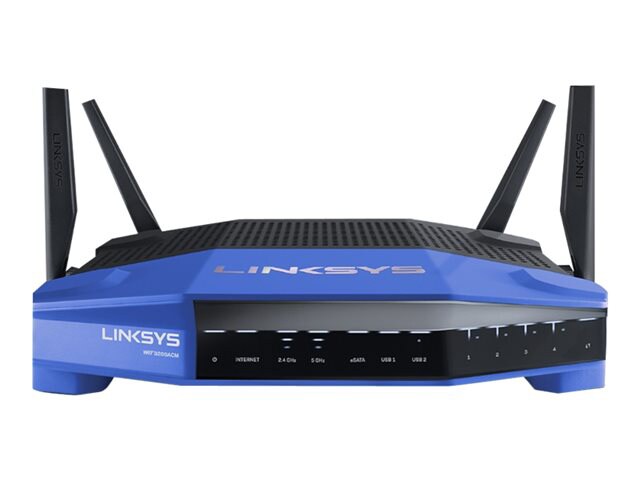 Quick tech specs
Open source firmware offers advanced customization; Certified operating systems: MacOS (10.X or higher),Windows 7,Windows 8.1 (Works with Windows 10)
Enjoy 4K HD streaming,gaming and more in high quality without buffering
Dual band Wi-Fi speeds up to 2.6 Gbps (2.4 GHz / 600 Mbps) + (5 GHz / 2600 Mbps)
Tri stream 160 technology doubles bandwidth from 80 MHz to 160 MHz
MU MIMO (Multi User Multiple Input Multiple Output) provides Wi-Fi to multiple devices at once,at the same high speed
View All
Know your gear
THE ONE AND ONLY WRT

Bring ultra-fast AC WiFi to your home with the one and only WRT3200ACM MU-MIMO Open Source WiFi Router. Equipped with Tri-Stream 160 and premium MU-MIMO technologies, this open-source router delivers blazing-fast, uninterrupted dual-band WiFi speeds to multiple devices at the same time.

TRI-STREAM TECHNOLOGY

Equipped with innovative Tri-Stream 160 technology, the WRT3200ACM delivers untouched, extreme WiFi speeds that never lag. Not available on other WiFi routers, Tri-Stream 160 effectively doubles the bandwidth of the 5 GHz band to power data-heavy activity with ultra-fast 2.6 Gbps WiFi speeds.

DFS CERTIFIED

Dynamic frequency selection (DFS) certification from the FCC not only allows operation at 160MHz enabling Tri-Stream160, but it also triples the channels available at 80MHz, so your router can operate in the clearest airspace that other WiFi routers aren't allowed.

MU-MIMO PROVIDES STUNNING MULTI-DEVICE PERFORMANCE

Thanks to MU-MIMO technology, the WRT3200ACM router can handle even the most bandwidth-intensive environments. MU-MIMO builds upon longtime broadcasting cornerstones--such as spatial multiplexing, beamforming, and scheduling algorithms--to boost overall throughput and distribute WiFi bandwidth fairly between devices. Each connected client device receives its own dedicated data stream, so users won't have to compete with one another for bandwidth. Multiple users can simultaneously engage in 4K video streaming, play online games, and perform other data-intensive tasks without latency or buffering.