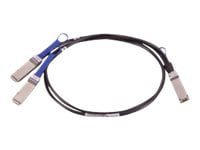 Quick tech specs
Network cable
1 m
passive
QSFP28 (M) to QSFP28 (M)
SFF-8665/IEEE 802.3bj/IEEE P802.3by
black
View All
Know your gear
The Mellanox MCP7H00-GXXX hybrid passive copper cable is a high speed, cost-effective 100GbE to 2x 50GbE Ethernet connectivity solution designed for the growing need for higher bandwidth in data centers.

The MCP7H00 cables are compliant with SFF-8431 and SFF-8665 QSFP28 specifications and provide connectivity between systems using QSFP28 port on side end and two QSFP28 ports on the other. The MCP7H00 connects the data signals from each of the 2 dual copper pairs on the single QSFP28 (pair 1&2, 3&4) end to the dual copper pair of each of the QSFP28 (pair 1&2) ends on the multiport side. Each QSFP28 cage comprises an EEPROM providing product information which can be read by the host system.

Mellanox's unique quality passive copper cable solutions provide power-efficient connectivity for short distance interconnects. It enables higher port bandwidth, density and configurability at a low cost and reduced power requirement in the data centers.