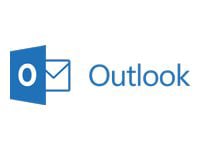 Know your gear
Microsoft Outlook provides you with a world-class experience to stay productive and in touch with your personal and business networks.

Manage large amounts of e-mail with ease. Condense, categorize, or even ignore entire conversations with a few clicks. With conversation management tools and the Conversation View, dozens of messages can turn into just a few relevant items.

Send the right information to the right people and respond to e-mails rapidly. MailTips instantly alert you to potential distribution issues and Quick Steps take the multi-stepped tasks you perform most down to just a single click.
Software Details
View Tech Specs