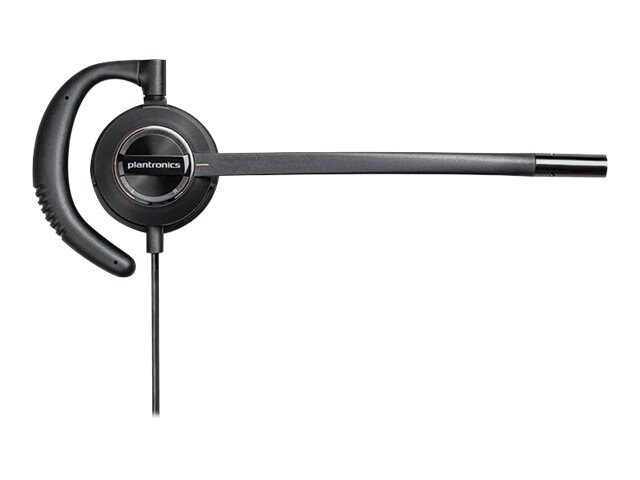 Quick tech specs
Headset
over-the-ear mount
Quick Disconnect
View All
Know your gear
Poly EncorePro HW530 - Headset - on-ear - over-the-ear mount - wired - Quick Disconnect.
Plantronics EncorePro HW530 - headset
is rated
4.25
out of
5
by
8
.
Rated

5

out of

5
by
ConsumerPete
from
Functions great, wears loose.
The headset WORKS great, but the ear piece doesn't feel secure against the ear and often feels like it may fall off while wearing it. I'd recommend this for users who need to use it occasionally.
Date published: 2019-06-06T00:00:00-04:00
Rated

5

out of

5
by
callcenteremployee
from
null
Good headset overall. Had to be replaced when the Quick Disconnect connector wore out after about 10 months of use in a call center, however (little/poor/no sound came through.
Date published: 2018-01-30T00:00:00-05:00
Rated

5

out of

5
by
greenzone
from
solid performer
I bought my 540 about 5 years ago and it has been a solid performer for me for the last five years.
Date published: 2018-10-24T00:00:00-04:00
Rated

5

out of

5
by
PEH Bos
from
Great headset- poor ear clip
Headset is great and does everything very well- light, good sound, goo micro phone. The problem is the ear clip- breaks very esily and I can't find a replacement- Plantronics doesn't make it easy to find replacements parts- buying a whole new headset is easy but expensive.
Date published: 2018-10-31T00:00:00-04:00
Rated

5

out of

5
by
LaWorker
from
Great
We have these at work. At first I did believe it fit rather loose, after messing around with it, I did then realize you can fold the ear loop so that it fits more tightly. Just be careful not to fold the top of the ear loop as it is the slimmest and most fragile part. I do wish that part was stronger as both my ear loops have broken in the same spot (not due to folding. Besides that it is great.
Date published: 2018-01-07T00:00:00-05:00
Rated

5

out of

5
by
katydid
from
Great item however
This is a great item however it doesn't work well with glasses. It is too loose on the ear otherwise is great
Date published: 2015-08-25T00:00:00-04:00
Rated

5

out of

5
by
jmcb
from
Quality headset
I've worn this headset for about 2 years now and have only had to replace the padding since it has worn out. I prefer to use the over the head piece personally. I have never had any issues with this item. The quality is amazing. The sound is perfect and it doesn't hurt my ear. I wear glasses and the over the head piece doesn't get in the way either.
Date published: 2019-07-12T00:00:00-04:00
Rated

5

out of

5
by
Junebug
from
Encore Pro 530
I've used Plantronics headsets for years- which have been of the higher end category. I'm not that impressed with the make of this one. I find the two ear pieces provided are too fat to fit over the ear comfortably. The mouth piece would be better if you were able to adjust it closer to the mouth. The ones in the past, I have been able to "bend" closer to the mouth. This one is just one piece and it not adjustable. As far as the working components; hearing a caller and being heard, is fine. Over all the product is good, but I would recommend the more expensive version, (the boss wanted to try the less expensive version to see how it worked before he buys several more for the rest of the office. With that being said, that is why I would not recommend this for a friend to purchase. Spend the extra money and get a more user friendly headset.
Date published: 2017-05-01T00:00:00-04:00
Rated

5

out of

5
by
SomePhoneGuy
from
Good headset with unforgivable design flaws
I want to like this headset. Sound comes through clear. Voice goes out clear. It WANTS to be a good headset. I hate to wax poetic about the Mirage headset that this replaced, but it just worked. These function, but my experience (shared below) makes it really seem like a downgrade in quality. There is at least 1 serious design flaw. I have bought 20+ for the company I work for and (not exaggerating) probably 80% of them have broke in the exact same place within 3 months. At first I thought it was a rough end-user. Then it happened to me. Then it happened to another person and another. Just through the normal day-to-day operation of the headset. The weak point is a thin piece of plastic that connects the rubber earpiece to the plastic part that connects to the headset itself. I can give the user a replacement part. The problem is it just breaks in another couple of months. I've resorted to super-glueing them back together, which seems to be holding up longer than the actual parts.
Date published: 2018-09-13T00:00:00-04:00
Rated

5

out of

5
by
Michele001
from
Not as good as the TriStar H81
We've used the TriStar H81 at my office for over 20 years. I guess they no longer make them so the closest thing was the EncorePro 530. This thing wiggles and is not stable on the ear. I'm constantly having to hold the mouthpiece to keep it from wiggling which makes it hard to type and talk. We're stuck with them now but I hate it.
Date published: 2018-07-09T00:00:00-04:00