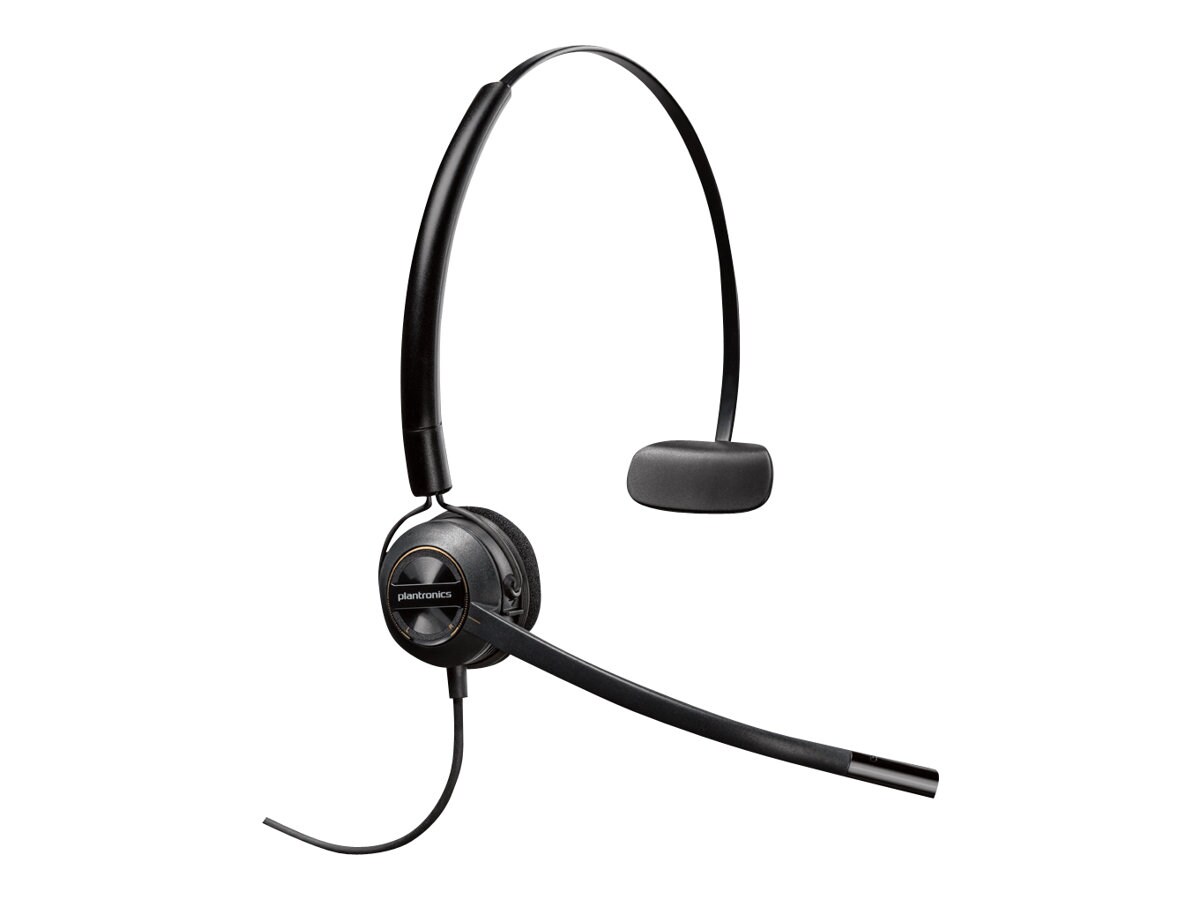 Quick tech specs
View All
Know your gear
The Plantronics EncorePro 540 is a quantum leap in convertible headset design. It's a 3-in-1 headset without compromise - all of the wearing styles are designed with quality and comfort in mind, in a system that is simple to convert but delivers a secure, positive fit and finish. The HW540 shares the advances of the other members of the new family, with high-quality audio, a flexible mic with visual positioning guides, soft ear cushions, and durable-yet-lightweight materials for all-day wearing.
Plantronics EncorePro HW540 - headset
is rated
4.10
out of
5
by
10
.
Rated

5

out of

5
by
Tank
from
Just Ok
The audio quality is average- that's about the last of the pros- The cons would be - Cost- Comfort and durability. 2 of the 3 attachments can wear out rather fast- The single ear piece Rubber- it will break and wear out very quickly from taking it on and off the rubber tears- The large over the head piece tends to be not snug and slides around. The attachment that wraps around both ears and the back of your head is probably the nicest one of all the attachments. The Ear piece cloth covers also come off very easily. For the money you are spending you would expect a decent longevity out of the product but if you are using these for a call center fast pace environment than look for another Solution.
Date published: 2017-09-05T00:00:00-04:00
Rated

5

out of

5
by
keithh143
from
encorepro 540
i've been using this headset for a few hours now. all I can say is WOW. I think they made this thing out of air, it's so light. the 3 in 1 design offeres so many ways to use your headset. the mic is top notch as well, it's small, and keeps background noise down.
Date published: 2014-10-28T00:00:00-04:00
Rated

5

out of

5
by
jackie272
from
Poor
Would it kill you to add a second speaker for both-ear sound?? My head has 2 ears; it's uncomfortable to hear in only 1. And what about a simple pot for volume control? I can't believe these kind of common sense features aren't included.
Date published: 2018-03-22T00:00:00-04:00
Rated

5

out of

5
by
BGcallcenter
from
Versatile!
the option to have head, neck, or earpiece sets this apart from the others. Instead of buing a mix of headset types for my call center, I can simply order this one product nad give everyone the choice. The sound is great, too.
Date published: 2015-11-17T00:00:00-05:00
Rated

5

out of

5
by
Lana
from
EncorePro 540
Nice little headset. Tried two others before this one and was pleasantly surprised.
Date published: 2017-07-10T00:00:00-04:00
Rated

5

out of

5
by
Gayle
from
Works great!
This headset works so much better than the around-the-ear type and is much sturdier. No problems hearing or talking through the set.
Date published: 2017-10-27T00:00:00-04:00
Rated

5

out of

5
by
Ella
from
Not for Me
The headset does not fit properly; neither the behind the ear, over the head or the behind the neck. Each design forces the mouthpiece in an awkward fit from your mouth. I cannot get either style to adjust properly. The over the ear is the worst fit. Customers were unable to hear me and I'm certain its the placement of the mouthpiece.
Date published: 2017-03-16T00:00:00-04:00
Rated

5

out of

5
by
PatU
from
Very comfortable and great reception
Bought to replace previous model and am very pleased!
Date published: 2017-08-16T00:00:00-04:00
Rated

5

out of

5
by
George65
from
Comfortable All day use - High Quality Sound
I bought this a year ago and have used it everyday. I talk on the phone all day as a telesales person. I tried all of the wearable options, over the ear, behind the neck, and headset. They were all comfortable, but I settled on the traditional headset after a few months of experimenting. It is so lightweight that I barely know I am wearing it. The sound quality is what you would expect from Plantronics, excellent! A few days ago my granddaughters came to visit (I work from home and they got a little loud in the adjacent room. I had forgotten to close the office door before starting a conference call. While I could hear the noise, no one else could. The noise cancelation eliminated all of the background noise. You need to buy a cable to go from the Quick Disconnect (QD) connector to the phone you intend to use. I use my iphone. My only concern is that I have had to replace the cable from the QD to the iphone. However since I use this so much and connect and disconnect from my iphone multiple times each day, I figure i just wore it out. However the wire from the Hw540 to the QD has never given me any problems.I started out using my Plantronics Bluetooth behind the ear device. However I didi not want to have a radio transmitter next to my head for 40+ hours each week. i am very satisfied with HW540 and would highly recommend it to anyone wishing to have a wired headset.
Date published: 2015-12-15T00:00:00-05:00
Rated

5

out of

5
by
Taylorfr
from
The best headset I've had
I've worn many headset over my 20+ years as a 911 operator and I've never had one that was this lightweight and comfortable. Yes, at first look I didn't think it would hold up but it has serviced me well for several years without a problem
Date published: 2018-02-01T00:00:00-05:00