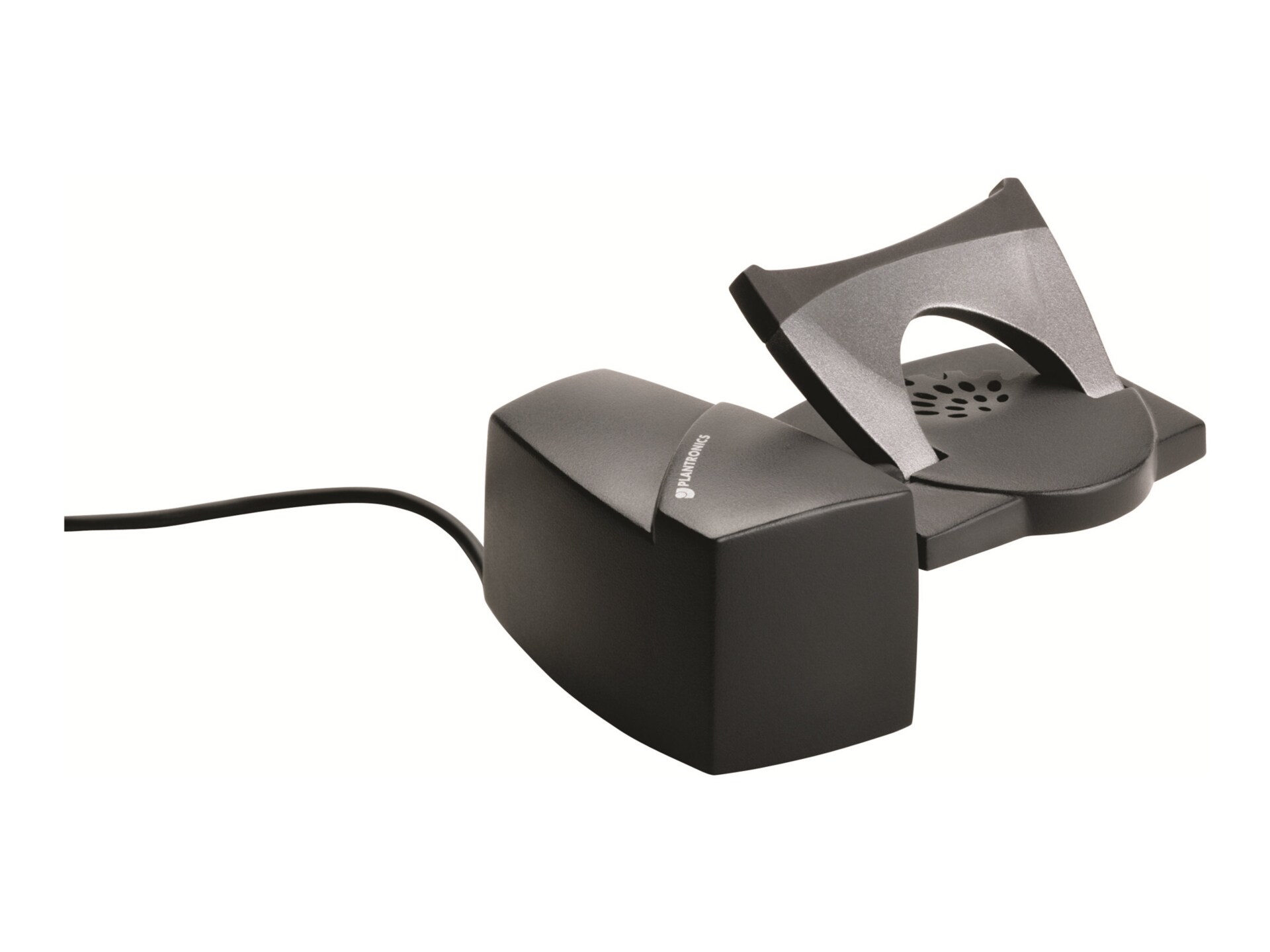 Quick tech specs
Handset lifter for wireless headset
for CS 510
530
W720
W740
phone
520
540; Savi W710
W730
View All
Know your gear
HL10 handset lifter fits on your telephone, letting you answer calls with the touch of a button, conveniently and automatically takes your handset off hook.
Plantronics HL 10 - handset lifter
is rated
4.60
out of
5
by
10
.
Rated

5

out of

5
by
Medford5358
from
Always have enjoyed the HL-10
I had an HL-10 system at my previous office and was very thankful that my current employer saw fit to provide me with one!!
Date published: 2016-02-17T00:00:00-05:00
Rated

5

out of

5
by
Loy26
from
It's ok for occasional use.
Received my replacement lifter a week ago and was thrilled to be able to use my headset again. The second day of use, the phone rings and I hit the button to answer the call and the receiver automatically lifts and then immediately drops back down. This has happened several times over the last week. I have adjusted the lift level and I'm still having the issue when I answer more than a couple of calls in a row. It seems to work fine for occasional use when I am away from my desk, but I need to manually lift the receiver if I am at my desk. For the cost of the entire unit, I don't think I would make this purchase again just for the occasional convenience.
Date published: 2014-03-20T00:00:00-04:00
Rated

5

out of

5
by
PapaDavid
from
It doubles the value of your Plantronics Headset
I am a thoroughly satisfied user of the Plantronics Savi 745G.  I can use it with my desktop phone, mobile and laptop computer to do almost anything except get coffee.  I am working on that.But, when I added the Plantronics HL10 Straight Plug, it more than doubled my productivity and enjoyment.  
Date published: 2014-05-20T00:00:00-04:00
Rated

5

out of

5
by
Tj521
from
Works great!
I purchase the headset and didn't like lifting my receiver for every call. With the handset device, I just push the button on the headset and the receiver lifts automatically. Very simple set up.
Date published: 2018-03-12T00:00:00-04:00
Rated

5

out of

5
by
Always an eagle
from
null
I love this lifter. I can be walking anywhere unattached to a cord and still answer the phone. Thanks for a great product!
Date published: 2016-11-16T00:00:00-05:00
Rated

5

out of

5
by
Nathan
from
Works well
We have used this model for our call center since we stood up six years ago. No issues. You have work with the type of phone you're using to ensure it sits properly, and also experiment with the three lifter height levels.
Date published: 2013-11-21T00:00:00-05:00
Rated

5

out of

5
by
karen16
from
Perfect for my office
I bought this devise to help with our calls, so happy i did.
Date published: 2013-12-09T00:00:00-05:00
Rated

5

out of

5
by
James R
from
Impeccable Service
I called about an issue that I was having with the lifter. I spoke with a great rep in regards to resetting, warranty and replacement. He was very knowledgeable helped me to determine what the next steps were and how to go about them. I received my replacement very quickly and am very happy with the pricing!
Date published: 2015-10-21T00:00:00-04:00
Rated

5

out of

5
by
angieh
from
Headset and Lifter
My office recently purchased the headset and lifter for me. I LOVE it. It works exactly as advertised. The phone can still be answered manually with the handset by someone not wearing the headset without issue. I took me a few days to get everything set up correctly with the help of the online manual and a phone call.
Date published: 2014-08-23T00:00:00-04:00
Rated

5

out of

5
by
Dnava
from
Packaging Woes
I found it disappointment the lifter was not sold with the headset. Seems like a package deal. Upset to know we had to order a second item after ordering the earpiece/headset.
Date published: 2017-02-03T00:00:00-05:00