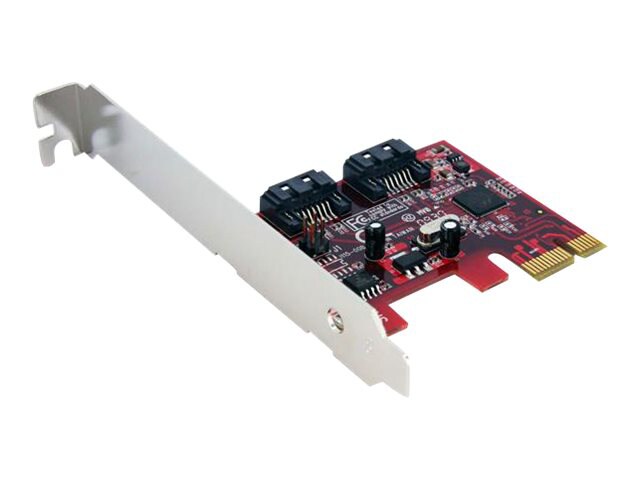 Quick tech specs
Add two SATA 6Gbps ports for high speed access to large internal storage solutions
2-Port PCI Express SATA III 6Gbps RAID Controller Card
Configured with a standard profile bracket and low-profile/half-height bracket included
2-Port SATA 6 Gbps PCIe SATA Controller Card
Dual Port PCIe SATA Card Adapter/SATA 3 Controller/SATA Adapter Card/RAID Card/Hard Drive Controller Adapter
Supports RAID 0 and 1 as well as port multiplier/Backward compatible with SATA I/II at 1.5/3.0Gbps
View All
Know your gear
Add two SATA 6Gbps ports for high speed access to large internal storage solutions. The PEXSAT32 2-Port PCI Express SATA 6 Gbps (SATA 3.0) Controller Card offers simple connectivity between a host computer and SATA 3.0 devices - a cost-effective solution for connecting high-speed storage, such as High RPM Hard Drives and Solid State Drives (SSD), which in turn allows for easier data backups and archiving.

With full support for SATA 3.0 hard drives and data transfer speeds of up to 6 Gbps, the adapter card features a native PCI Express single chipset that provides enhanced compatibility, reliability and performance for external SATA 600 MB/s storage needs.

The controller card is backward compatible with SATA 2.0 devices, providing the versatility to use older storage, and features support for RAID 0 and 1 modes as well as port multiplier capability with command-based and FIS-based switching for connecting multiple external hard drives to a host PC through a single SATA connection.

A dual profile solution, the SATA 3.0 controller card includes a low profile/half-height bracket for installation in slimline or small form factor computer cases.
Contact Sales Assistance
(800) 972-3922
,
Monday-Friday 8am-6pm ET
StarTech.com 2 Port SATA 6 Gbps PCI Express SATA Controller Card - storage
is rated
4.00
out of
5
by
3
.
Rated

5

out of

5
by
chibimage
from
Cannot access card BIOS
Well i bought this thing for a raid controller to raid my 2 ssd hard drives toghether, but the bios wont boot up.... In-fact when I start up my pc, right when the Controller bios shows up, it's just a blank black screen, like it froze or something. I have no idea how to fix it, installed all the drivers, have been working on this for literally 4 days.... I mean it's good for an AHCI and my hard drives work on it, literally just can't use raid, which is the whole purpose of me buying this thing.
Date published: 2017-10-07T00:00:00-04:00
Rated

5

out of

5
by
Chris Finch
from
No way to monitor RAID health
I bought this a few months ago, and I am disappointed in the Windows software for this product. There is no way to know if the RAID is degraded from Windows. This software should pop up a message or, better yet, send an email when the RAID has been degraded.
Date published: 2017-09-14T00:00:00-04:00
Rated

5

out of

5
by
jack238
from
WIN2016
Installed it in ASUS mobo created a raid-1 volume from two drives.Had no problem to install and boot Win2016 (ver 2018) with windows drivers coming in iso file
Date published: 2018-09-15T00:00:00-04:00
Rated

5

out of

5
by
jim2016
from
A Lifesaver!
Recently bought an HP Envy 750-150. It has a bay for an additional drive and an available power supply plug. Much to my surprise there wasn't an a available SATA data connection on the motherboard. Found this card on Amazon. Installed it in the available PCIe x1 slot and a hard drive, and now I'm in business. Windows 10 recognized the card without any driver installation. GREAT CARD!
Date published: 2016-07-24T00:00:00-04:00
Rated

5

out of

5
by
Pierre again
from
Giving a old box new life
I have a HP Z800 that I wanted SSD w/Sata3 to speed things up. This card has allowed this to happen. I am running a dual boot - Win 7Pro 64 bit and Ubuntu and both OS can see the SSD.
Date published: 2017-03-19T00:00:00-04:00
Rated

5

out of

5
by
dunbankin
from
null
I bought a Samsung SSD to speed up boot times in my 5 yr old Win 7 PC, which only supports SATA2, so I bought this SATA3 card from Amazon to get the best from the SSD.Make sure you insert the Startech card in a PCIe Rev 2 x16 slot, otherwise you won't get the best SSD speed benefits. Fortunately I had one, and it physically installed easily.Win 7 did NOT automatically install the driver software (Startech say it will), so I'd downloaded the latest driver from Startech's web site and had it ready to install. Windows eventually conceded that the adaptor driver was working correctly.With the new SSD plugged into this card, boot times are now blindingly quick. I've seen no stability problems so far after a few day's operation. This card adds about 10 seconds to the boot sequence while the driver is loaded, but even with this, the PC is now useable after 75 seconds instead of seven minutes, so the card seems to be working well. Brilliant.
Date published: 2014-10-13T00:00:00-04:00
Rated

5

out of

5
by
bdoug
from
Limited success
I bought this primarily for use with Linux (debian) but discovered after purchase that debian (and ubuntu) dists are not supported. It does work with Win7 and SUSE but I really don't need that for my application.
Date published: 2018-07-12T00:00:00-04:00
Rated

5

out of

5
by
Ted Z
from
worked perfectly, right out of the box
Last month I bought a new desktop, and I wanted to use my eSATA 1TB external with it (yes, I am related to the dinosaurs). I'm really glad I bought this card. It worked perfectly right out of the box, and installation was a snap. Best hardware upgrade I ever did myself.For reference I'm running Windows 8.1 on an Asus desktop with an Intel quad core processor.
Date published: 2014-10-11T00:00:00-04:00