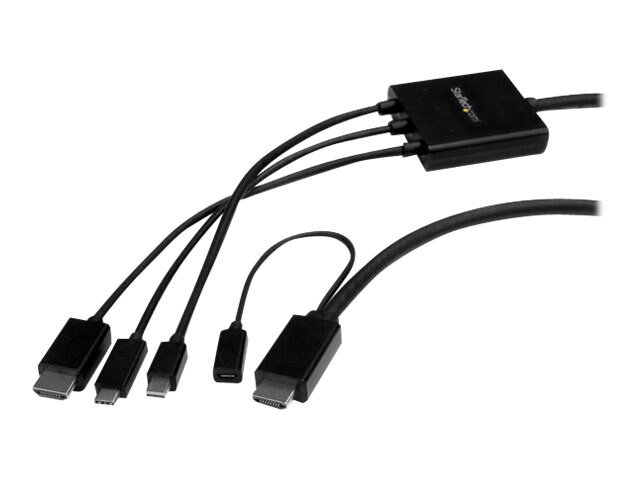 Quick tech specs
Connect your USB Type-C or HDMI or Mini DisplayPort laptop to an HDMI display or projector
Replace multiple boardroom adapters with a single USBC adapter that supports 3 video inputs
Avoid the hassle of using multiple adapters in a single boardroom
2m USB-C to HDMI Adapter / Mini DisplayPort to HDMI Adapter / 6 ft Laptop 3 in 1 Video Cable / USB-C MDP HDMI to HDMI Cable / HDMI DP or Mini DP to HDMI Cable
Be prepared for all your presentation and different user needs
Lifetime Warranty
View All
Know your gear
Connect your USB Type-C, HDMI or Mini DisplayPort laptop to an HDMI display or projector. This unique adapter cable lets you connect almost any laptop or desktop computer to an HDMI display or projector. It supports the USB-C, HDMI and Mini DisplayPort output from your computer, and video resolutions up to Ultra HD 4K.

The adapter is compatible with your DP alt mode computer. DP alt mode means your computer can pass a DisplayPort video signal through the USB-C port.

This adapter cable is ideal for your boardroom's HDMI display or projector. You can reduce clutter and eliminate the need for multiple adapters on your boardroom table by providing a single adapter cable that can support a variety of signals.

The adapter cable supports multiple input signal types, so you'll be able to accommodate a variety of user needs. Employees and guests can plug in their USB Type-C, HDMI or mDP laptops and deliver their presentations using your boardroom's HDMI display, without having to carry their own adapters.

This adapter cable ensures you can maintain an astonishing picture quality with four times the resolution of 1080p. The adapter is also backward compatible with lower resolution displays and video sources. With support for high-definition resolutions of 1080p and 720p, you can future-proof your existing setup for 4K video.

The adapter can be powered through the provided Micro-USB cable by connecting the cable from the adapter to a USB port on your laptop or the HDMI display. You can connect your laptop to either input on the adapter cable, and share presentations.

Note: Your USB-C equipped device must support video to work with this adapter.


StarTech.com 6ft USB-C, HDMI or Mini DisplayPort to HDMI Adapter Cable
is rated
3.56
out of
5
by
9
.
Rated

5

out of

5
by
macphoto1970_4
from
Versatile cable but not totally thought out
I have tried and tested many adapters over the years and this product was of great interest as it has many many options. The option of HDMI from usb-c, HDMI, or mini DisplayPort is a great all in one cable. There are some issues i found with my computer. I am using an older mac and with the mini DisplayPort you need to run the usb connection back to the TV. This is not very convenient and in my opinion not well thought out. This additional cable (included) feels to me like it is running the wrong way. I would rather see a power requirement coming from the computer not the tv or monitor. Adding this cable in. I feel it should just be built in like the rest. It takes a relatively clean cable and makes it messy. The function of the cable is great and I had no issues getting it to work. I just feel there may be a better way to make this cable. In conclusion the cable works as intended, i just think it is a messy way to do it. I received this product in exchange for an unbiased review.
Date published: 2018-05-13T00:00:00-04:00
Rated

5

out of

5
by
nivek
from
Great for conference room display
I used this cable in our conference room at work. No more swapping cables around. This cable worked as intended and I had no issue getting it to work with a variety of laptops.
Date published: 2018-05-16T00:00:00-04:00
Rated

5

out of

5
by
andrewxs11
from
Good cable, Puzzling design
I wanted a cable like this for our Boardroom to connect different kinds of devices without having various cables all over the place. This cable does that; allowing different options to connect HDMI with great resolution and clarity. The problem is the USB power connector (needed to power the adapter) is located on the OUTPUT of the cable, not the input side where the laptop is. Adding to this, if this was a male USB-A port, it would work fine, (as some projectors do have a powered USB port on the back) but instead it's a female Micro-USB port, so you need to use the included 2m cable to achieve the same goal, or loop it back to the laptop, positioning it closer than you would have before. I'm not sure exactly what the solution is to this, it just seems like a good idea got too complicated and then ruined the product's main appeal. I received this product in exchange for an unbiased review
Date published: 2018-05-24T00:00:00-04:00
Rated

5

out of

5
by
Starr
from
Multi Adapter HDMI Cable
Very well made product that is very versatile and allows you to connect multiple types of sources to an HDMI device. Resolution quality is exceptional. The only thing that I question about the design is that it requires a USB power source and for some reason that put the power input connection on the HDMI end of the cable instead of the Input side so my question is what do you do if your TV does not have a powered USB port and your the supplied USB power cable is not long enough to reach your source since the product does not come with an A/C USB adapter for a wall plug power source?
Date published: 2018-04-25T00:00:00-04:00
Rated

5

out of

5
by
ShawnO_2
from
Fantastic multi-connection cable!
I like the multiple connection options this cable presents. The cabling itself seems stiff and while it will likly flex with age and use, I fear that may also reduce its functionality or cause breakage. Seperating the HDMI cable would in my opinion, make this adapter more portable and reduce a potential weakpoint. Disclaimer: I received this product in exchange for an unbiased review.
Date published: 2018-05-16T00:00:00-04:00
Rated

5

out of

5
by
huj1853
from
Great Conference Table Converter Cable
I have been in the AV/IT Integration space for over 30 years. I found this unit easy to setup and use on my Microsoft, Android and Apple devices. This is a great unit for the conference table so that most all digital connection types are accommodated, USB-C, HDMI and Mini Display Port. The unit installs quickly with no additional drivers or software required, and is compatible with a variety of operating systems, which I tested. What is Included: 1 - 2m USB-C, HDMI or mDP to HDMI Converter Cable 1 - 2m Micro USB Cable 1 - Instruction Manual Note: "I received this product in exchange for an unbiased review."
Date published: 2018-04-23T00:00:00-04:00
Rated

5

out of

5
by
fjolly
from
Fatal design flaw
This cable looked like the ideal solution to replace multiple adaptors, but it has a major design flaw: All the cables are fixed. This means that a $230 cable was disabled two days after installation, by the most common universal problem with HDMI Cables - a bent connection. A part which probably cost 30c.Strongly recommend the design be updated so the HDMI cable is replaceable.
Date published: 2018-02-19T00:00:00-05:00
Rated

5

out of

5
by
NickD_CA46
from
Good Multi-use Boardroom Projector Cable
I have tested this cable using Surface Pro Laptops, many Lenovo laptops (with all 3 ends) and Samsung Galaxy S8/S9 phones. These have been connected to 4k TVs, monitors and projectors all without any issues. This cables comes in a very nice flip open box that magnets shut, about the size of a box of facial tissues. This is the nicest box I have seen anything from StarTech come in. Once inside the box the cable is wrapped around a cheap flimsy piece of plastic. The cable has a micro-USB female port on the side to connect to a display. A micro-USB to Full size USB cable comes included and is needed for power (I think it should have already had USB-A port so an extra cable wouldn't be needed). The source end of the cable is more like an adaptor with 3 different input wires on them. The cable and adaptor are all very solid and I wouldn't be worried about them being bumped around a boardroom table. The cable requires power from the micro-USB port before anything will work. Once power is connected the adaptor side will have a light on one of the inputs at all times. When a new device is connected the input light will change to be aligned with what is connected and when disconnected the light will go back to the DisplayPort cable. There is a reset button on the adaptor should something go wrong with it you wouldn't have to crawl around the floor looking for the micro-USB power, but I never experienced needed to use it. This cable is very well made, other than the micro-USB power, the only thing I would like is a longer option. We are going to get more of these cables to use around our various boardrooms. I received this product in exchange for an unbiased review.
Date published: 2018-05-16T00:00:00-04:00
Rated

5

out of

5
by
Wayne S
from
Good idea has issues
This is a great cable but has a few issues we have them in each meeting room now for some time and find that sometimes the device will not display any output until you reset the power.
Date published: 2020-01-17T00:00:00-05:00