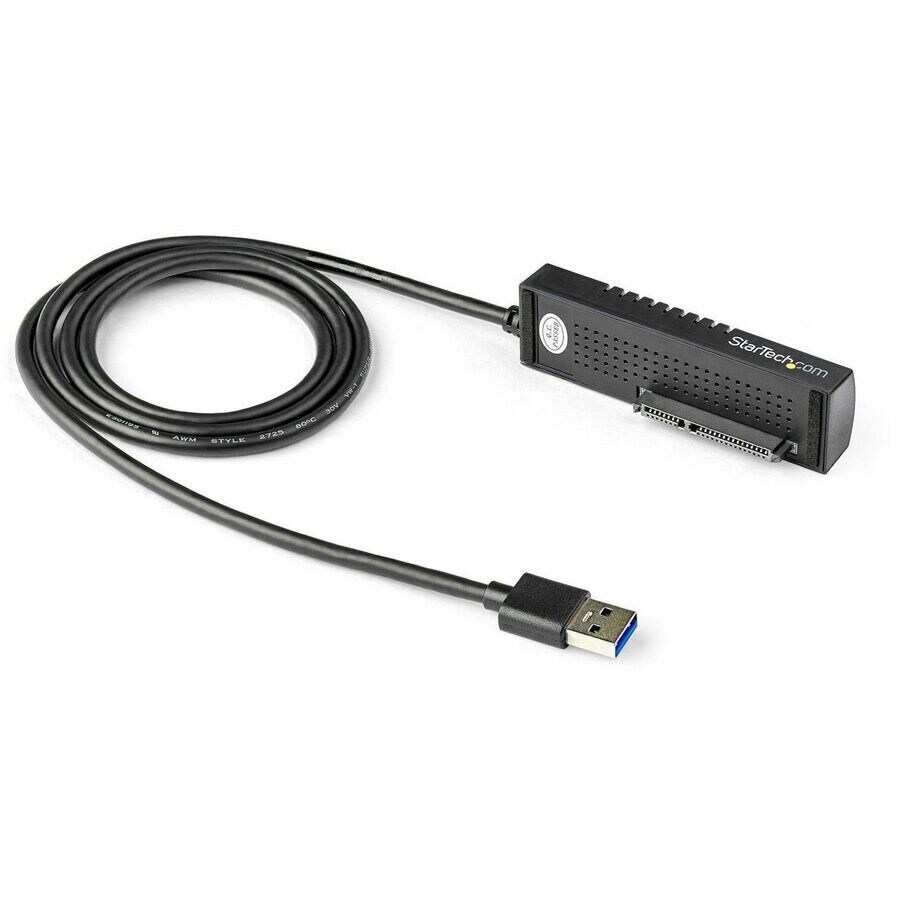 Quick tech specs
Access a SATA 2.5"/3.5" SSD or HDD through the USB A port on USB 3.1 PC or laptop w/ this SATA to USB adapter
The USB 3.1 to SATA adapter is a portable solution
The cable is plug-and-play
The SATA to USB converter supports USB 3.1 10Gbps but you can experience 70% faster data transfer speeds if the computer supports UASP
The USB 3.1 to SATA cable can power 2.5" drive through USB and an external power adapter is included for powering 3.5in drives or 2.5in drives that require more power
View All
Know your gear
"This SATA to USB cable is an external drive adapter that gives you quick and easy access to a SATA drive through the USB-A port on a USB 3.1 (10Gbps) PC or laptop.
Convenient and Versatile Drive Access
The SATA to USB adapter lets you swap between drives so that you can copy or retrieve data from an external 2.5"" or 3.5"" SATA solid-state drive (SSD) or hard drive (HDD).
It's the perfect solution for: data migrations, adding drive space, cloning drives, creating disk images, and performing backups and data recoveries.
Faster Transfer Speeds with USB 3.1
The USB 3.1 to SATA adapter gives you greater bandwidth and speed with rates of up to 10Gbps. That's twice the speed of USB 3.0 and 20x faster than USB 2.0.

You can leverage the high performance of the latest SSDs and HDDs, while alleviating bottlenecks in your data transfers. Experience transfer speeds up to 70% faster than conventional USB 3.1, when connected to a computer that supports UASP.
Connect from Anywhere
The SATA to USB adapter is a portable solution that includes an integrated cable. You can easily connect to a 2.5"" SSD or HDD using USB power. A universal power adapter is also included for connecting to a 3.5"" drive, or for connecting to any 2.5"" drive that requires additional power. The adapter is plug-and-play and does not require drivers.
USB312SAT3 is backed by a StarTech.com 2-year warranty and free lifetime technical support."
StarTech.com SATA to USB Cable - USB 3.1 10Gbps - SATA 2.5 / 3.5" SSD HDD
is rated
3.00
out of
5
by
2
.
Rated

5

out of

5
by
mattg
from
Doesn't work
Tried on window 7 and windows 10, on 3 year old hardware (USB3.0) and 3 day old hardware (USB3.1). does not work on either. Should have stuck with my older Vantec SATA/IDE to USB 2.0 Adapter which works without fail.
Date published: 2019-02-17T00:00:00-05:00
Rated

5

out of

5
by
howesoft
from
Outstanding product, works very well
I have used several USB adapters for SATA hard drives in the past, including those for USB 2.0 (far too slow) and USB 3.0. The need to upgrade was caused by the USB 3.0 devices not supporting DVD drives or larger hard drives above 2TB. I could have got hold of another USB 3.0 adapter for less money, but there seemed little point when a USB 3.1 device was available and that looks set to become a new standard. I have used this device for a few weeks and it has performed very well. The uses I have put it to do illustrate reasonably well how useful it is. I used it on an internal DVD burner, which worked just fine, then I used it with a new laptop, with a USB 3.1 Type "C" socket (the smaller USB 3.1 sockets). Because this device has a type "A" plug, I used an OTG cable I use for my tablet and this worked fine.I then used this device on a larger capacity HDD (3TB). This had been the drive I could not test on the older USB 3.0 devices, as they could not handle drives over 2TB. I plugged it, it worked just fine. This drive had been throwing errors when in my Synology NAS and I needed to see if this was a hardware issue, or the NAS. Stability of this device was tested on several occasions. I performed a slow full format on the 3TB drive overnight and that went well. I also copied over 2.5TB of data from the NAS overnight to a 3TB drive and this took all night, again without issue.In summary, this is an adaptable device, that works with the latest USB standards, it has a USB "A" plug, but can be adapted to work with USB "C" sockets, it is fast in operation, works with DVD drives as well as HDD's, does not require power for 2.5" (laptop) hard drives and has proven to be stable in operation. If I was looking for a criticism – which is going to be difficult to do, it would be a concern about how robust this device is going to be over the long term, it is far smaller and appears to be a little flimsy compared to the USB 3.0 devices it replaces – but equally, you can argue this device brings portability and light weight design.
Date published: 2019-04-03T00:00:00-04:00