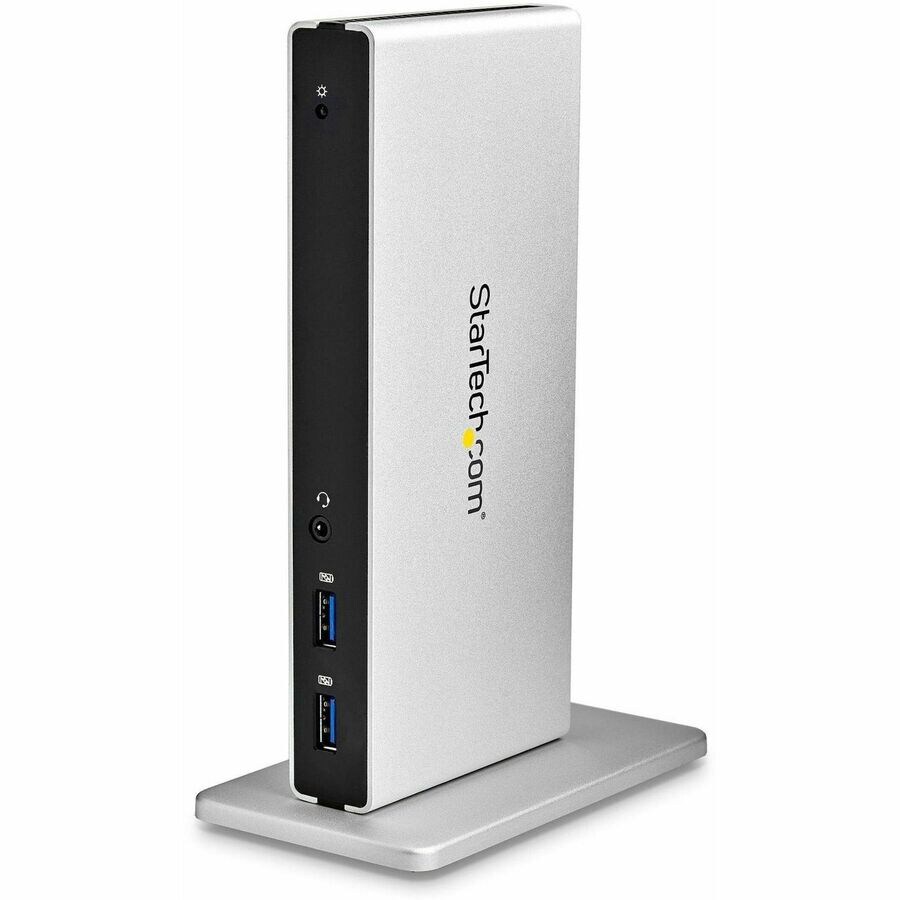 Quick tech specs
Dual-monitor USB 3.0 docking station lets you connect your Mac or Windows laptop to two monitors
USB 3.0 port replicator features two front facing USB ports that are USB-fast charge ports to charge your mobile devices faster
Dual monitor docking station backed by a 3-year warranty and free lifetime tech support
USB 3.0 dock supports your existing displays two display adapters (DVI to VGA and HDMI) included
Dual DVI docking station has 5x USB 3.0 (AKA USB 3.1 Gen 1) ports and a GbE port
View All
Know your gear
"This dual-monitor USB 3.0 docking station turns your laptop into a dual-monitor workstation with flexible setup options.
Display Flexibility  
The dual-DVI docking station adds dual-monitor support to your workstation, with resolution support up to 2048x1152. With more screen space, you can simultaneously access multiple applications and reference material on one display while composing on the other. To ensure the USB 3.0 dock supports a variety of displays, two display adapters (DVI to VGA and DVI to HDMI) are included.
Powerful Connections and Fast Device Charging  
Transform your laptop into a workstation that supports all of your peripherals. This docking station features five USB 3.0 (USB 3.1 Gen 1) ports. The two front-facing USB ports are USB fast-charge ports (USB Battery Charging Specification 1.2). These accessible ports charge your mobile devices faster than standard USB ports, with or without your laptop connected to the dock. The dock also has a GbE port, headset jack and separate 3.5 mm audio and mic ports, so you'll have all the connections you need.
Save Desktop Space 
You can free up valuable desk space by positioning the dock vertically on your work surface using the included (optional) stand.
The USB3SDOCKDD is backed by a 3-year StarTech.com warranty and free lifetime technical support."
StarTech.com Dual-Monitor USB 3.0 Docking Station - DVI Out - Mac & Windows
is rated
4.09
out of
5
by
11
.
Rated

5

out of

5
by
Nailsetup
from
Won't purchase again
This product did not work with a Microsoft Surface Pro 3. The external display was very buggy, despite installing new drivers from Intel and Displaylink.
Date published: 2014-12-30T00:00:00-05:00
Rated

5

out of

5
by
Timothy
from
Great quality product, easy to set up.
A great quality docking station with excellent performance. My company bought 7 of them and they're all working perfectly!
Date published: 2017-07-19T00:00:00-04:00
Rated

5

out of

5
by
SlavikCA
from
for 2017 MacBook Pro: lacks power, average performance
I bough it for my new MacBook Pro 13". Major CON 1: the docking station doesn't supply power. You still need to use your power supply. And since my MacBook Pro only have two USB-C ports, I don't have any port left when connected to docking station CON 2: the dock station comes with USB-A cable. My MacBook Pro has only USB-C. So, I need to buy another cable. Why not include it? It's 2017... CON 3: The connection to 2 external monitors is via DisplayLink. It works, but there are some issues. Usually minor, but... That's because the way DVI works: display image generated by CPU => sent via USB to docking station => video generated and sent to display. MacBook has native (non-DVI), more performant connection to monitors, if you use proper cables, but not with this dock.
Date published: 2017-10-22T00:00:00-04:00
Rated

5

out of

5
by
Will
from
Works well
I used this as a test for a surface pro 3, using dual monitors. After installing the drivers, it worked fine. I'll be buying more as we expand surface use in our office.
Date published: 2016-05-08T00:00:00-04:00
Rated

5

out of

5
by
Lee Buck
from
Exactly what I needed.
I searched for a unit that would satisfy my needs and this unit fit the bill. My computer tech directed me to the unit and I am happy that I made the purchase
Date published: 2016-08-21T00:00:00-04:00
Rated

5

out of

5
by
TDMerrittPE
from
Stable and Good Docking Station
I would give this unit a 5 star rating, but the first one was defective. The rear USB ports were not functional. Tech support was very helpful and immediately diagnosed the problem and directed me to return it to Amazon, which replaced. I have had the replacement unit installed for two weeks and it is very stable and works well. My laptop is a Samsung S9000 which I connect to the console via an Adder KVM switch. I am driving two DVI monitors and using an external keyboard and mouse connected via the KVM Switch. I am also using a network of 3 USB3 hubs with the docking station. One note of caution, however. My laptop has an Intel 4000 video chip. The Samsung drivers are not compatible with the Displayport software. Samsung has not updated the drivers, so I had to manually install the Intel drivers. The automated Intel installation process exited since Samsung had done some modifications. Instructions are available on the Plugable website. After completing the driver update it has worked flawlessly. I am very satisfied with the product and would give it a five except that the first unit was defective. That however can happen with any product. Startech and Amazon did provide excellent support.
Date published: 2015-12-02T00:00:00-05:00
Rated

5

out of

5
by
wingriz
from
Great dock. Works great with Surface
Was going to order the Windows dock for my Surface Pro, but didn't have good feeling about it. My coworker told me I should try the StarTech Docking Station, and I'm glad I did. Made all the necessary connections with two monitors and has worked flawlessly since day one. Thanks for an awesome product!
Date published: 2016-11-10T00:00:00-05:00
Rated

5

out of

5
by
jwies
from
Almost 100% ...
I am using this device with a MacBook Pro. All devices - including two monitors - connected to it with a minimum of configuration. My only wish is that it would also power the MacBook Pro. I have to plug in both a usb cable for the docking station and one for the power supply.
Date published: 2017-06-02T00:00:00-04:00
Rated

5

out of

5
by
xmariner
from
Excellent product. Works as advertised.
My Dell XPS 730x with 2 monitors cratered about 5 months ago and I had to use my HP 17" Laptop as my computer. I got the docking station and connected everything as per the instructions. It has worked flawlessly since installation. I now have a 3 monitor system with 3x4TB external drives and a USB3 7 port hub connected through the docking station. My new Dell Inspiron 15 7000 has Wifi only and the docking station gives me hard wired network access.
Date published: 2016-12-16T00:00:00-05:00
Rated

5

out of

5
by
Fontaineoldham
from
It is okay
Video display experience latency with dynamic websites. It is better to split display from the external display port. I will put this on eBay and get some of my money back.
Date published: 2017-03-13T00:00:00-04:00
Rated

5

out of

5
by
kenle
from
Works with M1 MBP Pro 13"
I use this with two HP EliteDisplay E272q monitors, and connect my 2020 M1 Macbook Pro with an DVI to HDMI adapter. Works great.
Date published: 2022-06-21T00:00:00-04:00