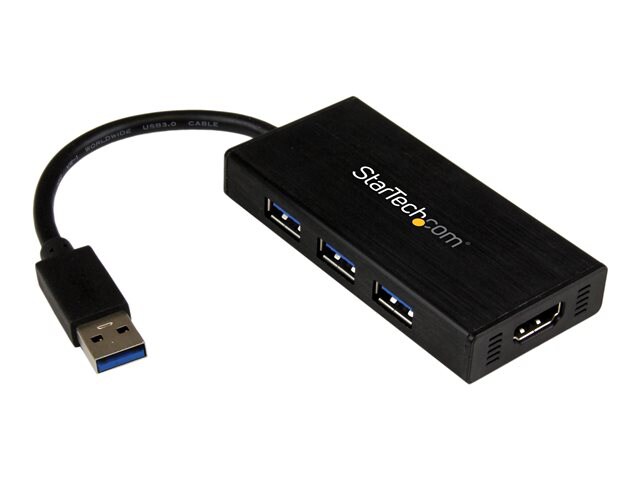 Quick tech specs
Connect an HDMI-equipped display through USB 3.0 and add three additional USB devices to the same USB 3.0 port with a built-in USB 3.0 Hub
USB to HDMI cable / USB to HDMI Converter / USB to HDMI Adapter / USB Video Card / HDMI to USB Adapter
Add additional connectivity ports to your laptop
Compatible with USB 3.0 equipped computer systems and HDMI equipped Televisions Monitors and Projectors
Use as a Mini Dock to easily connect and remove your laptop or Ultrabook from your work station
View All
Know your gear
Connect an HDMI-equipped display through USB 3.0, and add three additional USB devices to the same USB 3.0 port with a built-in USB 3.0 hub. The USB32HDEH3 USB 3.0 to HDMI Adapter turns a USB 3.0 port into an HDMI output port with 1920x1200/1080p video support. The adapter features a built-in 3-port USB 3.0 hub, which enables you to connect three different USB devices, along with the display adapter, to the same USB 3.0 port - an ideal workaround for Ultrabook or laptop computers that have a limited number of USB ports available.

Functioning as an external graphics card with audio support, this USB to HDMI adapter provides a convenient way to add multi-monitor capability to a USB 3.0-enabled desktop or laptop computer. Leveraging the high-bandwidth (5 Gbps) USB 3.0 interface, the adapter delivers smooth, high-definition content to your HDMI display / projector. The adapter can be used to mirror your primary desktop, showing the same image on each display, or to extend your desktop to double your workspace and increase your productivity.

The USB32HDEH3 also features a built-in 3-port USB 3.0 hub, which lets you use the device as a mini dock for connecting peripherals such as a mouse, printer and keyboard along with your monitor. Then, it's as easy as connecting your laptop to the adapter to sync each device at your work station - a versatile solution for making your laptop portable when you want it to be, and powerful when you need it to be.


Contact Sales Assistance
(800) 972-3922
,
Monday-Friday 8am-6pm ET