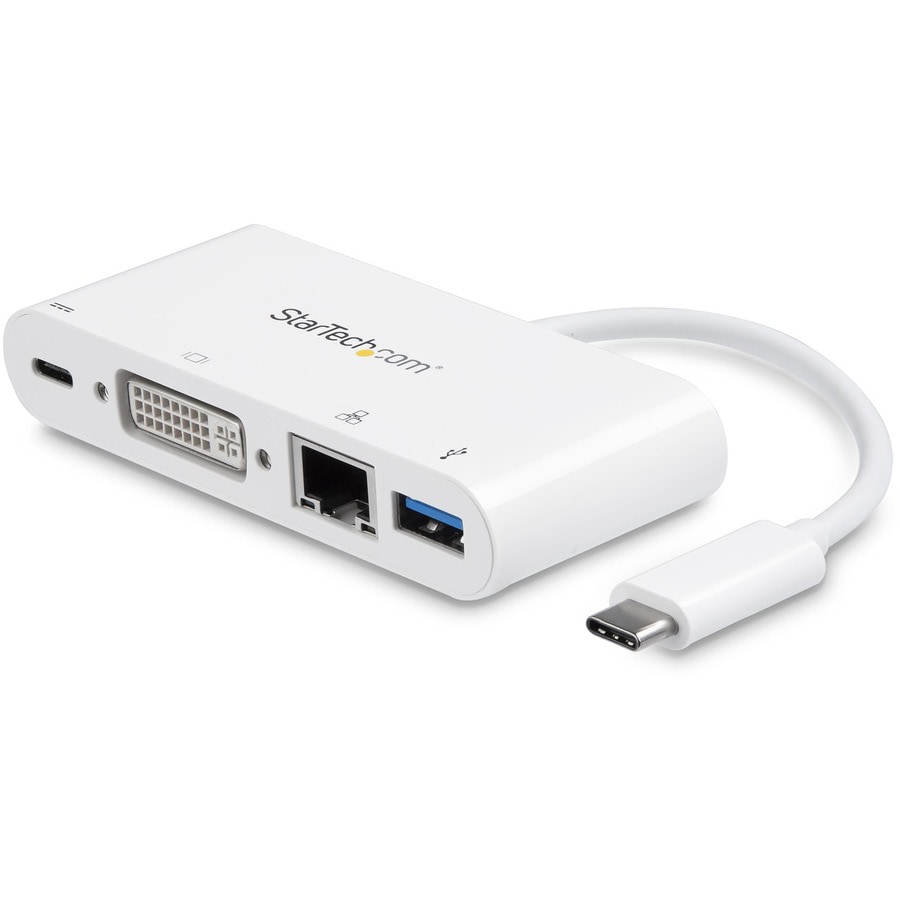 Quick tech specs
4-in-1 USB-C multiport adapter with DVI-Digital video output 1920x1200 / 1080p (single link)/Gigabit Ethernet/1x 5Gbps USB-A 3.0 port | Works w/ Thunderbolt 3
White USB Type-C multiport adapter/mini dock is compatible w/ MacBook Pro Air/Dell XPS/HP EliteBook/Lenovo X1 Carbon/Chromebooks
Portable laptop docking station can be USB bus powered or use your laptop's USB-C power adapter for up to 60W Power Delivery pass through (7W for dock/53W for charging)
OS Independent; auto driver setup
View All
Know your gear
Charge your laptop through USB-C and create a workstation wherever you go with DVI video output and Gigabit Ethernet plus a USB-A port - USB-C Multiport Adapter with USB Power Delivery for USB-C enabled laptop incl Dell XPS 13 / Dell Precision / MacBook - USB C Mini Laptop Docking Station - Thunderbolt 3 port compatible - Includes one USB 3.0 Type-A port - USB powered USB-C adapter / USB Powered Laptop Travel Adapter / DVI adapter / USB-C hub / USB-C to DVI adapter / Mini USB C laptop dock
StarTech.com USB-C Multiport Adapter - Power Delivery - DVI - GbE - USB 3.0
is rated
5.00
out of
5
by
5
.
Rated

5

out of

5
by
acorn
from
New MacBook to old Apple Cinema Display
This connected my 2018 MacBook to my old 2007 Apple Cinema Display with no problems.
Date published: 2018-07-17T00:00:00-04:00
Rated

5

out of

5
by
sgto416
from
Great to use while on the road!
The DKT30CDVPD USB-C to DVI Multiport adapteris fantastic for expanding the use of a laptop while on the road! It has a USB 3.0 Type-A, gigabit RJ45, DVI, USB-C port DC power input only as well as the USB-C host laptop connector. I would also buy dvi converter cables from Startech.com (dvi to displayport, etc.) to make the ultimate travel companion! I received this product in exchange for an unbiased review
Date published: 2017-09-14T00:00:00-04:00
Rated

5

out of

5
by
morty
from
Great portable dock replacement
I chose this product because when I need to travel, there is no way I want to carry around my normal docking station which weighs a lot. Since many smaller laptops these days only come with a handful of ports or just USB-C ports, this product comes in handy to give you back the most important and most used ports. It also allows me to hook up to a board room projector with the DVI port where I can't otherwise. It worked plug-and-play and I didn't have to install any drivers. I received this product in exchange for an unbiased review.
Date published: 2017-09-12T00:00:00-04:00
Rated

5

out of

5
by
William G Ryan
from
That moment you realize this is a Docking Station
I received this product in exchange for an impartial review. I chose this product b/c I travel a lot and ALWAYS find myself running short on USB ports. Unless I have a long time to pack I invariably leave something and it's a headache. Hotels will try to accommodate you, but their built in peripherals are very inflexible. Bringing a docking station with you has many problems. They are big, the better ones , particularly laptop specific ones, are really big, somewhat heavy and expensive. Anything that expensive makes for a really bad travel product b/c things get left at hotels, take a beating and move around a lot. With all that wear anything delicate will get damaged and break. This on the other hand is very light. It's light and strong. Size wise, the box is no bigger than a small graphics card or wifi card. The Hub itself isn't much bigger than a cell phone. The fact it's light is very helpful b/c you can travel with it, without it adding weight or bulk. It's strong enough that it can easily withstand a drop or 5 and its small enough you can pack it anywhere. One of my biggest issues with any hub is how well things fit into it. Too tight and you have to force things (which is a recipe for disaster) too lose and things well move around and either break or break parts inside the hub. StarTech's product line always delivers in terms of craftsmanship and build and this hub exemplifies it. All in all this is a docking station that masquerades as a hub. Its a great product, a great value and honestly, I don't think I could name anything it could do better let alone find something to criticize.
Date published: 2017-09-15T00:00:00-04:00