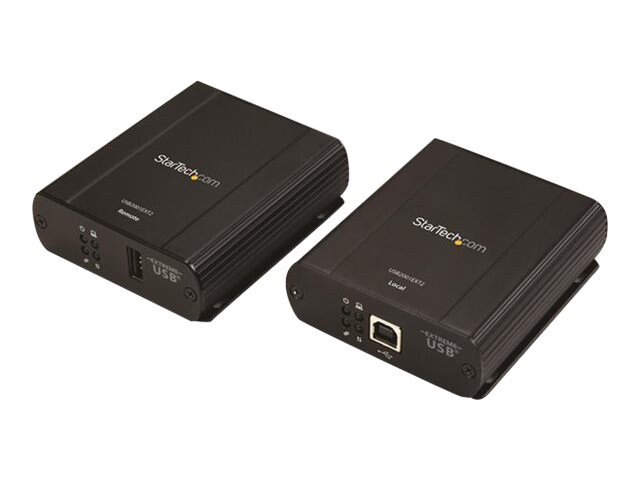 Quick tech specs
NEW MODEL NOW AVAILABLE: USB2001EXT2NA; Extend one USB 2.0 connection up to 330ft away from the computer over Cat5 or Cat6 cable
USB over Cat5
USB Extender over Cat5
up to 100m (330ft)
USB 2.0 Extender
USB over Cat6
USB 2.0 Ethernet Extender
USB Extender over Cat 5 and Cat 6
View All
Know your gear
Extend one USB 2.0 connection up to 330ft away from the computer over Cat5 or Cat6 cable. The USB2001EXT2 USB over Cat5/Cat6 Extender lets you extend a USB 2.0 connection over distances of up to 100 meters (330 feet), over standard Cat5 or Cat6 Ethernet cabling.
Backward compatible with USB 1.x devices, the extender enables almost any kind of USB device to be placed at remote locations away from the host computer system.
With data bandwidth of up to 480 Mbps and no software installation required, the USB extender makes for a fast, easy-to-setup and versatile USB extension solution, with a sleek metal enclosure that ensures durability in all types of operating environments. Plus, the extender provides up to the full 500 mA of power (with the use of an external power adapter at the remote end) allowing for greater compatibility with bus-powered USB devices.