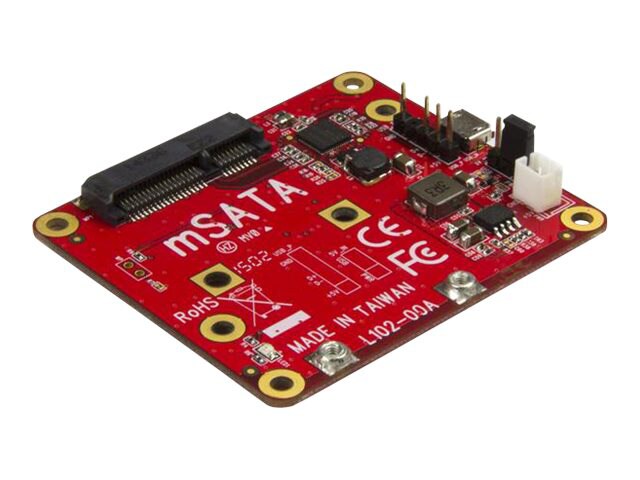 Quick tech specs
Connect an mSATA drive to your development board to add increased data storage capacity
USB to mini SATA Adapter for Raspberry Pi
Includes USB cable and mounting accessories for Raspberry Pi
USB to mSATA converter for Raspberry Pi and development boards
Supports SATA I,II and III mSATA SSD Drives
Dev board mini-SATA adapter lets you connect an mSATA SSD directly through your dev board's USB-A port
View All
Know your gear
Connect an mSATA drive to your development board, to increase its data storage capacity. Increase the data storage capacity of your Raspberry Pi or other development board, by connecting it directly to a an mSATA drive. Perfect for custom projects and applications, this USB to mSATA converter supports all models of Raspberry Pi as well as other development boards.

This convenient USB 2.0 mSATA converter lets you overcome data storage limitations by enabling you to connect an mSATA drive through your board's USB-A port.

The USB to mSATA converter integrates seamlessly with your existing development board. It's the perfect addition for development-board based applications such as surveillance, media players and servers, digital signage and IoT/automation solutions. It allows you to utilize your mSATA drives with your development board, and take advantage of the small form factor of mini-SATA, ideal for applications with space limitations.

Compatible with SATA I, SATA II and SATA III drives, the converter is easy to install and doesn't require any device driver installation. It comes with a USB cable and all mounting accessories, including standoffs, so integrating it with your Raspberry Pi is fast and easy.