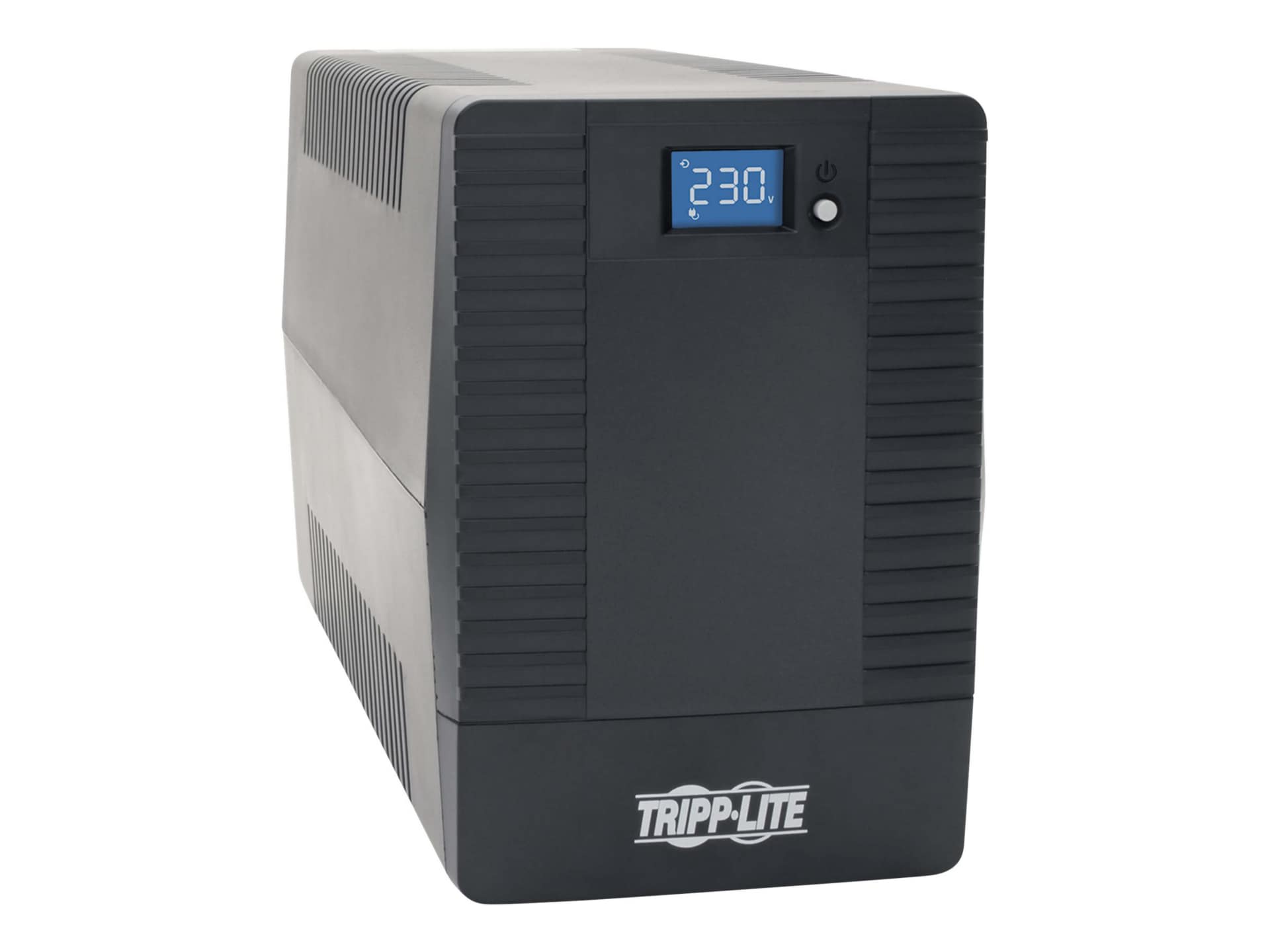 Quick tech specs
Lineinteractive UPS provides basic battery backup with automatic voltage regulation
AVR battery backup allows time to save files and safely shut down during blackouts
Easytoread LCD touchscreen provides valuable voltage,load and battery data
Protects equipment against blackouts,brownouts,over- voltages,surges and line noise
4 Schuko outlets provide power to PC,home theater or digital signage equipment
High >95% efficiency with low BTU ratings lowers your energy costs
View All
Know your gear
This 230V UPS with AVR protection provides reliable battery backup and AC power protection against blackouts, brownouts, overvoltages, surges and line noise that can damage valuable electronics or destroy data. The four-outlet 230V battery backup is ideal protection for your home office, media center or commerce components, including computers, routers, printers, HDTVs, Blu-ray players, game consoles, ATMs, security systems and digital signage equipment.

Backup support allows you to work through short power failures, and gives you enough time to safely save files and shut down your system in case of a prolonged blackout. Backup time varies according to load, but the line-interactive UPS system should keep an energy-efficient desktop computer with small LCD monitor powered as long as 50 minutes. During normal operation, incoming utility power keeps the replaceable internal battery fully charged, so backup power will always be available.

All four Schuko outlets provide both battery backup and surge protection for your computer, monitor and other crucial components. A high > 95% line mode efficiency rating reduces BTU emissions, energy consumption and, ultimately, your energy costs.

AVR protects your equipment from incremental hardware damage, data loss and performance problems caused by brownouts and overvoltages. The OMNIVSX1000D can correct brownouts as low as 170V and overvoltages as high as 280V back to nominal 230V power continuously, all while keeping the battery fully charged and ready to take over in case of power failure.

A 312-joule surge suppression rating protects connected components from the harmful effects of power surges.

Various electromagnetic and radio sources found in virtually every home and business can cause disruptive interference on the AC line. Known as EMI (electromagnetic interference) and RFI (radio frequency interference), this line noise is a common cause of performance problems and can lead to incremental hardware damage, data corruption and audio/video transmission problems. The OMNIVSX1000D incorporates technology that filters out disruptive line noise so that it won't affect your equipment.

The LCD touchscreen offers five screens of UPS and site power information when the OMNIVSX1000D is operating in either on-line or battery power mode. It displays vital voltage, load and battery data, as well as critical fault status. An audible alarm will sound in case of low battery, excessive load and fault condition.

This port connects the OMNIVSX1000D to a computer running Tripp Lite's free downloadable PowerAlert software to enable safe unattended file saves and system shutdown in case of a prolonged power failure. USB cable is included. The UPS works with Windows, Mac and Linux operating systems.

The compact ABS housing fits easily on a desktop, shelf or anywhere else convenient to your workstation or home theater. The 1.5-meter power cord with Schuko CEE 7/7 plug connects to a properly grounded AC wall outlet.