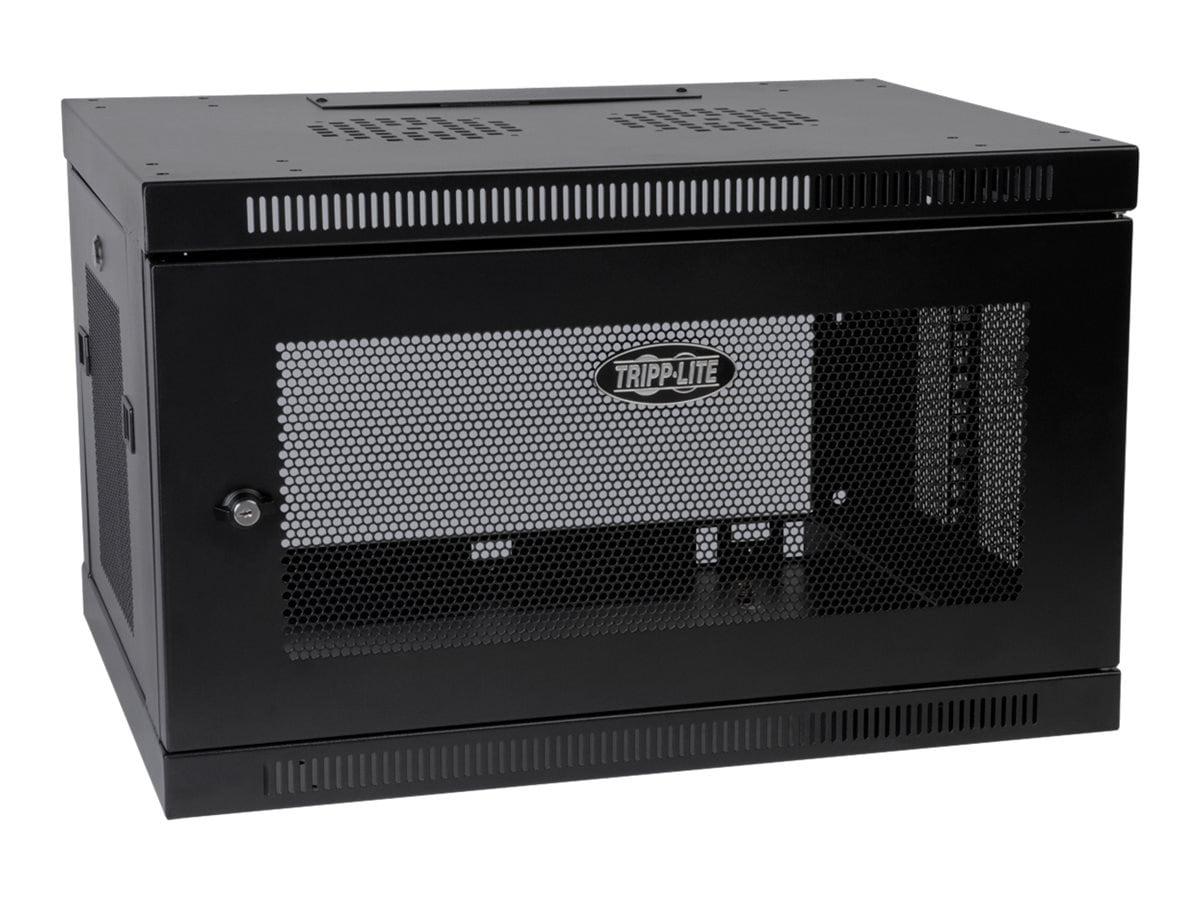 Quick tech specs
6U Wall-Mount Cabinet secures and organizes rack equipment in locations with limited floor space
Maximum load capacity of 200lbs
Flow-through ventilation keeps equipment cool
Mounts to wall or rolls on floor w/ SRCASTER (sold separatley)
Wallmount Rack Enclosure/ Wallmount Cabinet/ Rack Enclosure Cabinet/ Server Cabinet/ Wall Rack/ Wall Cabinet/ Server Racks
Locking steel cabinet vented at sides front top and bottom
Secures 6U of 19in rack equipment up to 16.5in deep
View All
Know your gear
The SRW6U SmartRack 6U Low-Profile Switch-Depth Wall-Mount Rack Enclosure Cabinet is designed to house EIA-standard 19-inch rack equipment in network wiring closets, retail locations, classrooms, back offices and other areas with limited floor space where you need equipment to be secure, organized and out of the way. Constructed from heavy-duty steel with a durable black powder-coated finish, the cabinet has a maximum load capacity of 90 kgs (200 lbs).

The side panels and front door lock securely to help prevent damage, tampering or theft. The front, top, bottom and removable side panels are vented, which allows air to flow freely and keep equipment cool. The reversible front door can open left or right by rotating the cabinet 180° before mounting. Convenient top and bottom ports allow easy cable routing.

The SRW6U comes fully assembled and ready to mount to the wall, or use Tripp Lite's optional SRCASTER rolling caster kit to make it a mobile rack. Square and threaded mounting holes and numbered rack spaces make equipment installation easy. The vertical mounting rails adjust in 7/8-inch increments to accommodate equipment up to 16.5 inches deep, such as network switches and patch panels.
Tripp Lite SmartRack 6U Low-Profile Switch-Depth Wall-Mount Rack Enclosure
is rated
4.89
out of
5
by
9
.
Rated

5

out of

5
by
RDG_Marine
from
Quick and Easy
I was able to hang this unit by myself for an expansion to our network. This is a great unit and I will buy another for future expansions.
Date published: 2013-08-01T00:00:00-04:00
Rated

5

out of

5
by
Bill R.
from
Mixed results
The racks are solid and they function quite well, I've used these in the past and purchased 5 more recently. The screw kits that were included in these 5 were random, no two were a like. Some had the plastic spacers for all the screws while others had none or only a few, some had missing square mounts, one set had more screws in it than could fit in every single hole on both side while others didn't have enough for half. Some of the internal mounted blocks were twisted or severally damaged when installed and I was unable to reuse them. At least one of the enclosures the horizontal hole where the vertical pole was mounted had been rounded out by someone over torquing the screw to the point the square nut just spun in the square hole until it was round. I had to use vice grips and a drill to get them apart. Mounting these to a wall: A+ I like the top piece that goes onto the wall first and then you slide it over it. Space for UPS, switches and patch panels: A+ Just the right depth and width for what I needed Locking doors: A+ Unlike the previoius versions, there is only one key for this model which makes things more simple, previous had a seperate key for the side panels as where this has an internal latch that locks it shut and just the keyed door on the front. Ease of use: A+ Once you get the rails where you want and in the format you want (pre tapped holes or square holes for rackmount nuts) things just go together. All the doors come off for easy access from the front or two sides. Side doors are interchangable and don't require much clearance to remove unlike previous versions. Recommendation for easy install: Lay the rack on it's back, remove the front door and load everything you want in and screw it to the rails, much easier than trying to balance them horizontally, especially a UPS or other heavy equipment. Consistancy of included hardware: D- Read the top half about why. I would still recommend getting them, just be sure to buy your own screws and nuts or you may find yourself in a bind. Also, there is no wall mount hardware included, which for me isn't an issue as every wall is different but may frustrate some people who do not know it's not there.
Date published: 2014-02-24T00:00:00-05:00
Rated

5

out of

5
by
Serendipity7
from
Sturdy and Well-Ventilated
It's a well-built, wall-mounted rack that holds a switch and a small UPS easily.
Date published: 2018-04-26T00:00:00-04:00
Rated

5

out of

5
by
Brian
from
Make sure that your UPS will fit in this
I purchased this unit only to find out that it's depth is too shallow to accommodate the Online UPS I had ordered also. It take a bit od sleuthing to determine the proper fit. Had I had known, I would have bought a deeper unit.
Date published: 2015-04-14T00:00:00-04:00
Rated

5

out of

5
by
MrRaul
from
Great little rack
This little rack is perfect for small servers. I have a HP DL320e blade server (1.7" (4.32cm) Height x 17.11" (43.46cm) Width x 15.07" (38.30cm) Length) and it fit. It was a little tight on the back end because of the power cable but it will work. Easy install and well built. Lots of ventilation. Will need to purchase exhaust fans and maybe a power strip made for it next.
Date published: 2016-03-31T00:00:00-04:00
Rated

5

out of

5
by
markk8799
from
Excellent home network rack
I bought this for my home network. I have a study/work room that I have my equipment located in and was looking for a small cabinet that could rack mount equipment. Although this unit is designed to go on the wall, it works perfectly on the floor. I mounted four small wheel casters on the bottom so that I could move it around. Solid construction, flexibility in opening the front, sides, and small outlets in back. Worth the buy.
Date published: 2013-03-04T00:00:00-05:00
Rated

5

out of

5
by
MCTronix
from
The Best One I've Used
These cabinets are great. You can't beat the price at this quality. Side doors are convenient. I have been able to mount these to both a wall and a counter top. A great way to secure switches, and other small rack equipment around the office. I selected these mostly because of the great ventilation but was happy to find that they are also built well and sturdy.
Date published: 2015-09-03T00:00:00-04:00
Rated

5

out of

5
by
Kalamazoo
from
Excellent Network Rack
We use this rack on all of our internal wiring projects that fit the bill under 6U. The additional fans are a nice touch. Very easy to run cables into this unit, and the mounting bracket makes for an easy installation - even when installing this box 20 feet above the ground.The front and side panels can be removed during the installation and are a nice touch to clean and secure everything inside.Very happy with this product.
Date published: 2014-07-21T00:00:00-04:00
Rated

5

out of

5
by
jsm
from
Works fine
Does what it is designed to do.
Date published: 2016-08-18T00:00:00-04:00
Rated

5

out of

5
by
MikeDLA
from
Well made rack enclosure
I have installed this unit in my new home - I have Cat6 from all rooms to into a patch bay in this rack unit. The quality of manufacture is first rate - thoughtful design features that are flexible for a range of uses. My only complaint is that it ships with 12 nuts/screws. This is a 6U unit and if you install 6 x 1U devices (switch, power supply etc) then you need 6 x 4 = 24 nuts/screws. Sure you can buy more screws but they tend to come in bags of 50. The screws are so cheap why not include 24 with the unit? Overall this unit is great and I would recommend.
Date published: 2012-11-18T00:00:00-05:00