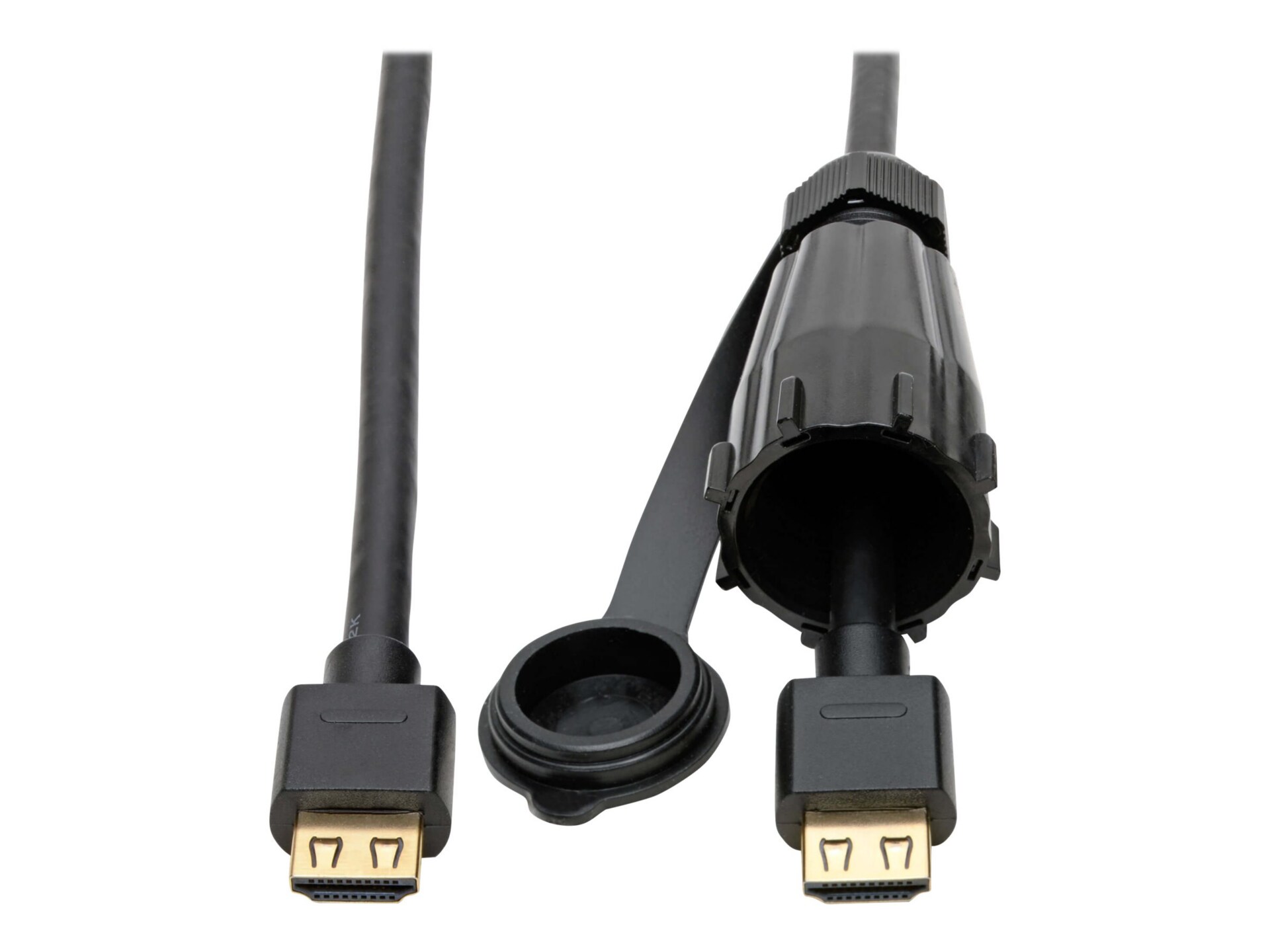 Quick tech specs
Connects high-speed 4K audio/video and Ethernet equipment in industrial environments that require protection against dust and moisture
Delivers UHD picture quality at resolutions up to 3840 x 2160 (4K x 2K) at 60 Hz
12 ft length
Tripp Lite Lifetime Warranty
IP68-rated to resist dust and endure immersion in 1.5 m of water up to 60 min.
Supports 4:4:4 chroma subsampling for HDR-compatible televisions
HDMI ethernet cable/ HDMI video adapter/ HDMI (M/M)/ High speed HDMI cable
View All
Know your gear
The industrial-grade P569-012-IND (M/M) connects high-speed digital audio/video and Ethernet components in outdoor applications and other areas where protection from harsh elements is essential. The cable and male HDMI connectors are designed to withstand dust, debris and moisture that could threaten your infrastructure. This rugged cable is ideal for industrial areas, such as factories and warehouses, and unforgiving outdoor installations, including malls, bus stops and stadiums.

One HDMI connector is protected by a molded IP68-rated watertight hood. The IP68 rating means the connector is not only 100% protected against dust, but also able to endure immersion in 1.5 meters of water for up to 60 minutes with no damage or decline in performance. This makes the P569-012-IND ideal for basement and other applications that must transmit video from a dry environment to a wet one.

This 4K HDMI cable provides a pure digital connection that supports Ultra HD video resolutions up to 3840 x 2160 (4K x 2K) at 60 Hz for crystal-clear picture and sound. It's compatible with HDCP 2.2 and HDMI 2.0 standards for carrying HDR (high dynamic range) signals. It also supports 4:4:4 chroma subsampling for top-level PC gaming or using your HDTV as a PC monitor. The cable is backward compatible with previous HDMI generations, allowing you to use it to connect lower-resolution components.

The 12-foot (3.7-meter) length allows you considerable flexibility in placing audio/video components. For instance, the HDMI source (such as a DVD or Blu-ray player) may be connected some distance from the HDMI display.