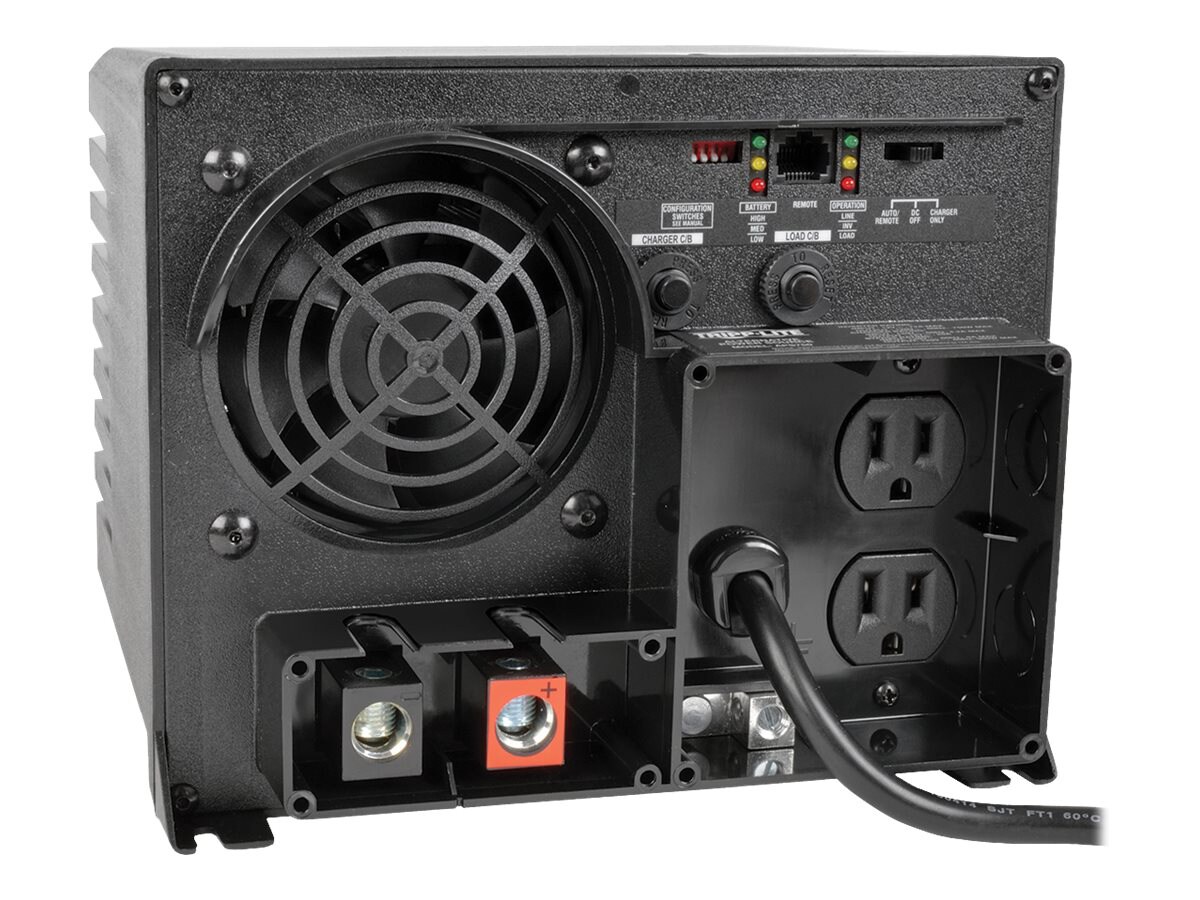 Quick tech specs
Portable dual-outlet power source for power applications such as power tools and computers as a vehicle inverter/standalone AC power source or extended-run UPS
Delivers clean 120V AC power from AC or DC power source
Auto-transfer switching option for UPS operation
Uninterruptible Power Supply/ PowerVerter/ power inverter
Ideal for RVs/fleet vehicles and emergency vehicles
1250W continuous output power; 2500W peak power
Protects against blackouts/surges and EMI/RFI line noise
View All
Know your gear
The APS1250 1250W PowerVerter APS 12V DC 120V AC Inverter/Charger is a reliable power source for a wide variety of equipment ranging from power tools and pumps to portable lighting and computer equipment in heavy-load conditions. With no fumes, fuel or excess noise, it's an excellent alternative to generator power. The DC-to-AC inverter features an automatic line-to-battery transfer switch and integrated charging system that allow it to work as a vehicle inverter, standalone AC power source or extended-run UPS. It delivers 1250W of continuous power, 1875W up to one hour, or 2500W of peak power up to 10 seconds during equipment startup or cycling. An automatic overload detector, cooling fan and resettable AC circuit breakers protect the unit from damage. Designed for easy installation in RVs, over-the-road trucks, fleet vehicles and emergency vehicles, the APS1250 converts stored power from any 12V battery or automotive DC source to safe, stable, computer-grade AC power and sends it to two NEMA 5-15R outlets for unlimited runtime. When powered by an external 120V AC source, the unit keeps the user-supplied battery charged via a three-stage 30A charging system while simultaneously delivering AC power to connected equipment. When used as a UPS, the APS1250 responds to blackouts and brownouts with an automatic, instantaneous transfer to battery-derived AC output. LEDs on the unit indicate load level, battery charge level, shutdown status and system fault status.
Tripp Lite 1250W APS 12VDC 120V Inverter / Charger w/ Auto Transfer Switchi
is rated
4.78
out of
5
by
9
.
Rated

5

out of

5
by
Drewman
from
Excellent Product
I am using this inverter for back-up on my 1/4 HP submersible sump pump in case of a power outage. TrippLite has a great working WhitePaper that showed me all the steps and sizing. I did not see the need for the ground fault version as my installation is high and dry. My plumber told me that 12 volt stand alone sump pumps were basically bilge pumps from a boat and not at all reliable. Tripp Lite had the solution.
Date published: 2017-02-14T00:00:00-05:00
Rated

5

out of

5
by
hd
from
product that does it is expected to do @ a reasonable price
thanks
Date published: 2017-05-25T00:00:00-04:00
Rated

5

out of

5
by
Sam
from
Good buy
Product works. Cut the sides off to fit the sump pump cords in place. Backup device used once in awhile had to still buy in line fuses of large size, and very large cables which cost extra $100 bucks not related to the inverter.
Date published: 2016-02-23T00:00:00-05:00
Rated

5

out of

5
by
NNVHS
from
Great product!!
I use this inverter/charger in conjunction with four 100Ah deep cycle batteries to keep one of my critical systems up and running - it performs flawlessly!
Date published: 2017-08-23T00:00:00-04:00
Rated

5

out of

5
by
Wilo
from
Yes
I use this inverter for solar system full house for 3 years .. 24/7 on excellent . Low draw Super happy .
Date published: 2016-03-27T00:00:00-04:00
Rated

5

out of

5
by
Jrs
from
Works great
Primary use is to power sump pump during power outages. I've also ran a small heater, various power tools, and a large dehumidifier without a problem. Keeps two very large deep cycle batteries charged and maintained easily.
Date published: 2016-12-27T00:00:00-05:00
Rated

5

out of

5
by
NP
from
It just works!!
I got this to replace multiple UPS units for my various computers, routers, switches, phones, satellite boxes, etc. I just paired it with a solar gel battery, and it works 100 times better than a regular UPS--and for less money. On top of that, I have a terrific scaleable source of power for the unbelievable amount of brownouts and outages we have here. I immediately got the same setup in my parents house, and now they barely notice the outages. I think everyone needs one of these!
Date published: 2013-09-05T00:00:00-04:00
Rated

5

out of

5
by
Wingnut
from
Excellent Inverter
This Inverter has gotten me out of a lot of trouble numerous times! I use it for battery back-up for my sump pump and it has never failed to impress. Maintains my battery at peak capacity and switches power over flawlessly. What more could you ask for! Tripp Lite never fails to impress!
Date published: 2014-11-01T00:00:00-04:00
Rated

5

out of

5
by
Pete from NH
from
Nice solution for Pellet stove backup power.
I purchased this product to serve as a backup power source for my pellet stove. The power at my home is very unreliable and I;m not always here to start the generator when power goes out. This unit has performed flawlessly for me. It keeps the battery, a Vmaxtanks VMAX SLR155 AGM, charged perfectly. I gave the product 4 out of 5 stars as I wish it had one more feature which would be to a line conditioning feature when in AC-mode. Combining the features of this inverter and tripp-lite's LC2400 would make for an awesome combination for folks with the need for an inverter because of unreliable grid power.. Hey maybe this could be a new product idea! Over all I highly recommend this inverter product and the Tripp-lite company.
Date published: 2015-02-27T00:00:00-05:00
Rated

5

out of

5
by
Daniel
from
Seems well made, needs a more complete manual.
Using it as a sump pump backup, charging two marine batteries and running a 1/3 HP Liberty pump. Installation was easy, although a note specifying tool size would have helped. And...the manual is very little help in deciding how to set the switches. Luckily your help desk was professional and knew the answer immediately.
Date published: 2019-01-27T00:00:00-05:00