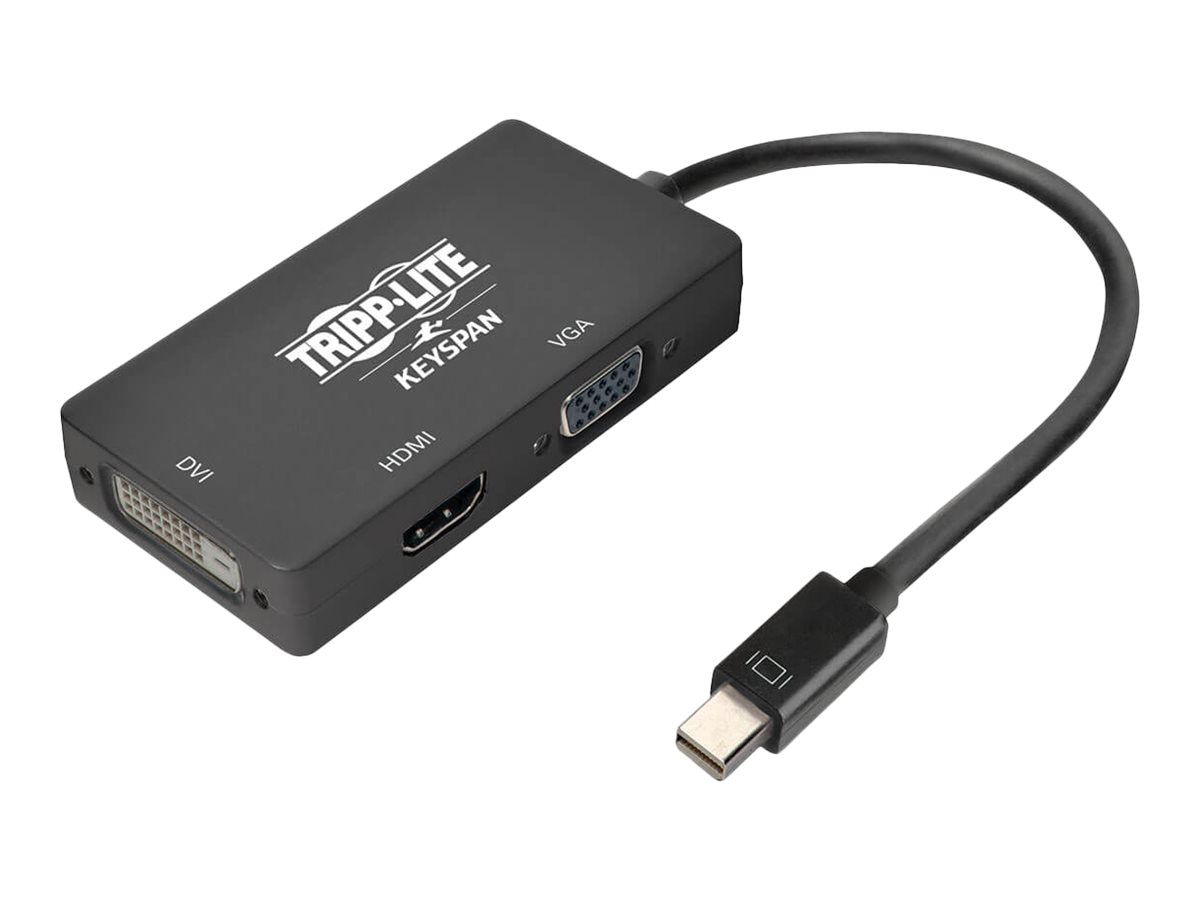 Quick tech specs
Mini DP to HDMI/VGA/DVI adapter connects your Mini DP or Thunderbolt 1/2 laptop to a VGA DVI or HDMI display
DVI and VGA ports support 1080p for sharp high-definition video presentations
mDP Adapter/ Mini DP to HDMI adapter/ Mini DP to VGA adapter/ Mini DP to DVI adapter/ mini displayport adapter
HDMI port delivers UHD quality at resolutions up to 3840 x 2160 (4K x 2K) at 60 Hz
Simple All-in-One Solution for Displaying 4K Video on a Large Screen
Tripp Lite 3-year Warranty
View All
Know your gear
No more carrying around separate adapters for various monitors, projectors and televisions. The P137-06N-HDVK6B Keyspan Mini DisplayPort 1.2 to VGA/DVI/HDMI All-in-One Converter Adapter connects a VGA, DVI or HDMI display to the Mini DisplayPort or Thunderbolt 1/2 port on your Chromebook, MacBook, Microsoft Surface or other compatible laptops and tablets. The simple all-in-one solution for displaying content on a larger screen, theP137-06N-HDVK6B is ideal for trade shows, classrooms, lecture halls and anywhere else you might give a presentation.

The all-in-one unit contains separate female DVI, HD15 and HDMI ports. It supports video resolutions up to 1920 x 1080, including 1080p (DVI); 1920 x 1200, including 1080p (HD15); and 4K x 2K (HDMI) at 60 Hz. It also supports 36-bit Deep Color (12 bits per channel). This adapter supports HDMI 2.0 and HDCP 2.2.

TheP137-06N-HDVK6B is compatible with laptops, tablets and other devices equipped with a female Mini DisplayPort or Thunderbolt 1/2 port. It's completely plug-and-play with no software, drivers or external power supply needed. With its small size and built-in cable, theP137-06N-HDVK6B is recommended for stowing in your laptop bag and carrying to school, the office or the latest trade show.