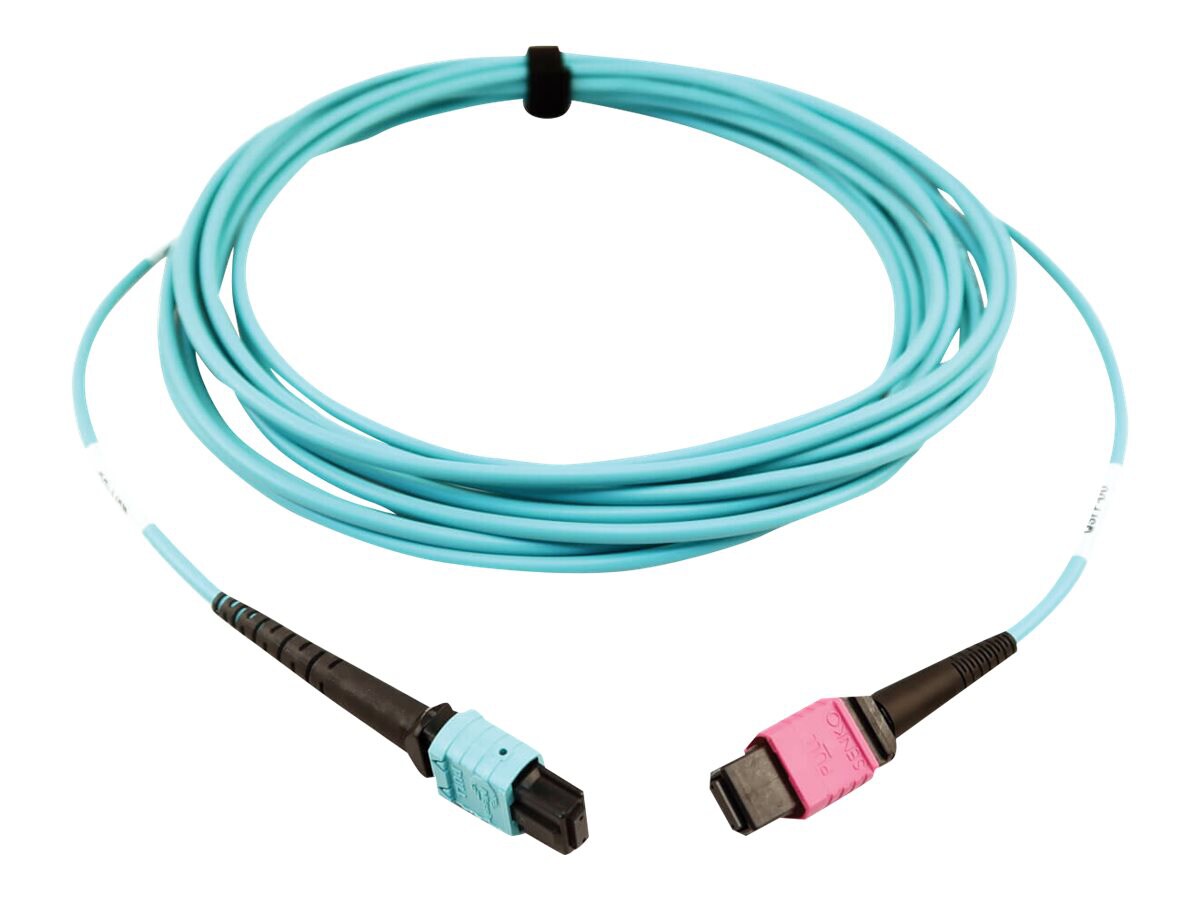 Quick tech specs
400 GbE Ethernet cable supports high bandwidths necessary for next-gen cloud services/hyperscale data centers/telecom carriers
MTP/MPO 16 and 24-fiber ends designed for next-gen 400G QSFP-DD transceivers
Plenum rated for horizontal premise applications in air ducts and drop ceilings
Lifetime Tripp Lite Warranty
OM4-rated cable recommended for 400Gb speeds up to 100m
Connectors tested for low insertion loss and back reflection to ensure top performance
Aqua jacket fiber cable
View All
Know your gear
As the amount of traffic in data networks grows, so does the need for next generation devices and fiber cables to support much higher bandwidths. Tripp Lite's 5-meter N846D-05M-24DAQ MTP/MPO Multimode Patch Cable is designed to support the next generation of 400G QSFP-DD transceivers. The 24F MTP/MPO-UPC Female to 16F MTP/MPO-UPC Female OM4-rated multimode fiber optic cable is recommended for high-density fiber patching between data center MDFs (main distribution frames) and IDFs (intermediate distribution frames). It's colored aqua for instant identification as an OM4 cable. This cable is also backwards compatible with QSFP+ and QSFP28 modules.

Premium materials ensure this multimode fiber cable reliably carries data and voice signals. The 16-fiber MTP/MPO connectors are about the same size as SC connectors, but are 12 times denser, freeing up rack space for other cables. Optimized for QSFP-DD networks, this cable is tested for low insertion loss and back reflection on every connector and attenuation loss that meets or exceeds current standards. The N846D-05M-24DAQ features a 3.0-millimeter ruggedized plenum-rated jacket that has low smoke and flame characteristics. Making this cable perfect for connecting high-speed network components in ceilings, walls and ducts.

The N846D-05M-24DAQ is backed by a lifetime limited warranty, ensuring reliability and performance.