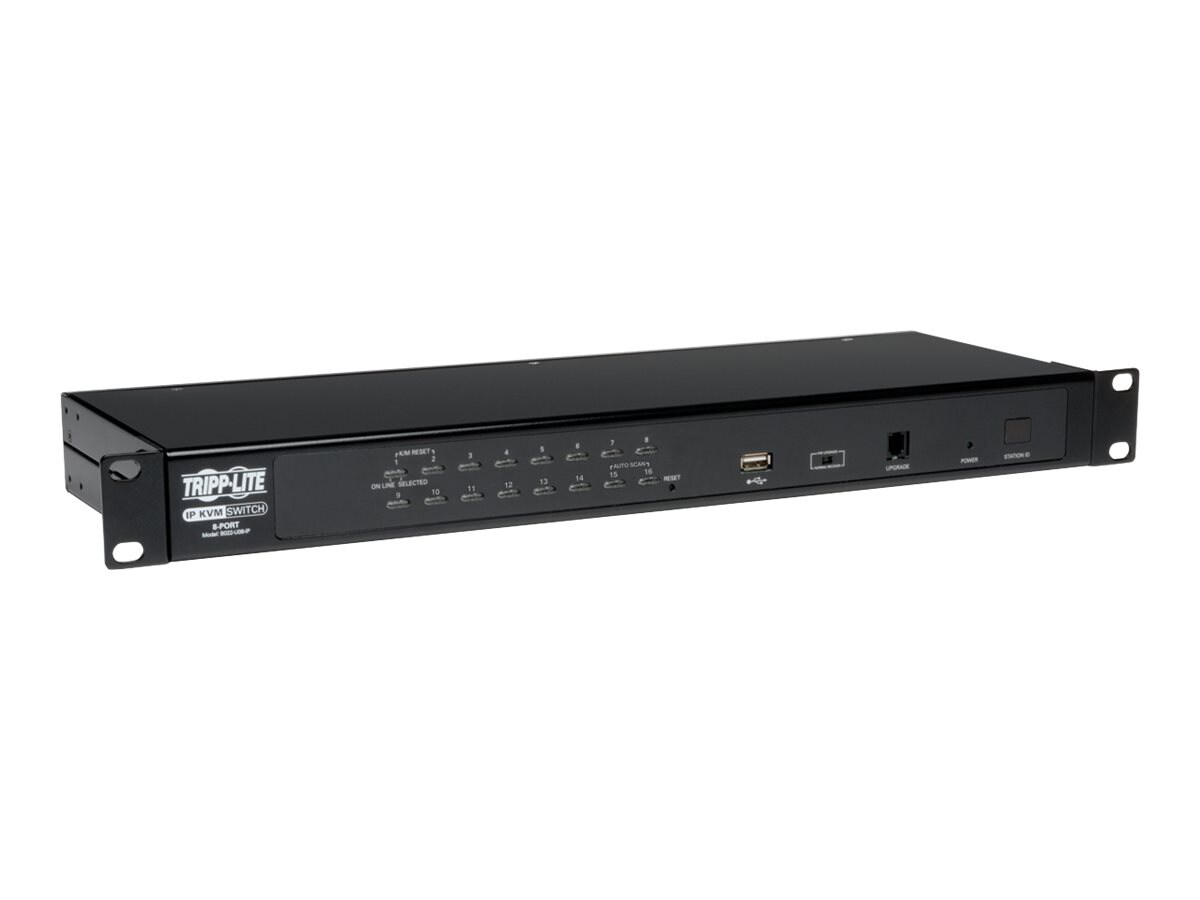 Quick tech specs
NetDirector 16-Port 1U Rack-Mount IP KVM Switch Controls up to 16 computers or servers using one keyboard mouse and monitor or up to 256 as part of a daisy-chain
Remotely access computers via LAN WAN or Internet via the Windows or Java browser clients from anywhere in the world
Enables up to 64 secure user accounts
Daisy-chain up to 31 additional switches to control up to 256 computers
Rack Mount KVM Switch/ Rack Mount Console/ 16 Port KVM Switch
Tripp Lite 3-year Warranty
View All
Know your gear
The B022-U16-IP NetDirector 16-Port 1U Rack-Mount IP KVM Switch is the smart solution for controlling up to 16 computers or servers from one monitor, keyboard and mouse, all from the next room, next door, or the next continent.

The B022-U16-IP takes up just 1U of rack space and works with all major operating systems. Built-in IP access allows you to control computers via LAN, WAN or the Internet. Just log on to a Web browser using the Windows- or Java-based browser client, and navigate the user-friendly interface in English, Spanish, French, German or Japanese. You can also access the KVM Switch without a browser if you prefer.

The advanced on-screen display (OSD) supports high-definition video up to 2048 x 1536 at the local console and up to 1600 x 1200 @ 60 Hz with 24-bit color depth at the remote console. Panel Array Mode allows you to remotely monitor multiple ports at the same time. Compatible with both USB and PS/2 connections using the included cable kits, the KVM Switch allows you to select a connected computer using on-console pushbuttons or keyboard hotkey commands. It also supports both IPv4 and IPv6, as well as Link Local IPv6 Address and Stateless Auto Configuration protocol.

Advanced encryption technologies, such as 128-bit SSL, 128-bit RC4, 1024-bit RSA, 56-bit DES, 256-bit AES and 168-bit 3DES, keep your important data secure. The KVM Switch supports RADIUS and LDAP/S remote authentication. Three levels of security allow you to delegate proper access to approved personnel, and you can create up to 64 separate accounts.