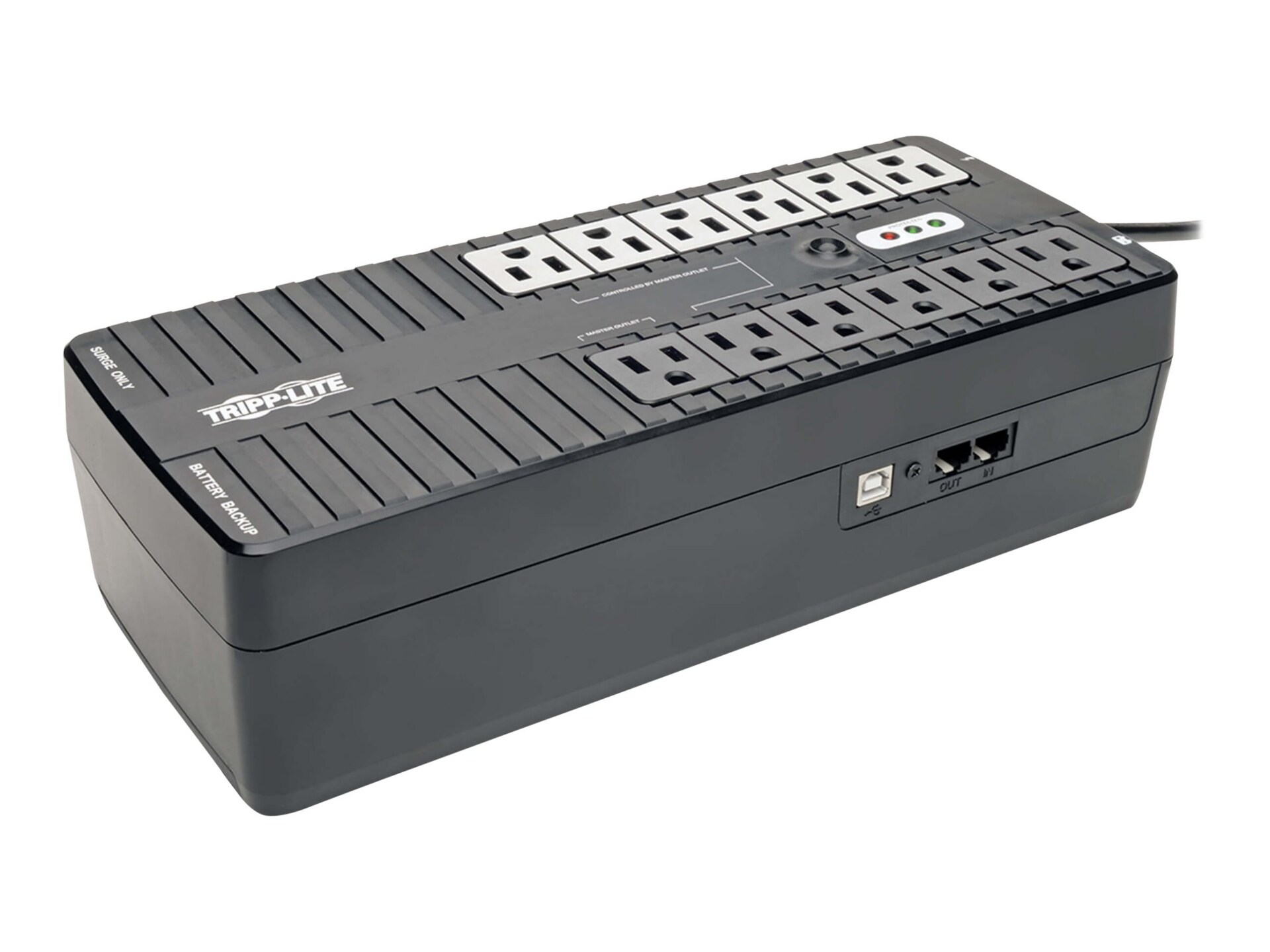 Quick tech specs
ECO750UPS standby green UPS offers complete protection from blackouts,brownouts and transient surges
Maintains AC output during power failures,99% line mode efficiency
green ups/ eco green battery/ eco backup/ eco battery
Built-in ECO outlets automatically power off unnecessary computer accessories like printers scanners and speakers when computer is not in use
Up to 34 minutes runtime for an entry-level PC
3 Year Tripp Lite Warranty and $100,000 Lifetime Insurance
View All
Know your gear
The standby ECO750UPS UPS system provides reliable battery backup and AC power protection against blackouts, brownouts, overvoltages, surges and line noise that can damage valuable electronics or destroy data. The 12-outlet 120V battery backup is ideal protection for your home office, media center or professional kiosk, security and small-business phone applications, including computers, routers, printers, HDTVs, Blu-ray players, game consoles, ATMs, security systems and digital signage equipment.

Backup support allows you to work through short power failures and gives you enough time to safely save files and shut down your system in case of a prolonged blackout. Backup time varies according to load, but the ECO750UPS should keep an energy-efficient desktop computer with small LCD monitor powered as long as 36 minutes. During normal operation, incoming utility power keeps the replaceable internal battery fully charged, so backup power will always be available.

Six 5-15R outlets provide battery backup and surge protection for your computer, monitor and other crucial components. The other six 5-15R outlets provide surge suppression only for printers, speakers and other desktop equipment regarded as non-essential during a blackout.

By meeting strict EPA efficiency guidelines, this ENERGY STAR-certified UPS system helps you save money and energy. An ECO power-saving option features four switched ECO outlets (three surge-only, one surge- and battery-protected) that turn off automatically when the device connected to the Battery Backup Master Outlet is powered down or in sleep mode. These outlets are recommended for printers, desk lamps and other non-essential peripherals that don't need to be operational all the time.

A 316-joule surge suppression rating protects connected components from the harmful effects of power surges. Dual network data line jacks protect a wired peripheral from dangerous surges on a single 10/100Base-T or dial-up network connection.

This USB port connects the ECO750UPS to a computer running Tripp Lite's free downloadable PowerAlert software to enable safe unattended file saves and system shutdown in case of a prolonged power failure. USB cable is included. Battery independent restart ensures automatic UPS power-up without user interaction after lengthy power outages, even when batteries are expired and require replacement.

Various electromagnetic and radio sources found in virtually every home and business can cause disruptive interference on the AC line. Known as EMI (electromagnetic interference) and RFI (radio frequency interference), this line noise is a common cause of performance problems and can lead to incremental hardware damage, data corruption and audio/video transmission problems. The ECO750UPS incorporates technology that filters out disruptive line noise so that it won't affect your equipment.

The UPS remains silent in both line and battery backup modes. The alarm sounds only to warn you of a low battery, overload or fault condition. A front-panel green LED indicates operating mode, ECO mode and fault status.

The space-saving ABS housing fits on a desktop, shelf or anywhere else convenient to your workstation or home theater. Keyhole mounting tabs on the rear allow easy wall-mount installation. The five-foot power cord with NEMA 5-15P plug connects to any compatible AC outlet.


Tripp Lite ECO Series ECO750UPS
is rated
4.90
out of
5
by
10
.
Rated

5

out of

5
by
Stitchintime
from
Have several..really do the job!
We get quite a few outages per year i, due to which we have bought a whole house generator. However, it takes 5 - 10 seconds for the generator to kick in, which means we are still subject to losing power during the gap. The UPS units (we have two of this model and one BC350) keep our laptop from an uncontrolled shut-down and our smart TV w/DirecTV from having to re-set and re-program. This saves the about 10-15 minute reset time needed for the DirecTV receiver. That reset also meant that we lost the full guide information and On Demand for 24 hours. Even without a whole house generator, most blackouts are more like brownouts and the UPS unit would suffice for keeping power to the TVs and satellite receivers, as well as the internet router, during the quick outage.
Date published: 2013-09-06T00:00:00-04:00
Rated

5

out of

5
by
CLO56
from
saved the system
This battery backup was a life saver on several occasions, one street over a transformer has blown several times once years ago I believe that caused a computer to crash on me due to an electrical surge, since we have had this several times we had the transformer blow and the system stayed up long enough for us the shut it down and it beeps letting us know of the power outage even of a night when we are sleeping it alarms us of the power failure.
Date published: 2014-10-29T00:00:00-04:00
Rated

5

out of

5
by
Jan
from
We buy this product again and again
We use this product for all our electronics including computers, monitors and plotters. They usually last between 3 and 5 years, and sometimes longer. They are very easy to use and we will continue to buy.
Date published: 2019-07-08T00:00:00-04:00
Rated

5

out of

5
by
Action8
from
I would buy the ECO series again
The ECO operates consistently, and is designed very well w/plenty of outlets.
Date published: 2015-12-03T00:00:00-05:00
Rated

5

out of

5
by
Jon
from
Good product.
Great ups, runs my equipment easily and operates at lower heat rejection than sny othet ups I have used previously.
Date published: 2016-11-09T00:00:00-05:00
Rated

5

out of

5
by
babblebck
from
LONG LASTING
I have owned this product for a few years now and it has been wonderful. Our house seems to be prone to surges and every time the ECO750UPS does its thing. Although we have very few power outages, when we do it kicks in and gives us plenty of time to shut down the computer. We also have a modem,router and TV on the back up and have never had any issues. Great Product that is long lasting.
Date published: 2012-06-12T00:00:00-04:00
Rated

5

out of

5
by
dajubu
from
Great Product
I've used Tripp-Lite products for years with very few problems, and this UPS is no exception. Recently, we had a power outage that lasted almost 4 hours. I was able to shut down my computer gracefully, then my Tripp-Lite UPS held up my remaining broadband/wi-fi router so we continued to have VoIP phone service and Internet service via smartphone until the power came back on. This UPS is a great value for the dollars spent.
Date published: 2013-09-05T00:00:00-04:00
Rated

5

out of

5
by
cweimer
from
Great Price, Solid UPS
I bought this because the Army uses them as a vendor... solid price, great perfromance. I never worry about the cable box and other electronics hooked up shutting off when there is a power outage... batter keeps things on for about 30 minutes after a power failure with a 52in LCD TV and cable boxk. Highly reccomend the ECO750UPS!
Date published: 2012-06-12T00:00:00-04:00
Rated

5

out of

5
by
Ian
from
Good backup.
Easy to i stall. Slim size fits well. Only concern is how to replace the battery. There is no battery door.
Date published: 2019-09-24T00:00:00-04:00
Rated

5

out of

5
by
Cpro
from
I love this product!
It saves energy and is easy to use! What more could you ask for!?
Date published: 2011-07-11T00:00:00-04:00