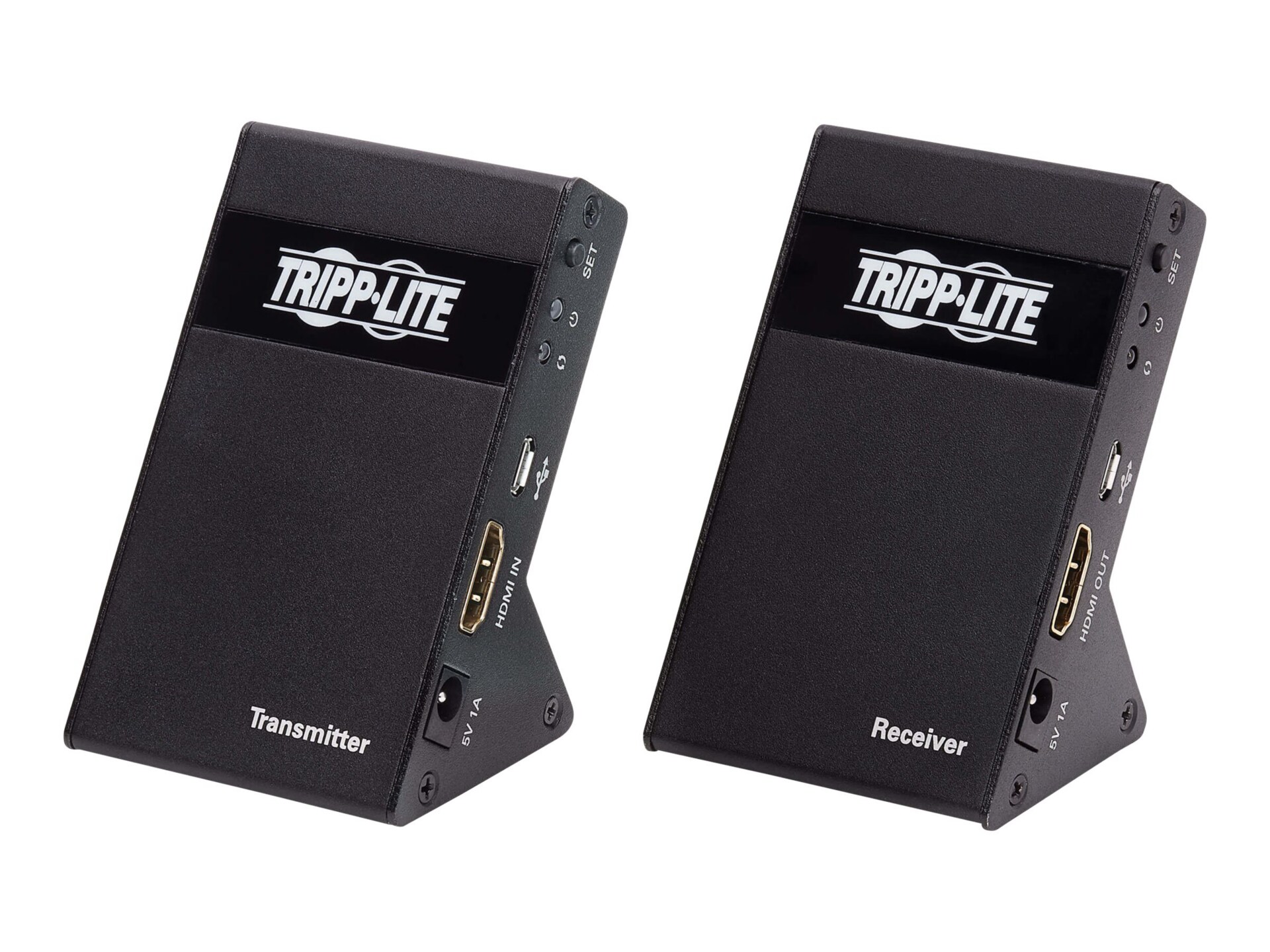 Quick tech specs
Extends a wireless HDMI 4K audio/video signal w/ zero latency to an HDMI display located up to 98ft (30m) from the source device
Provides full/rich 7.1-channel sound for realistic video gaming and live televised events
Easy plug and play operation
Delivers UHD picture quality at resolutions up to 3840x2160 (4K x 2K) @ 60 Hz
Features 10.2 Gbps of bandwidth to ensure almost zero latency for premium viewing
wireless HDMI Extender/ wireless video extender/ wireless display extender
View All
Know your gear
This complete wireless HDMI transmitter and receiver system is recommended for video presentations, high-level gaming and live television events in your home, office, restaurant, bar, trade show and other applications in which connecting long video cables could be a burden. This kit extends true 4K video and 7.1-channel audio from an HDMI source device to an HDMI display up to 98 feet (30 meters) away. No bulky or costly cabling infrastructure is needed.

The B127-1A1-WHD1 eliminates more than just hassles. You'll save on the costs of cabling infrastructure and the labor to install it. Cable clutter is reduced, and you will enjoy more flexibility in placement of the source and display with no cables to relocate when you want to reconfigure the room. The transmitter and receiver units communicate over a 60 GHz wireless frequency that allows fast data transmission and reduced interference from other wireless sources. Be sure the transmitter and receiver share a direct line of sight for best results.

Because this kit features the latest wireless technology with 10.2 Gbps of bandwidth, it transmits live audio and video with virtually no latency. It is recommended for high-end video gaming, video conferencing, digital signage or watching live television events.

The B127-1A1-WHD1 ensures Ultra HD performance in a one-to-one application, where there is less obstruction to occur. It supports video resolutions up to 3840 x 2160 (4K x 2K) at 30 Hz with 7.1-channel LPCM, DTS-HD and Dolby AC-3 digital audio. LEDs indicate when the transmitter and receiver units are receiving power, building a wireless connection between the units and transmitting data.

The durable aluminum transmitter and receiver set works right out of the box with no software or drivers required. Connect the receiver to the display and the transmitter to the source with user-supplied HDMI cables (such as Tripp Lite's P568-Series). Then, plug the dual power supplies into an AC outlet. You can also use a USB Micro-B cable (sold separately) to power the two units via laptop, power bank or other portable power source.