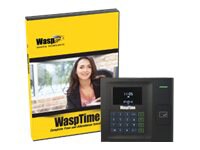 Know your gear
WaspTime HID solution uses a built-in HID proximity reader to capture employee time - adding security and convenience to your time and attendance tracking process.

The WaspTime HID solution features WaspTime and attendance software paired with a HD300 HID time clock. Employees can quickly clock in and out by simply passing the HID badge near the time clock, even if the badge is in their wallet or purse. The HD300 time clock's proximity reader accurately records the time of entry and exit. Data is downloaded from the clock to the administrator on a scheduled or periodic basis, automatically delivering accurate time and attendance records.

The Standard Edition includes 1 administrator/manager license and 50 employee licenses.
Software Details
(v. 7)
1 administrator
CD
with HID Time Clock
box pack
50 employees
Win
View Tech Specs