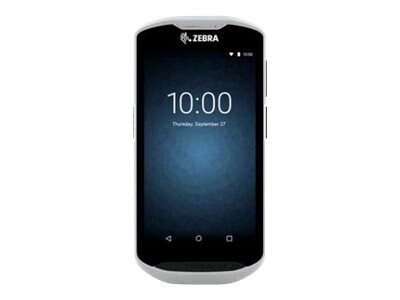 Quick tech specs
HC
Android 10
5" (1920 x 1080)
barcode reader
USB host
Wi-Fi 5
Bluetooth
Data collection terminal
32 GB UFS card
rear camera + front camera
(2D imager)
microSD slot
NFC
TAA Compliant
View All
Know your gear
The TC52x-HC touch computer builds on the highly successful TC52-HC, adding powerful features that improve patient outcomes by improving workflows for healthcare workers. The blazing 2.45 GHz processor and UFS memory provide plenty of power to run all of your voice and data applications simultaneously. See more and scroll less with a Full HD display. A hot-swappable battery keeps healthcare workers up and running, every minute of every shift. Design improvements make the audio grills virtually clog-proof. A red alert button can be configured to call the security desk or launch an application in emergency or duress situations. Camera improvements enable the reliable capture of high-quality photos - even in low-light conditions. A scanner takes performance to a next level, complete with healthcare safe illumination LEDs and aimer colors. The TC52x-HC is ideal for all hospitals, including government facilities. Give your healthcare workers the features they need to deliver the ultimate quality of care with the TC52x-HC from Zebra.
Get a Quote
Zebra TC52x-HC - data collection terminal - Android 10 - 32 GB - 5" - TAA C
Your quote has been submitted.
What happens next?
A confirmation email is on its way. Within one business day, you will be contacted by an Account Manager to finalize your quote.
Your Quote Request
Zebra TC52x-HC - data collection terminal - Android 10 - 32 GB - 5" - TAA C
Error!
Something went wrong.
Please try again later.