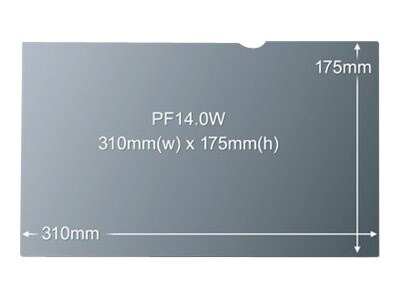 Quick tech specs
Notebook privacy filter
for ThinkBook 14 G3 ACL; ThinkPad L14 Gen 2; L14 Gen 3; P14s Gen 2; T14 Gen 2; T14s Gen 2
View All
Know your gear
The 3M Privacy Filters from Lenovo utilize the patented 3M microlouver privacy technology so only persons directly in front of the display can clearly see the image on screen. Passersby, or those viewing from an angle see only a blank, dark screen. With identity theft concerns growing and information disclosure laws becoming increasingly more restrictive, the requirement to protect sensitive data is critical. Unique attachment system keeps the security filter in place even when the laptop is closed.
3M PF14.0W notebook privacy filter
is rated
4.40
out of
5
by
10
.
Rated

5

out of

5
by
AZDrumTech
from
Heightened security, lowered definition.
The filter definitely works as intended; the display is clearly visible only when directly in front of the screen. The extra privacy does give me a heightened sense of security, regardless of what I may be working on.The only downside to the filter is that you have to compromise the visual quality for the added security. The display is not as bright and the colors are not as vivid as they were prior to installing the filter. If you're not working in the arts or media and privacy is a concern, the tradeoff is very much worth it. However, it was disappointing none the less.
Date published: 2020-07-26T00:00:00-04:00
Rated

5

out of

5
by
amwah
from
Privacy Secured
I do a lot of work on my laptop sitting at cocktail bars so it's nice to do my work and not worry about the patron sitting next to me seeing all I'm up to.
Date published: 2019-09-03T00:00:00-04:00
Rated

5

out of

5
by
Danielle N
from
Enjoy working in public in privacy.
The directions that were included with this product made setup quick and easy. Applying the privacy filter literary took me less than 5 minutes. The "adhesive gel" that adheres the film to the screen is transparent and is barely visible while using your device. Now to the important component of the review; the amount of privacy. If someone is directly behind you, they can easily see what you are doing on your device with the film installed. Privacy only really starts to occur when the "onlooker" is at a 70 degree angle or less at the device (anyone behind you can still see what you are doing if they are within a 70-110 degree window of the display screen. 0-40 degrees gives you a completely grayed-out screen. This privacy film is perfect for working in public. If you are writing emails or working on spreadsheets that is sensitive company information, this privacy filter will help you out. Another great factor is that the film only takes down the brightness level of your screen by a tad.While this privacy film does not give you 100% complete stealth mode, it comes close to it and is one of the best quality filters out there.
Date published: 2019-07-28T00:00:00-04:00
Rated

5

out of

5
by
Marisa
from
Provides the needed privacy
I travel and need to work at public places ike the airport or coffee shops. Great to keep eyes of curious strangers away.
Date published: 2020-06-22T00:00:00-04:00
Rated

5

out of

5
by
Connie1
from
Lenovo screen protector
Product fits perfectly with my laptop, and received product faster than anticipated.
Date published: 2019-08-08T00:00:00-04:00
Rated

5

out of

5
by
JMHoliday
from
Love my privacy screen
Easy to apply to screen. Fit perfectly on my screen.
Date published: 2020-07-10T00:00:00-04:00
Rated

5

out of

5
by
Mysore
from
Serves the purpose
Wish there was a better way to stick it on than the glue strip ... it is getting messed up as I remove it quite often to share my screen with coworkers
Date published: 2019-04-17T00:00:00-04:00
Rated

5

out of

5
by
Johnny Rev
from
Perfect Privacy Filter for T470
It is perfect fit for my ThinkPad - T470. For sure it is one of the great accessory from Lenovo.com
Date published: 2019-09-10T00:00:00-04:00
Rated

5

out of

5
by
karanbazaz
from
Works amazing on my X1Carbon
The screen fits like a glove. I used the slide-on method of use so that I could share my screen when required. Worked just as required. Gives me a good degree of privacy and the availability of remove-option helps when I want to share my screen across with my colleagues.If you have an X1 Carbon, just buy it !
Date published: 2017-05-30T00:00:00-04:00
Rated

5

out of

5
by
BGiczmo
from
Hurt my eyes
This screen filter gave me a headache within minutes of installing. It would probably work better on a lower resolution display. I installed it on my Lenovo x1 Carbon, with a 2560x1440 resolution, and the filter drastically distorted the graphics, to the point that documents were difficult to read.The installation process was tricky as well, and it was hard to look past the tabs once installed.
Date published: 2016-08-04T00:00:00-04:00