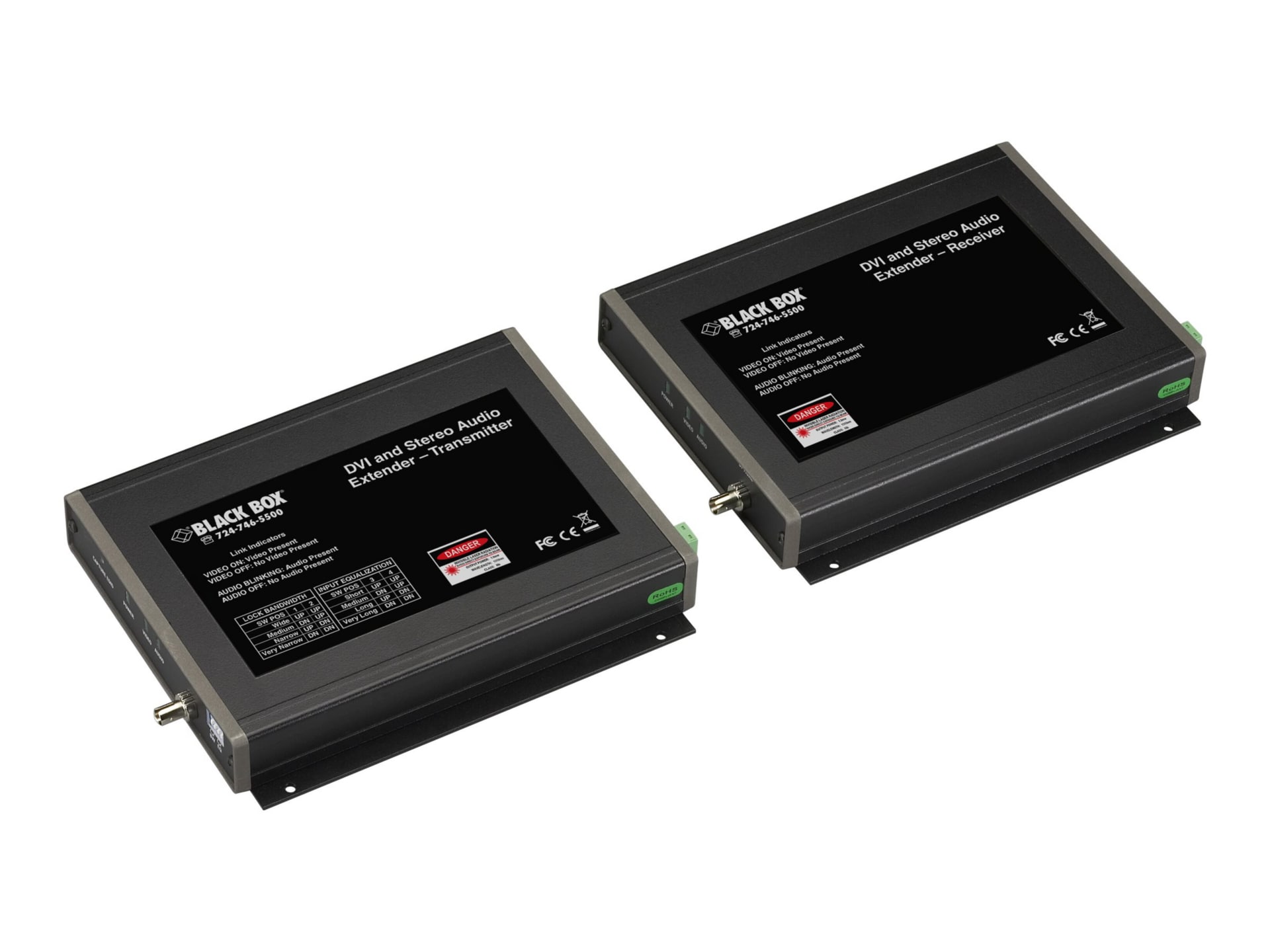 Quick tech specs
View All
Know your gear
This DVI & Stereo Audio Extender Kit for Multimode Fiber makes it easy to extend HD-quality video and stereo audio for crystal-clear DVI video and sound at a remote location. It's just what you need to transmit 1080i and 1080p video and stereo audio to the distant rooms in your digital signage or multimedia network.

Truly plug and play, the extender system requires no de-skewing, scaling, compression, or color space conversion. And because it uses just one multimode fiber for transport, you can make better use of optical fibers in your installation.

Use the extender combo to transmit single-link DVI. Advanced circuitry equalizes and re-clocks noisy and distorted DVI input signals before transmitting over fiber, ensuring pristine digital video output from an array of DVI sources.

The system is easy to set up. No fine-tuning of the image is necessary. You just connect your PC to the DVI input on the transmitter unit and connect the display devices via DVI connectors on the receiver unit. Audio input and output are through stereo jacks on both transmitter and receiver boxes.

To monitor video on the local side, simply plug in a DVI-compatible screen via the loop-through input on the transmitter unit. This output display, as well as those linked remotely, can be up to 16 feet (4.8 m) from the extender system.

The DVI & Stereo Audio Extender Kit for Multimode Fiber brings a higher level of security to your application, too. Simply lock the PC-based video source in a control room as far as 45 feet (13.7 m) from the transmitter and set up the loop-through monitor in an area easily viewable by others. There's no PC or other video source at the remote end to be tampered with, and fiber optic cable is extremely difficult to tap.

Plus, with fiber, you get interference-free communications even in electronically noisy areas and more consistent performance than competing high-performance CATx technologies. It's completely immune to many environmental factors that affect copper cable, such as electromagnetic interference and radio-frequency interference (EMI/RFI). For this reason, this system can be used in areas with a lot of interference-emitting equipment.
Contact Sales Assistance
(800) 972-3922
,
Monday-Friday 8am-6pm ET