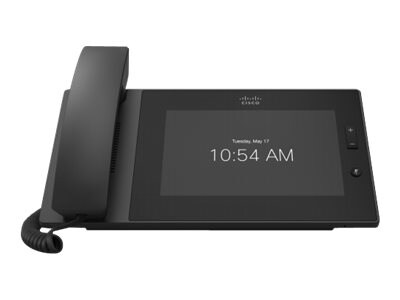 Quick tech specs
View All
Know your gear
The Cisco Meraki MC74 is a premium VoIP phone with an elegant design, featuring a 7" touchscreen display. Meraki Communications represents a fresh approach to the notoriously complex and disjointed world of telephony, leveraging the power of the cloud to eliminate the traditional PBX, provide simple, intuitive management and the ability to integrate with business applications.
Contact Sales Assistance
(800) 972-3922
,
Monday-Friday 8am-6pm ET
Cisco Meraki MC74 - VoIP phone
is rated
2.67
out of
5
by
3
.
Rated

5

out of

5
by
Weston
from
MC74 is easy to manage and consistent
I have about 40 MC74's in my IT infrastructure. Very easy to manage, as easy as plugging it in and configuring a VLAN and some QoS for deploying. For example this is extremely easy when people switch desks or move around. Another huge plus is for remote offices. No need to set up a PBX server and all the maintenance involved. Smaller remote offices can have their own phone for conference rooms. Very loud speaker and always consistent call quality. Touch capacitated screen is responsive. Very few bugs. Firmware upgrades patch any issues. However, one note is that you need to have a large circuit to use cloud-based VoIP effectively. Don't try to run MC74's and all of your typical data traffic on a 100 mbps circuit for more than 30 people/client devices. If you are familiar with Meraki and their licensing, if you are familiar with their equipment, I'd recommend an MC74. It has made managing IT much easier.The only issue that the MC74 doesn't solve is for large conference rooms and meetings. For this, you can't beat a Polycom with extendible mics.
Date published: 2017-04-10T00:00:00-04:00
Rated

5

out of

5
by
MerakiPhones
from
This is such a great idea, but the phone have so many bugs ...
This is such a great idea, but the phone have so many bugs it's unbelievable. Here is my list i sent to Meraki last week. Just to add, we have over 100 tickets into them and almost none have been resolved. These phone have severely crippled our business.-When phones need an update, every single phone in the building attempts to download at the same time, overloading the internet circuit and preventing any traffic from passing, phone or otherwise.-One day all IVR menus that had been built went silent. It took about 36 hours to resolve, during which time NO MESSAGES played to inbound callers.-Before we found the Announcements dropped every active call, we found that it would cause an echo because it invoked the speaker phone on the phone that was making the announcement!-Before disabling the Announcements feature permanently, we found that several phones would randomly remain on after the announcement was finished. They never hung up the call.-Bluetooth headsets were completely unreliable. At least one firmware upgrade was supposed to address this, but did not.-Distinctive ring tones that were promised during the sales cycle were never available. There is no way to differentiate which group a caller is calling (physician hotline vs patient main inbound, for instance).-Call waiting wasn't even available for phones initially, and when it was made available as "global call waiting", it dropped calls more than it held them, or when the call was retrieved, audio would not work in one direction or the other.-Phones were not able to set calls, and when calls were set, they were unable to retrieve. This was nearly impossible to recreate on the fly with support.-For several days, a single call would register dozens of times in the call history. This made redial a matter of scrolling pages and pages down. It also skewed call statistics, and showed 20-30x the actual time on the phone. A single 10 minute phone call could at 9am would show 20 times, and therefore would report as over three hours of calls. In ten minutes.-Over and over we had reports of audio not being passed on one end of the call or another, both internally and externally. All Meraki QoS protocols were applied. Meraki supports suggestion? To call into support when this was happening so they could packet trace. By definition, one end of the call cannot hear and is probably a frustrated patient, and Meraki's solution was to somehow have them stay on hold while we called into an often 20 minute support Q so they could troubleshoot. It defies logic. This happened over and over and over to the day we pulled the system out. We stopped logging cases on this, as there would have been literally dozens.-Phone voicemail to email address were being "forgotten" for phones. A physician would setup his portal, define his email address, and then complain of no voicemail. So we would login and make sure his address was in the system, it wasn't, so we assumed he didn't click save. We would click save and then come back an hour or a day later and it would be gone again.-There was no way for users to call in and check voicemail.-There was no way for users to share voicemail.-There was no way to discreetly listen to voicemail left in a call group or IVR mailbox (A HIPAA violation for a medical practice).-To this day there is no intercom or page function (promised in the original sales conversations in November of 2016).-There is no emergency closure or night mode function.-The reporting is woefully inadequate. Unless a caller actually connected with a phone, there is no record of the call. This means that callers that dropped out of the system (or were dropped by quality issues) in an IVR did not even register in the logs.-The IR sensor on the phones are sensitive to florescent light and would drop callers. (Known issue, supposedly fixed in an update but we are still experiencing issue.)-Phones often get a message stating "device crashed". User had to hard shut it down to get phone back online. This happens multiple times a day with our 47 users.If you still purchase these, don't say you weren't warned.
Date published: 2017-09-12T00:00:00-04:00
Rated

5

out of

5
by
MerakiSurprised
from
Beware: Plug it in & start 30-day network timebomb
Meraki makes great products, but their licensing scheme is very expensive and no where on this product description does it say it is required to buy a license in addition to the phone. And, if you plug on unlicensed device into the network and load it on your cloud account they begin threatening to shut down the network. Pretty heavy handed move for a hidden requirement. I have also found you cannot upgrade a piece of equipment to their newer version and use the remaining license time for the device you are replacing.
Date published: 2016-08-22T00:00:00-04:00