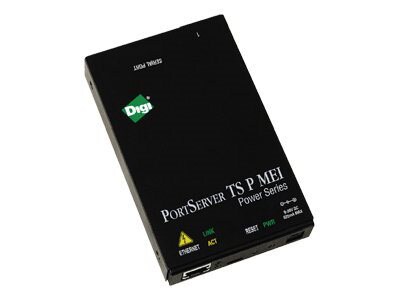 Quick tech specs
Device server
100Mb LAN
PPP
RS-485
View All
Know your gear
The PortServer TS P MEI Power Series makes it easy to connect RS-232/422/485 serial devices to an IP network. By supporting versatile powering options like powered Ethernet and powered serial, PortServer TS P MEI can adapt to many applications where traditional power alternatives are required.

Available in one-, two- and four-port versions, PortServer TS P MEI delivers universal, highperformance multiport serial-to-Ethernet connectivity. It is ideal for applications requiring COM ports, serial tunneling, or where TCP/UDP Socket functionality is needed. Digi's patented RealPort with encryption makes it possible to establish a connection between the host and networked serial device by creating a local COM or TTY port on the host computer, allowing software applications to work with networked device servers instead of requiring a host adapter.

PortServer TS P MEI offers flexible powering options over Ethernet and serial. Powered Ethernet (802.3af, mid-span only) makes it possible to run just one Ethernet cable to the device server for both power and communications. The powered serial feature enables PortServer TS P MEI to power a device over serial using Ring Indicator (RI) or DTR pins, or it can be powered itself using RI (Port 1 only). Each power feature is available in addition to a traditional power connector, and can serve as redundant power in case of an outage from either source.

PortServer TS P MEI is easy to install locally or remotely through a variety of IP addressing methods (DHCP, RARP, ARP-Ping) along with an application included on the installation CD that will automatically detect all PortServer TS P MEI devices on the network.