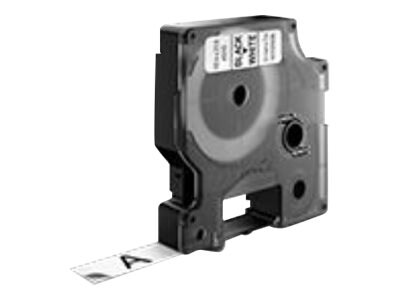 Quick tech specs
Polyester
black on white
for LabelMANAGER 210D
360D
500TS
Wireless PnP; DYMO LabelWriter 450 Duo
self-adhesive
Roll (1.2 cm x 7 m) 1 cassette(s) label tape
280
420P
PnP
View All
Know your gear
Durable, polyester-coated D-1 tapes for lasting labels. All patented D-1 tape cartridges feature easy-peel split-back tape. Special backing on tape is split down the middle to make separation of tape backing a snap for fast and easy label application.
Dymo D1 Standard - label tape - 1 roll(s) - Roll (1.2 cm x 7 m)
is rated
3.64
out of
5
by
11
.
Rated

5

out of

5
by
Teacher3440
from
A Teacher's Best Friend
I rank this with my scanner and laminator as the best equipment I've purchased for use in my classroom. I am always labeling things - files, file boxes, cubbies, binders, desks, chairs, computers.... These lables in my PnP label maker make the task simple. I like that the backing has a slit down the center, making removal easy and fast. I have only used black on white, so I cannot comment on any other color.
Date published: 2014-09-26T00:00:00-04:00
Rated

5

out of

5
by
RobDymo1000
from
Be warned! Same numbers are not the same!
I have some old 45013 cartridges. They have a bigger rounded notch than the newer 45013 cartridges. The newer ones will not fit into my DYMO 1000. The DYMO 1000 manual even mentions the 45013 cartridges as ok. But the manufacturing has changed. Same can be said about other colors for the same model. Another review said they fold the tape back over itself. I use this technique on occasion, like when labeling data cables into a patch panel. I recommend you either staple or scotch tape them because the adhesive with give away after awhile otherwise.
Date published: 2020-02-11T00:00:00-05:00
Rated

5

out of

5
by
Tonka
from
Not really that good at all.
This is a clever product but I am not sure whether the label maker is bad or just the tapes. I have tried 1/2 inch and 3/4 D1 tapes and the only tape that does work well is Black on White. Everything else is unclear (white on clear, red on clear. I have fully charged batteries, cleaned the print head and followed the manual precisely. This is not a great DYMO product in my opinion.
Date published: 2014-01-22T00:00:00-05:00
Rated

5

out of

5
by
TaxProDave
from
Quick and Easy
I've had all types of hand-held label makers. They are just not fun to use. When I saw the Dymo PnP model I ordered one and have not been disappointed. The software package is great. Easy to use with nice options. I primarily use black on white and it works great. Won't go back to the handheld units at this point.
Date published: 2014-02-04T00:00:00-05:00
Rated

5

out of

5
by
FF76
from
Finally bought a label machine.
I brought the machine home, loaded it with the included label tape and got started. Work/home folders, workshop storage bins/hanging organizer bins, home's breaker panel, rolling tool drawers, emergency shut off valves.
Date published: 2015-06-04T00:00:00-04:00
Rated

5

out of

5
by
johnnyg150
from
Amazing Product
I just bought this label printer and from the moment I took it out of the box, it was amazing! At first, I had trouble getting it to feed the labels but after that I used to label all of my folders and binders for school. Great Label Maker
Date published: 2015-09-06T00:00:00-04:00
Rated

5

out of

5
by
Vgraham
from
Very Short Learning curve
Very quickly, our mall office can label wires, bar code equipment, and label assets. We use it in the warehouse and office. I suggest attaching it a computer and using the software to control it. It is easier to use the features this way.
Date published: 2015-08-12T00:00:00-04:00
Rated

5

out of

5
by
electra
from
It's been one year now
I use this label maker about 2x a week on average. Just this week I downloaded the software for composing on my computer and wow, what a feature. I tried using a special font I use for a company I'm putting together, Electra Pens and it printed it faithfully. I'll have to try other ribbon colors in the future.
Date published: 2017-07-27T00:00:00-04:00
Rated

5

out of

5
by
Toys4Boys
from
Questionable Quality Control
We have used these labels for some time now, about 8 cartridges, and this most recent cartridge the stick doesn't stick very well. When labeling cables we fold the labels over so the sticky side is attached to the sticky side and this time after about 2 weeks most of the labels fell off. Contacted Dymo support but after the first automated response never heard back.
Date published: 2018-11-27T00:00:00-05:00
Rated

5

out of

5
by
dymous
from
D1 Standard level
Suitable for many tasks and can be removed without leaving residue
Date published: 2018-04-13T00:00:00-04:00
Rated

5

out of

5
by
Maiguy
from
For flat surface only?
I agree with Toys4Boys. I label LAN cables with these tapes. I print more than I need so I can peel and tape both sticky sides together. However the glue is not strong enough to keep both faces glued to each other. We ended up buying the generic tape that costs a lot less.
Date published: 2019-07-01T00:00:00-04:00