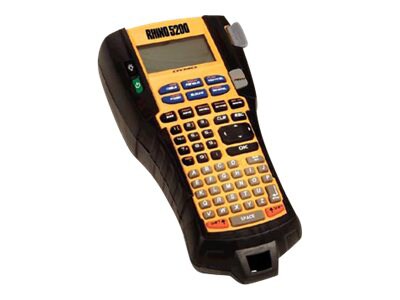 Quick tech specs
Labelmaker
thermal transfer
cutter
View All
Know your gear
Rugged, versatile and packed with time-saving features, the DYMO Rhino 5200 meets all ANSI and TIA/EIA-606-A labeling standards. Time is money, and exclusive one-touch "Hot Keys" save you both on every job. Just press one "hot key" to automatically size, space and format text for perfect patch panel labels - then press another to print matching cable flags or face plate tabs, without retyping!

It's just as easy to print module and fixed-length labels, horizontal and vertical wire wraps, terminal and 110 blocks and much more. Print Code 39 and Code 128 barcodes. Access 100+ industry symbols, fractions and punctuation marks with a few quick keystrokes. Add the optional quick-charging lithium-ion battery for uninterrupted productivity.
DYMO Rhino 5200 - labelmaker - monochrome - thermal transfer
is rated
3.13
out of
5
by
8
.
Rated

5

out of

5
by
macmikey
from
Love these printers... hate when they die
I have purchased 3 of these so ar. They are GREAT printers. I used to do a lot of network wiring and these printers I could hand them to a newbie and they had no issues using it after a few quick lessons. However, After a year or so, each one, died the same way. No power, no display, no anything. Batteries, adaptor, nothing powered them back up. So, they are great printers, worth the money in every way. I just personally have to say to be prepared to buy another one in a year or so. Only because that has been my experience. And I see lots of them for sale on sites with the exact same issue... no power on.
Date published: 2020-05-16T00:00:00-04:00
Rated

5

out of

5
by
tjunkie
from
WARNING: FORCIBLY ADDS CHECKSUM ON CODE39 BARCODES
Unit is advertised as being optimal for printing barcodes but they neglect to tell you that it forcibly adds a checksum digit onto code39 barcodes. A lovely feature that no other barcode printer forces. The checksum in that format is OPTIONAL and rarely used. Do not buy this product if you intend to print code39 barcodes without the forced checksum. Feel free to look anywhere in their documentation and you won't find this "feature" listed.
Date published: 2018-01-12T00:00:00-05:00
Rated

5

out of

5
by
Baltaar20
from
Great when it actually prints
Pros: Prints great in climate controlled environment Many useful preset label types Cons: Does not print legibly in cold environments** Jams frequently Battery indicator not accurate **major issue
Date published: 2017-01-16T00:00:00-05:00
Rated

5

out of

5
by
DavidL
from
Solid printer for industrial use
If you manage a data centre, or find you are printing feet of labels, this is the printer you want. This is my second Rhino. My first one took a header and wound up in several hundred bite sized pieces - it had lasted almost six years - unheard of in printer life times. This version is hefty and better designed. Access to batteries and tape do not require unwrapping, the corners are protected and the unit does not slide around on most surfaces. The labels print quickly and there are a number of font size selection, along with built in symbols, bar codes, and serialization options, which is great for patch panels and network cables. The only real downside is that I can't get spools of label tape longer than 11 feet! Oh well. That is not a downside of the printer.
Date published: 2013-10-24T00:00:00-04:00
Rated

5

out of

5
by
Rusty W
from
Rugged
Had a similar previous unit that worked great until it disappeared
Date published: 2019-10-07T00:00:00-04:00
Rated

5

out of

5
by
lopez calling
from
difficult
a steep learning curve, requires focused time, maybe a day or more to get this thing working. I have not been able to set aside a complete day to do noting but work with this. I bought a Lithium ion battery for it, but there us no charger and putting the battery into the lablemaker and plugging the unit into the wall does not charge the battery.
Date published: 2017-05-23T00:00:00-04:00
Rated

5

out of

5
by
Pude
from
High quality printer
Thing works, but I do a lot of cable labeling on 16/18awg wire, and find myself having to use needle nose pliers to pull my label out! My hands are small too, the problem is, short labels don't come out long enough for your fingers to grab, very frustrating! Also the vinyl labels are almost impossible to peel! I spend more time trying to remove the backing, and when I do, I usually have already deformed the label from tampering with it!
Date published: 2018-06-19T00:00:00-04:00
Rated

5

out of

5
by
lgeis
from
Wonderful tool, but has a problem printing white..
Dymo Rhino 5200. Very high quality case, keys, and very nice navigation through menus for characters. Prints black on a color or on white perfectly. When printing white, however, the output is mottled and in my mind, objectionable-I simply won't use the colored tapes for white text. I did clean the head as instructed in the manual-and the unit did print this way right out of the box.
Date published: 2016-08-04T00:00:00-04:00